Glenville State College is dedicated to discovering new methods of enhancing the institution's environmental sustainability. A number of initiatives are already in place.
Energy Efficiency Project
Glenville State College partnered with Energy Systems Group, a leading energy service provider, to implement comprehensive energy efficiency and building improvements that reduce energy costs, modernize building systems and technologies, and enhance the environment.
A wide range of energy conservation and infrastructure improvement measures were implemented in 13 campus buildings (approximately 608,500 square feet), including the President's House and the Community Center.
By implementing these key energy conservation measures, Glenville State College will save $2.6 million in total energy costs, 1,425,000 kWh in electric energy and 130,000 therms in natural gas over the next 15 years. Glenville State College will reduce its carbon footprint by 1,676 metric tons of carbon dioxide.
More information on this project, including video and photos, can be seen on Energy Systems Group's website.
New Energy Efficient Construction
Glenville State College's new Waco Center was built with a number of environmentally friendly features in mind.
Occupancy Lighting Control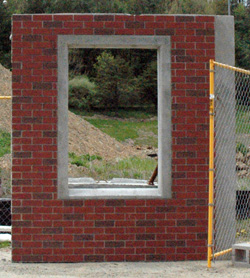 Occupancy sensors have been installed throughout the Waco Center. Those sensors automatically turn lights on when a person enters the room and then turns the lights off when no one is present. Energy savings from occupancy sensors depend upon room size and activity, but are estimated to be 35-45% (source: California Energy Commission).
Efficient Hand Dryers
Hand dryers replace paper towel dispensers in the Waco Center restrooms. During their complete life-cycle, efficient air hand dryers require less materials, manufacturing, and transportation than paper towels (source: Massachusetts Institute of Technology).
Pre-Fabricated Concrete Wall Panels
The pre-fabricated panels used to sheath the exterior of the Waco Center consist of two precast concrete slabs separated by a layer of thermal insulation. The energy performance of the material, high thermal mass, reduction in moisture penetration and construction waste, and construction efficiency contribute to reduced environmental impacts.
Heating and Cooling Efficiency
The dual-fuel heating and air conditioning units at the Waco Center provide maximum energy efficiency. Fuel use changes as a function of outdoor temperatures, reducing energy use. Additionally, the system allows for the utilization of natural gas produced by college wells.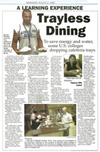 Waste-Reducing Cafeteria
In 2008 Glenville State made national news by being one of the first colleges in the country to eliminate trays from its cafeteria. Aramark, the company that operates Mollohan's Restaurant at GSC, says that when trays are not used people waste 25-30% less food. This also lessens caloric intake and contributes to slimmer waistlines. More important from a sustainability standpoint, college dining halls consume more water and energy than any place on campus, so the trayless cafeteria conserves both water and the energy needed to heat it. An added bonus is the reduced amount of detergents going down the drain.
Fuel Saving Maintenance Vehicles
Great fuel economy and ease of maintenance are qualities of the campus maintenance workers' fleet of mini pickups made by the Japanese automaker Daihatsu. These sturdy little vehicles can get over 40 miles per gallon and have one of the lowest carbon dioxide emission ratings of any small pickup. Best of all, the Daihatsu trucks last; and that dependability means keeping vehicles on the road and out of the landfill. According to Physical Plant employees, the mini trucks rarely require any more maintenance than an oil change.
Recycling

Glenville State College promotes recycling and awareness of recycling through a number of avenues. Pioneer Blue recycling bins, provided by a grant from Keep America Beautiful, the Coca-Cola Foundation, and The College and University Recycling Coalition, are located throughout campus. Currently, plastic bottles, aluminum cans, and office paper are accepted. In addition, we present educational videos on the college television station to educate students, staff, faculty, and the public on the importance of recycling. For America Recycles Day (November 15), an art class created sculptures using items from existing material. These sculptures were on display at the Alan B. Mollohan Campus Community Center throughout November and December.
Climate Change Seminar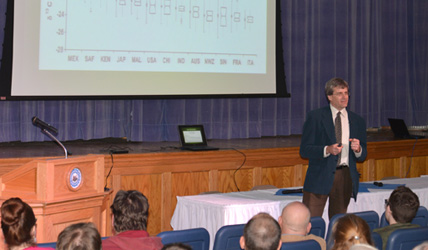 University of Dayton Physics Professor Dr. Bob Brecha visited Glenville State College on March 6, 2014 and delivered the presentation, Climate Change – Past, Present, and Future.
In his presentation, some of the main physical principles of Earth's climate are introduced. Connections are also made to current changes, which are mostly driven by the emission of carbon dioxide from fossil fuel combustion.