International Education Week 2019
International Education Week kicks off officially around the country on November 18th, but we are getting started a little early!  Here at GSC we pause during November to celebrate the benefits of international exchange and to recognize the many positive contributions to our campus and community of the international students, faculty and staff among us.  We have a great line up of events for you this year, so please take a moment to look at the schedule below: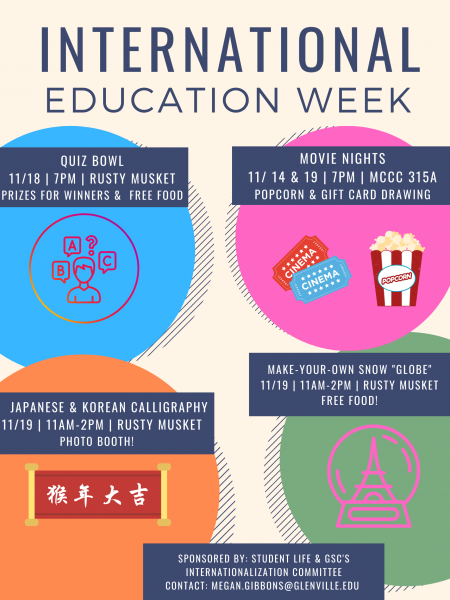 ---
Starting on November 11 pick up a passport from International Programs (AB 316) or Student Life (MCCC 216) for our "Bringing the World to GSC" event.  Visit 6+ countries and you will be entered to win a $50 gift card.  Want to check out an interactive map of the countries you will be visiting?  Use this link.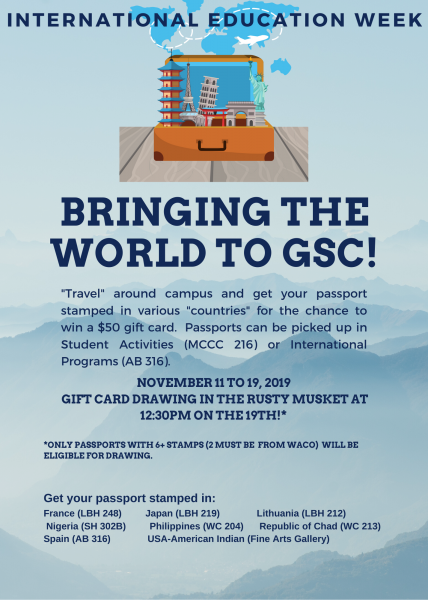 ---
Mark your calendars now for IEW's first of two movie nights!  Thursday, November 14th at 7pm in the Multipurpose Room in Mollohan Campus Community Center.  Download the flyer below:
---
Want to test your international knowledge?  Don't miss the Quiz Bowl on Monday, November 18th. Be sure to bring a smart phone in order to play!  There will be prizes for the winner and the runner up! There will also be free food for you to sample from Japan, Peru and the Philippines!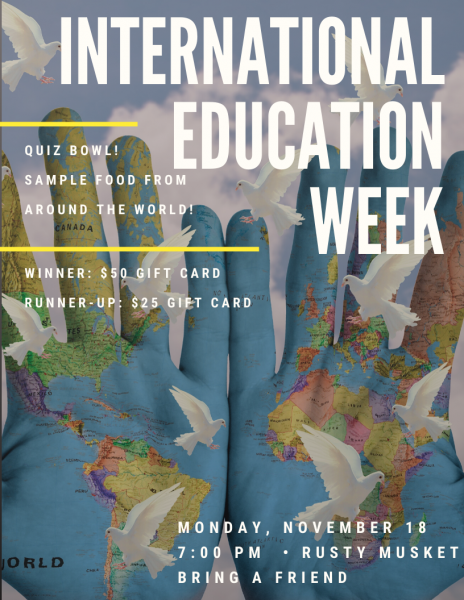 ---
Join us in the Rusty Musket on Tuesday, November 19th for several hands-on activities.  You can try your hand at Japanese or Korean calligraphy, stop for some fun with your friends in our photo booth, try more food from around the world, and make your own snow "globe."  The day will end with the second of our film screenings.  Download the flyer below.