Welcome to Aquatic Fitness at GSC
Locker rooms with showers are located on the first floor.
Pool Schedule
Summer 2019
Open Swim:
Monday, Wednesday, Friday: 11 am - 1 pm; 4 pm - 8 pm
Sunday: 12 pm - 3 pm
Tuesday, Thursday, Saturday: None
Classes:
Water Aerobics - Wednesday, 5 pm - 6 pm
Healing Waters - Wednesdays, 12 pm - 1 pm
Aqua Yoga - Fridays, 6 pm - 7 pm
 
The GSC Pool is not closed, unless indicated, for fitness classes, lessons, or pool parties and is open for others to use during these times.
Note: pool hours are based on lifeguard availability and class schedule. If you have a function or swim need outside of the normal hours, please use the contact information below.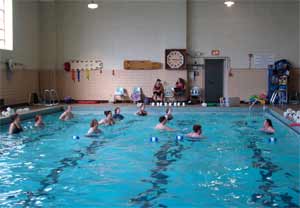 Cost: Entrance to the pool is free for those with a GSC ID or Fitness Center Membership. Community cost for swimming or Aquatic Fitness classes is $3 per person. Children 3 & under are free.
Contact
Kathy Gilbert 
Director, Aquatics and Recreation
Fitness Center, Alan B. Mollohan Campus Community Center 
304-462-6441 
Send email