Call Star Campaign Set To Begin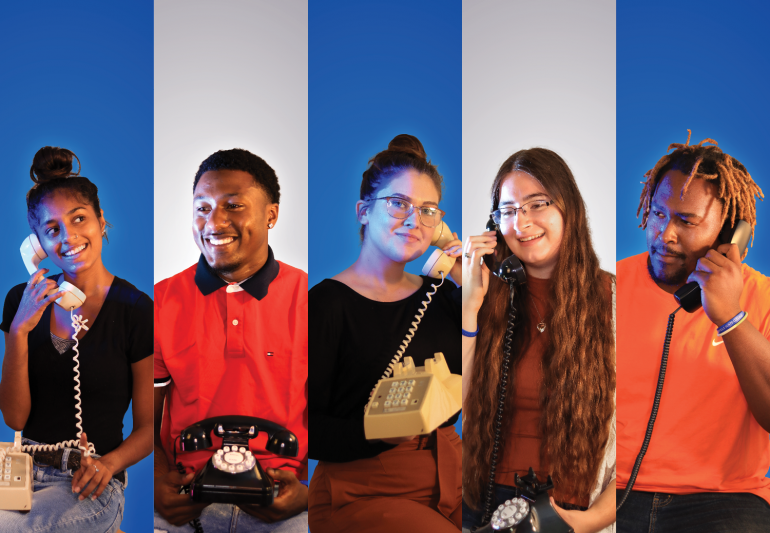 FOR IMMEDIATE RELEASE: September 23, 2020
For More Information:
Glenville State College
Public Relations Department
(304) 462-4115
GLENVILLE, WV – Now is the time in the fall semester when Glenville State College (GSC) students take to the phones to ask for Pioneer Fund donations from the College's network of alumni and friends. Along the way, the students often get something even more personal than simply collecting gifts in support of GSC. 
Calling alumni has provided many student workers with a meaningful introduction into the community of over 16,000 graduates that they will soon join. It is a chance to learn and connect, and in some cases, get advice that will help to mold their academic career. 
"My favorite call would have to be with a music department supporter, George Kerr. He has supported GSC's music program, and he has been a big help to all schools around West Virginia in growing their music programs. We got to laugh and share our experiences with the great music faculty here at GSC," said Mary Pratt, a sophomore music major.
For freshman art major, Pheobe Dean, the best part of calling is getting to talk to the alumni. "I love getting to talk to all of the alumni, to hear their stories from their times at Glenville, and to chat about how they are doing now with their families and careers!"
Student callers find that Pioneer alumni share commonalities like determination and internal drive, and, like alumni, they too are bursting with pride for GSC. In 2019, thanks to many generous donors, over $20,000 was raised for the Pioneer Fund. This year, beginning in early October, 15 students will meet four nights a week to begin calling alumni and friends, with a goal to raise $25,000.
"People give to people, not things. Our best student callers have a love for GSC, they laugh with our alumni, and they take an interest in the voice on the other end of the phone. We love seeing our students take pride in their work – and they are very good at it!" said Director of Fundraising, Ashley Knight. "Working in three-hour shifts, each student worker typically makes 30 to 50 calls per hour."
"I feel that it is important to keep in touch with our alumni because, as we like to say, we are a family. Our alumni have put in time and effort to make GSC what it is today, and I enjoy being a part of that bond, that connection with us. Donations are an important aspect in respect to our alumni because they help students, like myself, receive scholarships to help lessen the burden of receiving a degree. These donations show that our alumni enjoyed their time here and care for the college by helping support us even after they have graduated," said criminal justice major and current Student Government Association President, Jasmine Tarman.
While there is some celebration surrounding each successful donation call, when students are asked to name their most significant success, most recall their friendly interactions with alumni.
"Most have not been to campus in many years and are curious about what has changed and how we are evolving to better ourselves and our students," said Tarman. "They tell so many fascinating stories, and so many of them are fun to talk to!" added Dean.
To donate to the Fall 2020 Call Star Campaign, text "givetogsc" to 31996 or call the GSC Foundation Office from 8:00 a.m. - 4:00 p.m. at (304) 462-6023. All donors who give to the campaign will receive a thank-you call from a student, and those who donate $100 or more will receive an exclusive GSC face mask.