Pioneer Early Entrance Program
Application available by clicking here.
High school students (juniors and seniors) are eligible to enroll in college level courses at Glenville State College through the Pioneer Dual Enrollment Program. This early entrance option allows students to earn both high school and college requirements-hence why some people call the courses "dual credit." We currently have enrollment between 200 and 400 students each semester within nine (9) counties.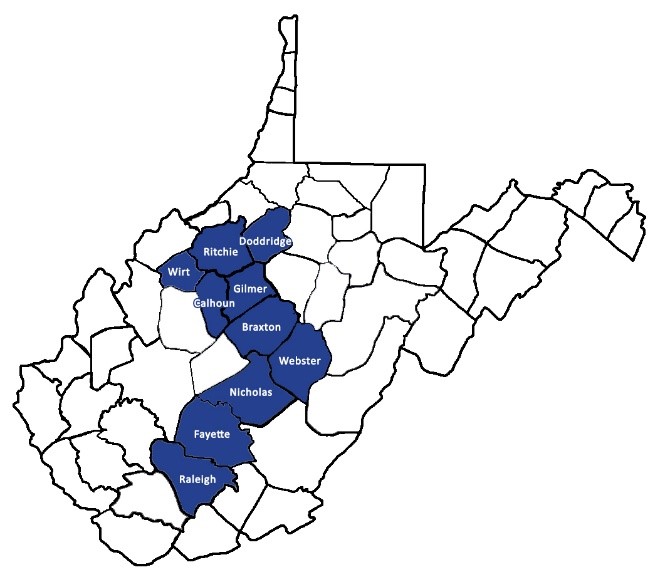 Students who complete coursework as a dual enrollment student are being proactive and getting a head start on their college careers and life in general. They are also advancing with a great cost savings to themselves and their families. GSC is currently offering dual credit courses at the lowest price in the history of the program. Once enrolled in courses students will receive a GSC Identification Card, which provides them free access to college events on the campus, a GSC email account, access to the GSC Library resources and their educational records online through EdNet. GSC is the only institution in the state of West Virginia, out of 44 institutions nationwide, currently participating in a new Federal Experimental Site Initiative which allows students to begin accessing their PELL Grant while still enrolled in high school. Students who wish to participate in this program will need to complete their FAFSA (Free Application for Federal Student Aid).
Participation is limited due to budget constraints, so if you are interested be sure to complete your FAFSA, and submit any documents requested by our Financial Aid Office as soon as possible for consideration of FREE courses.
Students must meet the following minimum qualifications in order to participate as a Dual Enrollment student.
Be a junior or senior when completing the dual credit course
Have a minimum of a 3.00 grade point average (GPA)
Be approved by the high school counselor or principal
Meet the prerequisites of the course they would like to complete
Provide ACT/SAT/College Summative Scores if enrolling in English or Mathematics courses
How to Become a Dual Enrollment Student
Complete the online Dual Enrollment application

We encourage students to be prepared to submit a photo with your application to expedite processing of your GSC ID. Basic guidelines are explained on the application form. Additional guidelines may be found here.  However, please note that picture submission is not a requirement.
Students who express an interest in attending GSC as a freshman after high school graduation will be contacted by the Admissions Office.

Download and complete the Registration Card:

Course Offerings are listed here for your reference
This form requires approval signatures. Please be sure to complete all signature lines and attach a current copy of your high school transcript for grade point average verification and test score submission.
Students enrolling from fall to spring will not be required to provide a new transcript at that time.
You must complete this form each semester to be enrolled as a dual enrollment student.
Once your registration card and supporting documents are received in Off Campus Programs you will be registered for courses by our staff. Students will be send a confirmation email once they are registered.  Their GSC ID will be made with the photo provided on the application and mailed out within the first 30 days of the semester if provided prior to the semester start or within 30 days of submission. If there was not a picture attached to the application an Off Campus representative will contact you for photo submission.
---
Frequently Asked Questions
Who is eligible to enroll as a Dual Enrollment student?
High school juniors and seniors who have a 3.00 grade point average, are approved by their counselor or principal, and have their parents' permission may enroll in dual credit courses.


Why do I need to complete the FAFSA
In May of 2016 GSC was selected to participate in an experimental program which provides students enrolled with us to take advantage of the Pell Grant program. To see if you qualify you must complete the Free Application for Federal Student Aid (FAFSA) at www.fafsa.gov


Do I have to complete the FAFSA to take part in the Dual Enrollment Program?
No, you do not have to complete the FAFSA to register for courses. While we encourage all of our students to see if they are eligible for the Pell Grant there is no requirement for you to do so. Please know that you will be billed at the current dual credit rate.


If I qualify for the Pell Grant where will the funds be sent?
The Pell Grant is a program that allows for the payment of funds to be given directly to the institution. You will not pay any money out of pocket for your courses if you are Pell Grant eligible and complete all paperwork necessary for the Financial Aid process to be complete.


Will I use all of my Pell Grant money before I start college?
Pell Grant eligibility is based off the income of your parents and the particular situation in your household each year that you complete the FAFSA. Not everyone will qualify for the Pell Grant each year. You may qualify this year, but not next year, because the household income has increased. Students are permitted to use their Pell Grant funding, if they qualify, for a maximum of six (6) full time years or twelve (12) semesters.


What is the difference between Dual Credit and Online Courses?
Dual credit courses are usually taught face-to-face by a qualified high school teacher during the regular school day. Online courses are delivered via an online platform which you are required to access on your own time. Sometimes students are given the opportunity to complete online courses with the assistance of a high school teacher as a facilitator. This means that they are given time during the regular high school day to complete course requirements. It is the students' responsibility to ensure they are able to submit assignments on the schedule outlined by the online course instructor. Please check with your high school counselor to ensure that online courses will count for high school requirements as well.


What is the difference between Dual Credit and Advanced Placement?
Dual Credit courses allow the student to be awarded a letter grade. Advanced Placement (AP) courses require a comprehensive exam at the end of the semester. If you do not pass the AP exam at the end of the semester you will need to take that course again in college. Dual Credit courses walk you through to the end, all the while knowing how you are doing in the course and what the final result will be.


How many classes may I take?
You may enroll in as many as your schedule and high school allows. Please make sure that your family can pay for the course(s).


Who pays for textbooks?
Students are responsible for purchasing the required textbooks for each course they are enrolled in for the semester; unless they are provided by the high school. Textbook requirements may be reviewed prior to the start of the semester on the Bookstore's webpage.


What happens if I cannot continue a class?
You are required to follow the official Glenville State College Academic Calendar. If you are enrolled in multiple courses you may drop within the first week without any penalty. You will receive a full refund, if you have already paid, and the course will not appear on your official college transcript. If you make your decision after the first week of class, but before the tenth (10) week you will be withdrawn from a course. You will receive a final grade of 'W' on your official college transcripts. You have until the Friday before finals week to withdraw from all of your courses if you need to do so. This means that if you have already made payment you will receive a refund based on the time of your withdraw. This refund scale is outlined in the current college catalog.


Will my credits transfer to another institution?
While our ultimate goal is to have you continue your education with Glenville State College we do understand that you may wish to continue your education with another institution. Please know that we offer general studies courses so that your credits are more likely to transfer. It is your responsibility to contact the institutions you are thinking about enrolling in to check on the transferability of your credits.
Contact
For information concerning Dual Enrollment, or for information on courses offered at locations other than the main campus, please contact:
Rachel L. Adams
Coordinator
105 Louis Bennett Hall
304-462-6128
Send email
Rachel A. Clutter
Dual Enrollment Counselor
104 Louis Bennett Hall
304-462-6129
Send email
Elora D. Clothier 
Administrative Secretary 
103 Louis Bennett Hall 
304-462-6127 
Send email