Overview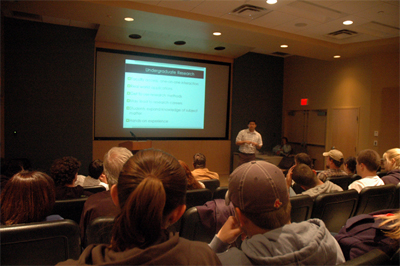 The goal of Glenville State College Honors Program is to bring select, pioneering students together with a distinguished, expert faculty to create innovative work that matters.
The Glenville State College Honors program is designed for students with a pioneering spirit, students who have demonstrated academic excellence, who are seeking an academically stimulating environment with peers and mentors who will encourage and challenge them, and who are looking for the freedom to explore their own academic and professional interests. It is designed for students who want to experience what academics and professionals such as scientists, artists, writers, publishers, designers, computer programmers, historians, mathematicians, and marketing directors actually do in their careers and disciplines, and who want contribute to those disciplines.
Students who are looking for a challenge and the opportunity to learn more, experience more, achieve more, and have some fun in doing so, should consider applying to the Honors Program.
Description
The Honors Program is designed to help select students develop scholarship, creativity, critical thinking, leadership, civic engagement, and academic enrichment in the classroom and beyond.
Honors students take specialized classes that are distinctive in content along with other Honors students; they engage in independent scholarship with faculty mentors who are experts in their field; they engage in enriching, out-of-class experiences by participating in field trips, seminars, conferences, community projects, and workshops; they finish their Honors studies by completing a final project under the guidance of the Honors Coordinator and faculty mentors. Students who successfully complete the Honors Program receive special distinction on their transcripts and during graduation ceremonies.
Honors students begin their studies together in a special First-Year Seminar, which will introduce them to GSC, academic culture, and the Honors Program. In their second year, Honors Students take a special Second-Year Seminar which will introduce them to advanced forms of scholarship and engagement in academic culture. This course will be team-taught by a variety of faculty and academic professionals. Honors students will also take Honors Workshops in which they will explore their academic interests with each other and with expert faculty and special guests.
Do You Want to Be a Pioneer in the GSC Honors Program?
Pioneers are innovative. All classes at GSC are rigorous, but pioneers want more. Honors Students will take small, advanced classes on special topics beyond traditional curricula. Whether their interests are in pioneering a new art form, exploring new advances in chemistry, or developing new kinds of advertising campaigns, Honors students will work closely with mentors and engage with scholars and professionals in their fields and complete projects designed for publication, entrance into graduate school, or inclusion in a professional portfolio. In recognition of their accomplishments, Honors students will receive special distinction on their official transcript and at graduation.
Pioneers are independent. A strong sense of individualism and curiosity are characteristics of every pioneer. Honors Students will determine their own course of study with the expert guidance of a select faculty mentor. In addition to regular class work, Honors students will produce work that matters. They will produce their own, original contributions to their specific academic discipline or profession.
Pioneers are leaders in their community. Like all pioneers, Honors students will become part of a small, distinguished community. They will have access to special Honors housing during their freshman and sophomore years. They will also serve as role-models and leaders for their larger GSC community by becoming tutors, leading study sessions, and sharing their academic interests and work with their peers.
Pioneers enjoy the best of both worlds. GSC's Honors Program is housed in a small, rural college, but its students will travel and be engaged with academic cultures well beyond their classrooms in central West Virginia. Honors students will engage with scholars and professionals from diverse backgrounds. Honors students can expect to be challenged, and also have a little fun.
Admission
Admission into the Honors Program is competitive. Incoming first-time, full-time students with an ACT composite score of 26 or SAT combined score of 1230 and a minimum high school GPA of 3.7 are eligible. GSC students not initially admitted into the Honors Program may apply for admission after the completion of at least 24 hours in residence at Glenville State with a cumulative grade point average of 3.5 or higher. scholarships of up to $1,500 per year for up to four years will be awarded to Honors students.
Application for admission into the Honors Program must include:
Complete Honors Program online application
Write a 400 word essay on the following topic:
Using your experiences both in school and in extracurricular/community-service/employment opportunities, discuss how you think individuals in the increasingly complex and diverse experiences of the 21st century should demonstrate good leadership skills and civic mindedness and why those methods are most fruitful.
List of extracurricular/community activities that relate to leadership, service, and/or diversity
Interview with the Honors Program screening committee
Recommendation letter from a school official that speaks to the applicant's leadership and community service
Contact
Dr. Schuyler J. Chapman
Assistant Professor of English
402 Harry B. Heflin Administration Building
304-462-6326
Send email