Connie Stout O'Dell Named Curtis Elam Professor at GSC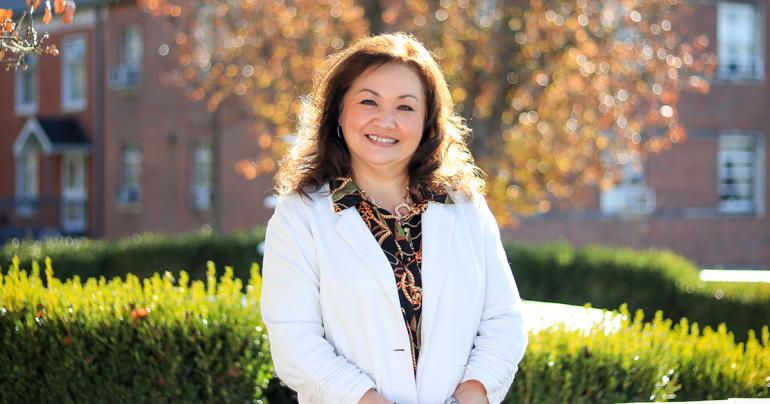 FOR IMMEDIATE RELEASE: December 15, 2020
For More Information:
Glenville State College
Public Relations Department
(304) 462-4115
GLENVILLE, WV – Glenville State College (GSC) Associate Professor of Education Connie Stout O'Dell has received the 2020 Curtis Elam Professor for Teaching Excellence Award. To be eligible for consideration, faculty members must be tenured or be making satisfactory progress toward tenure, have a record of scholarship and service regarding the improvement of teaching, a record of dedication to the preparation of teachers and innovation in pedagogy, and have a record of successful partnerships with the public schools to advance the teaching/learning process.
The award, which is effective for three years, also provides $5,000 per year to support additional professional development for the designated professor.
"I am truly honored and thankful to have been selected for the Curtis Elam Professor for Teaching Excellence Award. I am humbled to have been chosen and to follow in the steps of those who have previously received the award. I'm also excited for the professional development opportunities and the collaboration that this award will provide over the next three years," Stout O'Dell said.
 
With over 20 years of service to Glenville State, Stout O'Dell has taught classes in the Department of Education in addition to serving as the College's Director of Field Experiences for preservice teachers. She is currently acting as the head of the Department and also advises several education-related student organizations. She holds a bachelor's degree from Glenville State College and a master's degree from West Virginia University.
She intends to focus the award on professional development that includes collaboration with local preschool and kindergarten public school teachers, Glenville State College early education teacher education majors, and herself.
"For each year of the scholarship award, a public school teacher will be invited to collaborate with me and a small group of our teacher education early education majors to develop a conference workshop presentation. Presentations would focus on an area of early education and child development including, but not limited to, cognitive development in literacy, numeracy, and/or social and emotional growth and development. Upon acceptance of the presentation, we would present a workshop session at a regional or national early education conference. A goal would be to attend and present at either the National Association for the Education of Young Children Annual Conference, which is held in the fall semester, or the Southern Early Childhood Association Annual Conference which is held in the spring semester," she said.
 
She says she looks forward to the collaboration opportunities and professional development that the award will allow.
"Having the opportunity to attend early education conferences, network with other early education professionals, attend workshop sessions on best practices and current research, and to present workshop sessions is so vital for continued growth in the field of early education. The information garnered from these conferences will also be shared in my early education courses and with the public school teachers that I closely work with," she added.
"Being named the Curtis Elam Professor is a tremendous accomplishment because it is so highly competitive and prestigious. It also illustrates a dedication to education that I believe Mr. Elam would have been proud of. Connie has a reputation of being thorough, kind, compassionate, and an advocate of education and I think her proposal for what she plans to do with the award over the next three years shows that," said Glenville State College President Dr. Mark Manchin.
The late Curtis Elam, a 1949 GSC graduate, established the Curtis Elam Faculty Award as a tribute to the faculty of Glenville State College in recognition of the help and guidance they provided to him in obtaining his undergraduate degree. Elam found a home at Glenville State College where he excelled as a football player and earned a degree. After graduation, the native Oklahoman devoted his entire life to teaching and child advocacy.
In addition to the Teaching Excellence award, Elam's endowment to his alma mater established a scholarship program for college students with disabilities by funding special support services for them, as well as the Curtis Elam Athletic Hall of Fame.
Stout O'Dell is the sixth Curtis Elam Professor at GSC. Other recipients have included Professor Emeritus Dr. Joe Evans (2002), Professor Emerita Dr. Sherry Jones (2005), Dr. Rico Gazal (2008), Teresa Dody (2011), and Dr. Ed Wood (2015).