Cupid Works Year Round At GSC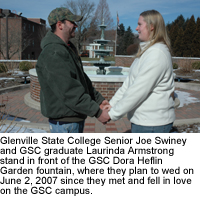 The seasons are flying by faster than stores can rotate their holiday decorations, and this month just happens to include Valentine's Day. Glenville State College is celebrating the red, pink, and white holiday by recognizing its large number of married employee couples on campus and a future wedding for two GSC students.
Currently, there are 13 married employee couples including faculty and staff on campus. Although there is no standing record number, 13 is a stiff competitor.
David Stalnaker, Director of Human Resources, states, "Employment is limited in Gilmer County so a large number of married couples on the job is not unusual." Stalnaker believes a positive factor of married couples being employed together is that family members tend to encourage good performance from one another due to its reflection on each other.
Other benefits of married couples working at the same location include sharing in expenses. Couples can commute together when the hours allow and split the parking fee. At GSC, couples can enjoy lunch breaks together at the Rusty Musket Café, Mollohan's Restaurant, or in an employee break room as well as at local restaurants.
Long-time GSC employee Debbie Spence, Payroll Representative, and husband, Dewell Spence, Maintenance Worker, have worked together at GSC for 6 months, but have never been employed together previously.
"I like having the same holidays and weekends off," remarks Debbie Spence. "It was really nice having the Christmas break off together - first time ever!"
Amy Fiddler, Director of Career and Outreach Services, and husband, Alan Fiddler, Head Football Coach, have worked together at GSC for a little over a year. The Fiddlers have been employed together previously through the same employer but each located at a different site. She views the benefits of being employed together as having the same schedule and sees no negative aspects to working at the same place.
This month of love also boasts that many people meet their future spouses on the GSC campus. Two students agree with this as Glenville State will soon be host to their upcoming wedding.
Joe Swiney and Laurinda Armstrong have planned their wedding for June 2, 2007. The couple hopes to have their wedding in the yard next to the Dora Heflin Garden located on Glenville's main campus.
Armstrong, a Marlinton native, states, "GSC is a relatively equal distance for both families to travel and we both wanted an outside wedding. We thought the water fountain would make a good background."
Originally from Clendenin, Swiney graduated from GSC in May 2004 with an associate degree in forestry. In May 2007, he will graduate from GSC once again with a bachelor's degree in natural resource management. Armstrong graduated from GSC in December 2006 with a bachelor's degree in chemistry.
Armstrong and Swiney were first introduced by mutual friends in the fall of 2003 as students at Glenville State. Later on, they began a relationship and have been dating for two and a half years.
After the wedding, the two GSC students plan to honeymoon in St. Lucia at a Sandals resort. Then, the couple intends to reside outside of Charleston.
Glenville State College wishes these two the best of luck in the future and a Happy Valentine's Day to all.