Distinguished Students Recognized By Department of Business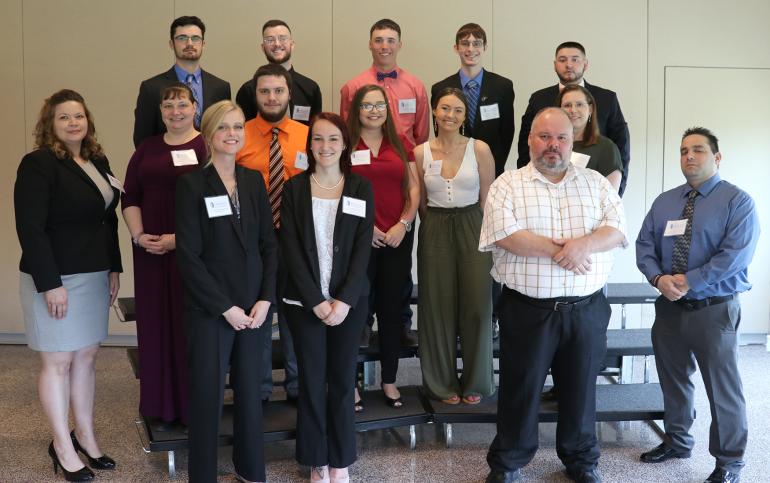 FOR IMMEDIATE RELEASE: May 20, 2019
For More Information:
Glenville State College
Public Relations Department
(304) 462-4115
GLENVILLE, WV – The Glenville State College Department of Business has announced its list of Distinguished Business Students for 2019. Recognition of these top business students is based on multiple criteria including academic achievement, class rank, campus involvement, and leadership in department classes and programs. Additionally, some students are recognized for specific departmental awards.
Those recognized as Distinguished Business Students included: Madison Campbell from Glenville, WV; Luke Carpenter form Glen Daniel, WV; Daniel Crawford from Elkins WV; Bryan Foster from Gassaway, WV; Noel Gonzalez from Spencer, WV; Sabrina Gonzalez from Spencer, WV; Alexander Miller from Martinsburg, WV; and Jasmine Tarmin from Shepardstown, WV.
Specific award recipients included:
Student with the Highest Major Fields Test (Business 100) Score – Jessica Weathersbee from Normantown, WV
Ernest H. Smith Award Recipient – Emily Snyder from Grantsville, WV
Outstanding Computer Science Student – Thomas Gilco from Man, WV
Outstanding Management Student and Student with the Highest Major Fields Test (Business 493) Score – Evan Merical from Millwood, WV
Outstanding Marketing Student – Ai Miyazaki from Kainan City, Wakayama, Japan
Outstanding Sport Management Student – Zachary Lively from Dunbar, WV
Outstanding Two-Year Student – Allison James from Sutton, WV
Outstanding Accounting Student – Tyler Canterbury from Lewisburg, WV
Outstanding Freshman Business Student – Jerry Basnett from Grantsville, WV
Outstanding Sophomore Business Student – Mackenzie Ammerman from Mason, WV 
Outstanding Junior Business Student – Madisyn Furr from Glenville, WV
Outstanding Senior Business Student – Kimberly Hamilton from Craigsville, WV
For more information on the event or the GSC Department of Business, call (304) 462-4123.