Distinguished Students Recognized by GSC's Department of Business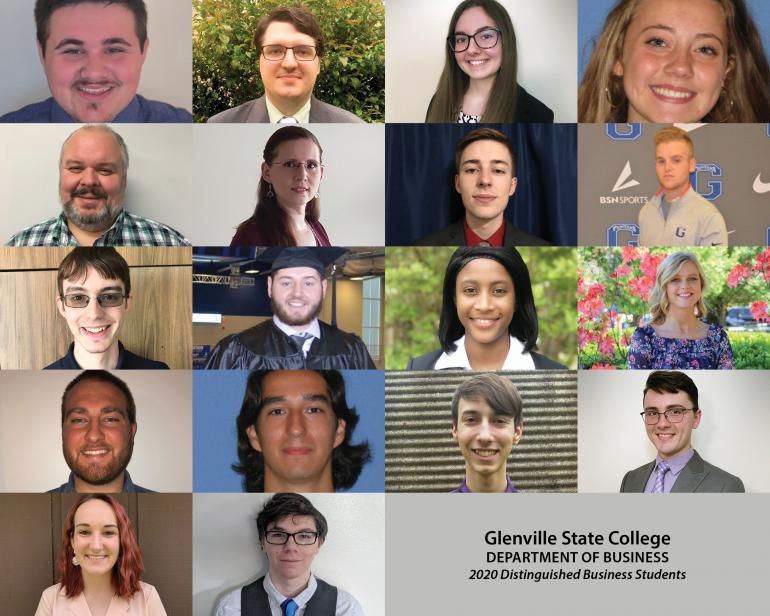 FOR IMMEDIATE RELEASE: June 15, 2020
For More Information:
Glenville State College
Public Relations Department
(304) 462-4115
GLENVILLE, WV – The Glenville State College Department of Business has announced its list of Distinguished Business Students for 2020. Recognition of these top business students is based on multiple criteria including academic achievement, class rank, campus involvement, and leadership in department classes and programs. Additionally, some students are recognized for specific departmental awards.
Those recognized as Distinguished Business Students included: Jacob Arden from Glenville, WV; Leslee Coffman from Heaters, WV; Kimberly Hamilton from Craigsville, WV; Dalton Law from Tanner, WV; Seth Stover from Wallback, WV; Joseph Rubalcaba from Halethorpe, MD; and Jacob Stout from Gassaway, WV.
Specific award recipients included:
Student with the Highest Major Fields Test (Business 100) Score – Jasmine Tarman from Shepherdstown, WV and Garrett Watts from Glenville, WV
Student with the Highest Major Fields Test (Business 493) Score – Logan Renner from Hedgesville, WV
Ernest H. Smith Award Recipient – Thomas Gilco from Man, WV
Outstanding Computer Science Student – Dennis Bowling Jr. from Center Point, WV
Outstanding Management Student – Sabrina Gonzalez from Glenville, WV
Outstanding Marketing Student – Evan Merical from Ravenswood, WV
Outstanding Sport Management Student – Shiann Perry from Kingstown, St. Vincent and The Grenadines
Outstanding Two-Year Student – Ashley Fincham from Burnsville, WV
Outstanding Accounting Student – Alexander Miller from Martinsburg, WV
Outstanding Freshman Business Student – Samuel McNeill from Summerside, Prince Edward Island, Canada
Outstanding Sophomore Business Student – Heather Shifflett from Calvin, WV
Outstanding Junior Business Student – MacKenzie Petry from Grantsville, WV
Outstanding Senior Business Student – Jasmine Tarman from Shepherdstown, WV
For more information on the recognition or the GSC Department of Business, call (304) 462-4123.