Former GSC Board Member Stan Pickens Passes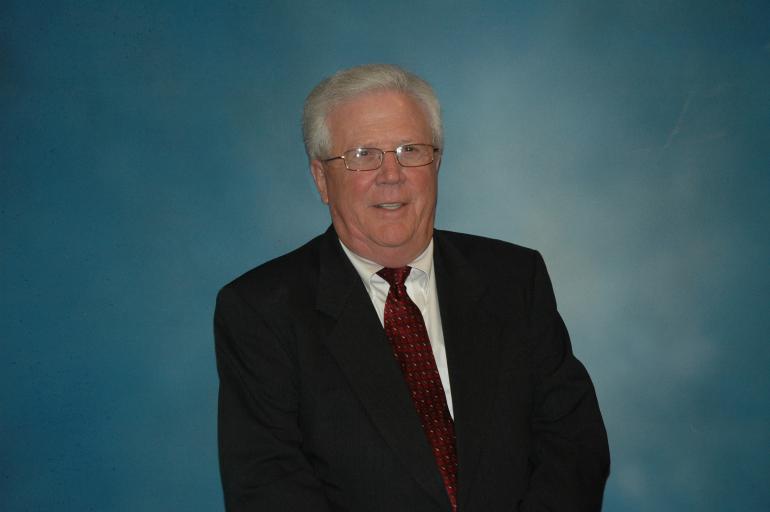 Glenville State College is remembering Stanley Pickens after he passed away on Sunday, March 17, 2019 at his home with family by his side. Stan, an avid supporter and friend to GSC, previously served on the GSC Foundation Board and as a GSC Board of Governors member. 
A gathering of family and friends will be held at the Amos Carvelli Funeral Home, 201 Edison Street, Nutter Fort, West Virginia on Saturday, March 23, 2019 from 2:00 to 4:00 p.m. Click here to see a full obituary.
In 2002, Mr. Pickens was profiled in an issue of the GSC publication, Today's Pioneer. We're reprinting that article below in memory of Stan.
---
From Directing Bands to Directing Oil and Gas Operations…Stan Pickens has Always Been a Leader (Spring 2002)
Glenville State College has long been a place to nurture one's love for the arts. And for Stanley Pickens '60, Glenville State College was and continues to be just that. Stan Pickens may be best known for his pioneering work in the oil and gas business in central West Virginia, but his education came from the Division of Fine Arts at GSC.
Growing up in Glenville, with two brothers and two sisters, Stan understood the value of higher education. Members of his extended family were employed at GSC - his uncle, Carey Woofter, was registrar - and his parents stressed that receiving a college education was vital. Three of his siblings are college graduates who also began their higher education at GSC.
Stan's original plans were to major in pre-law at GSC and then continue on to law school. During the summer before he was to start college, though, something changed his mind. Walter "Dusty" Rhoades formed a county band, which practiced at GSC. Stan joined the band as a trombone player. Before too long Stan was a student teacher at a local band camp, and felt he had found his calling. When he began school in the fall, Stan was majoring in music education-a very unpopular decision with the Pickens family.
Stan graduated from GSC in 1960 and took the job of band director at Jane Lew High School. At Jane Lew, he not only taught music to students from the first through the twelfth grades, but he also taught seventh and eighth grade English.
After two years at Jane Lew, Stan accepted a teaching position at Elkins Junior High School. While at Elkins he acted as band director and handled all the choral and general music classes. During this period, Stan also was the choir director for Woodford Memorial Methodist Church in Elkins.
After serving Elkins Junior High for four years, a sales opportunity opened up for Stan. Through the connections he made in education; Stan was hired as a salesman with Kyle and Company. He also began doing public relations work on a part time basis. It was during this time that he began to forge relationships that would change his professional life.
Stan contracted his public relations service to a group of architects in Charleston, and soon a friend informed him how lucrative the oil and gas business was becoming. Stan did some research and decided to give the oil and gas development a try. The architects soon invested in Stan's venture, and he formed Chesterfield Energy in 1972.
In 1995, Chesterfield merged with Dominion Resources to form Dominion Appalachian Development, Inc., where Stan was chairman and CEO until January 1, 2000. At that time, Dominion purchased Consolidated Natural Gas, and Stan was named Vice President of the Northeast Gas Basins. His responsibility included all gas east of the Mississippi. With Chesterfield and Dominion, Stan has completed over 700 wells in West Virginia.
Stan has been very involved in oil and gas industry organizations. He has held numerous offices in the Independent Oil and Gas Association and has served as both chairman and vice chairman of the Appalachian Energy Group, while also serving in many capacities with the Independent Petroleum Association of America, including Regional Vice President.
Named the 1988 West Virginia Oil & Gas Man of the Year and presented the Distinguished West Virginian Award by the Governor of the State of West Virginia in 1994, Stan was the 1998 Glenville State College Alumnus of the Year.
Stan is also very active in many community groups including the Clarksburg Rotary Club, BPOE Lodge #482, Harrison County Chamber of Commerce, West Virginia State Chamber of Commerce, U.S. Chamber of Commerce, Harrison County United Way and the Glenville State College Foundation. He is a member of Immaculate Conception Catholic Church in Clarksburg.
On January 1, 2001, Stan started a new chapter in his life. He retired. "I have been successful because I surrounded myself with very good people. It was time to have these people take a bigger role," said Stan. "Of all those good people surrounding me, the best is my wife of forty-two years, Roseanne. Without her, none of this would have happened," he added.
Stan is now spending his time with Roseanne and traveling, reading, playing golf and fishing. The Pickens have two daughters, Lisa Brady and Laura Pickens Farmer, and two grandchildren, Matthew and Rebecca Brady.
Stan also hosts golf tournaments that benefit GSC in West Virginia and Myrtle Beach, South Carolina. Additionally, Dominion Resources, Inc., established the Dominion Appalachian Development Stan Pickens Scholarship Fund at GSC to honor Stan and to afford students opportunities to benefit from GSC. Stan also said that GSC has continued to have a positive impact on his life. "For years I would see Dr. [Espy] Miller [former language and literature chair] or Mr. Kerr in bookstores. I've always been a reader, but they enhanced my love for reading," he said.
Stan says he is very appreciative of his experiences at GSC. "Glenville State College, like a lot of small colleges, opens the social opportunities in the minds of young people who haven't before been exposed to arts, sciences and museums," commented Stan.
Concerned about the young people of the counties surrounding GSC, Stan believes that small colleges make it easier for these students to get a college education. "Young people coming from these smaller counties have trepidations about going to large schools. Glenville State starts them on the right road and pulls them in," said Stan. "Many Glenville State graduates from smaller, isolated areas are now legislators, doctors, lawyers, generals ... and Glenville State gave them the opportunities to dream and achieve. That's what it did for me. That's why I want to give back," Stan proudly stated.
Glenville State College is honored that Stanley Pickens continues to give and to give so abundantly. Because of the lessons he learned in this nurturing environment and the values instilled in him, Glenville State College and its mission will endure.