Franchell Mack Brown Brings 'FLAGVIBES' Exhibit to Glenville State University Art Gallery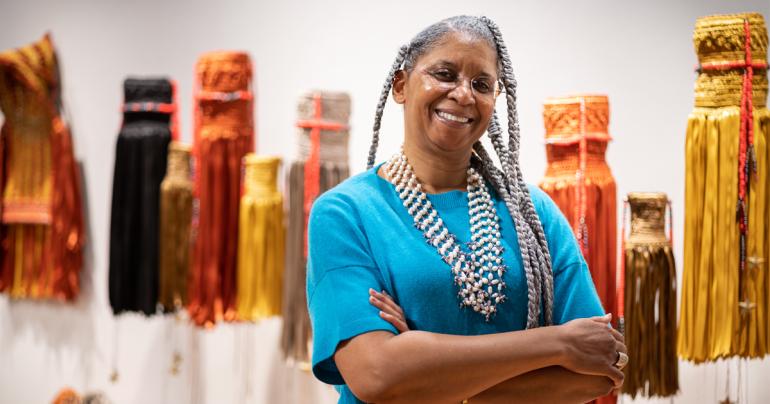 FOR IMMEDIATE RELEASE: March 13, 2023
For More Information:
Glenville State University
Public Relations and Marketing
(304) 462-4115
Glenville, WV – The work of artist Franchell Mack Brown is currently on display in Glenville State University's Spears Art Gallery in the Fine Arts Center.
FLAGVIBES reflects Brown's interpretation of the American flag's 13 stripes and 50 stars, as well as the Black-American Heritage flag. "Flags, generally a symbol of a unified nation, have become dissected totems that signal separation and division," said Brown. "My hope is for true unity. My intention is to contribute to the unifying vision by producing work that uplifts, encourages, and empowers."
Brown held an Artist Talk and reception on Monday, March 6 in the Fine Arts Center where she discussed a brief history of women in the arts, notable women artists of color, and her journey to creating FLAGVIBES.
Originally from Washington D.C., Brown employs a variety of materials in her work, including crocheted ribbon, semi-precious gemstones, industrial cording, and welding. Through the use of color and texture, Brown echoes her fascination with Egungun masking traditions and Native American tribal ceremonies and explores the dualities of being.
Brown's career has included apprenticeships in costuming and metalsmithing, numerous awards, solo exhibits, and juried shows, a fellowship at the Virginia Museum of Fine Art in Richmond, Virginia from 2021-2022, an interlude residency in Hudson Valley, New York in October 2022, and an upcoming Monson Arts Residency in Monson, Maine in April-May 2023. She is also a certified welder.
FLAGVIBES is open to the campus and community through Friday, March 17. The Spears Art Gallery is open from 10:00 a.m. – 2:00 p.m. Monday through Friday and one hour before all musical performances held in the Fine Arts Center.