Glenville State College and New River CTC Sign Guaranteed Admission Agreement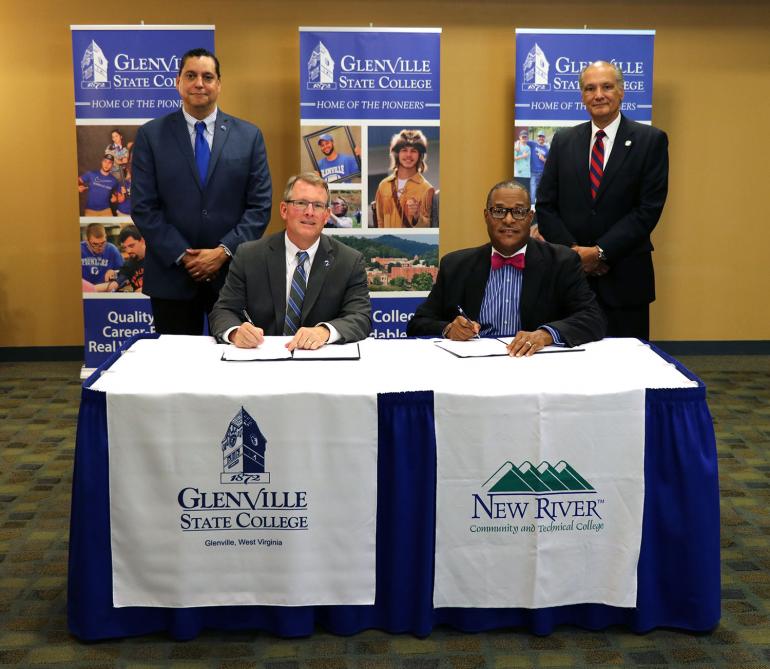 FOR IMMEDIATE RELEASE: May 17, 2018
For More Information:
Glenville State College
Public Relations Department
(304) 462-4115
GLENVILLE, WV - Glenville State College and New River Community and Technical College signed an agreement today making it easier for students who earn an associate degree to earn their bachelor's degree.
Under the new agreement, New River CTC students who maintain at least a 2.0 GPA are guaranteed admission to Glenville State. Students transferring must meet the same prerequisites, GPA, and other admission criteria when applying to programs at GSC. The two institutions will work collaboratively to admit students and facilitate the admissions process.
The agreement becomes effective immediately.
"This agreement symbolizes a shared and renewed attitude of cooperation and collaboration that will benefit all of West Virginia. We see this agreement as only a beginning of future partnering opportunity," said Glenville State President Dr. Tracy Pellett.
"New River CTC is committed to providing accessible, affordable, quality education to our region. This agreement makes the process of continuing education easier for our students and supports our mission by giving students another opportunity to earn a bachelor's degree close to where they live and work," New River CTC President Dr. L. Marshall Washington said.
The two schools have a history of cooperation in southern West Virginia serving students in Nicholas County.
New River Community and Technical College serves nine counties in southeastern West Virginia from the Greenbrier Valley Campus, Mercer County Campus, Nicholas County Campus, and Raleigh County Campus.