Glenville State College Athletic Hall of Fame 2021 Class Announced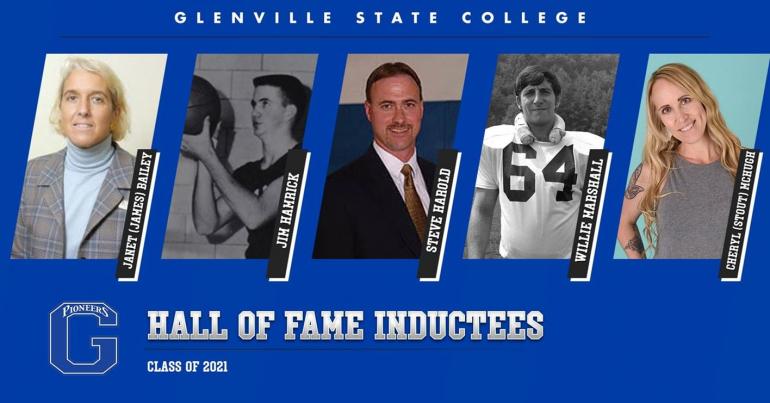 FOR IMMEDIATE RELEASE: October 13, 2021
For More Information:
Glenville State College
Public Relations & Marketing
(304) 462-4115
GLENVILLE, WV - The five newest members of the Glenville State College Curtis Elam Athletic Hall of Fame have been announced.
The 2021 inductees include: Janet (James) Bailey, Jim Hamrick, Steve Harold, Willie Marshall, and Cheryl (Stout) McHugh.
Bailey produced one the most unique four decades of service at Glenville State College. As a student she was a member of the women's basketball and cheerleading teams. She was second in scoring in 1976 under the direction of Gene Davis. As a head track coach, Bailey led Gilmer County High School to a state championship in girl's track in 1983. She would later serve GSC as head athletic trainer and head women's track coach. She launched a student athletic training program in the late 1980's. Bailey led the track program to a pair of WVIAC titles. She would later transition into an administrative role at GSC. Under her tenure the school's baseball program was reinstated. Bailey served as athletic director during the construction of the Sue Morris Sports Complex and the Waco Center. Since Glenville, she has continued to serve under the U.S. Anti-doping Agency, overseeing several major sporting events at many iconic venues. A Gilmer County native, she currently resides in Charleston, West Virginia with her husband Tom.
Hamrick began his college career at WVU before transferring to Glenville State. After graduation, he coached at both Meadow Bridge and Rainelle High Schools before moving to the new Herbert Hoover High School in 1963 as their first football coach. Hamrick spent 25 years as a West Virginia Secondary School Activities Commission (WVSSAC) official in various sports, and after his coaching career, became the Executive Director of the WVSSAC for five years. Throughout his careers, he has been a competitive golfer and distance runner. He now resides in Glenville. His son Mike served as athletic director at Marshall University and his son Ed is the former director of the West Virginia Division of Natural Resources. 
Harold was head coach of multiple sports at GSC and was at the helm for eight WVIAC titles. In track, he was head coach of the men's program for seven years, and the women's program for two. His men's squad won league titles in 1992, 1993, and 1995. In basketball, he spent three-year stints as an assistant with the men's program and then the women's program. He served a 12-year tenure as head coach of the women's program from 1996-2007. He registered a 262-107 record, an all-time GSC record for wins. His teams won five titles, all in his last six years, and twice led the Lady Pioneers to the NCAA Elite Eight. In his final 101 home games, GSC was 99-2. Eight of his former athletes have been inducted into the GSC Athletic Hall of Fame. Following GSC, Harold went on to serve as Head Women's Basketball Coach at Drury University and St. Joseph's College (Indiana) in the same role. Coach Harold would finish with 439 wins as a NCAA Women's Basketball head coach. Harold, a Gilmer County native, now resides with his wife Renee in Parkersburg, West Virginia. He currently serves as athletic director at Warren Local High School.
Marshall was a three-year starter on the Pioneer Football Team. He was named First Team All-WVIAC at the defensive end position in 1973; that same year the Pioneer Defense gave up only 93 points in 12 games. The Pioneers would finish as the 1973 NAIA National Runner-up. Marshall was also a thrower for the GSC track program. After college, he spent three decades as an assistant coach in Fayette County. Marshall coached basketball, football, and track. Until his death, he remained active in the Fayette County Baptist Association as a Lay Minister.
Stout was a standout volleyball player at Glenville State from 1996 to 1999. She was named First Team All WVIAC in 1996 and 1998 and second team in 1997. Stout was part of the 1996 GSC team that won 23 games, the first 20-win season for the program. Stout is a leader in several categories for volleyball program; 2,337 kills, 573 blocks, and 278 service aces. Stout also recorded 121 career digs.
The 2021 Hall of Fame Class will be officially inducted at a selected date in the spring.
Glenville State College's Athletic Hall of Fame was established in 2001 through the generosity of the late Curtis Elam.