Glenville State College Honors Program Students Preserving Local History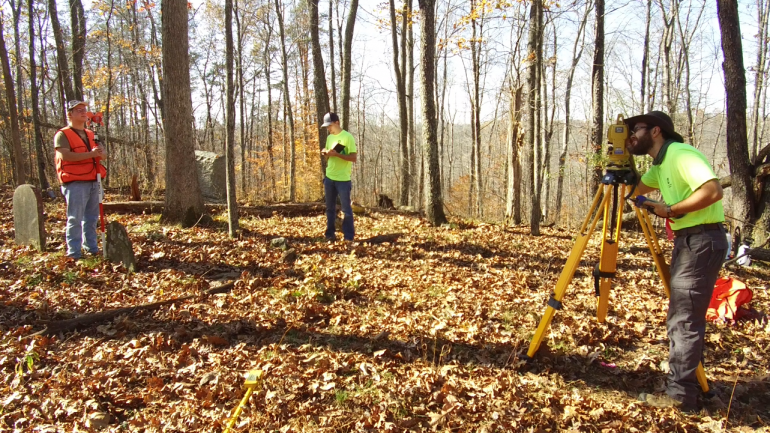 FOR IMMEDIATE RELEASE: February 1, 2021
For More Information:
Glenville State College
Public Relations Department
(304) 462-4115
GLENVILLE, WV – Three Glenville State College (GSC) Honors Program students are putting their land surveying skills to use to in a unique way – mapping old family cemeteries.
Over the past several months, GSC students Eli Henthorn, Asa Dick, and Jacob Amick have been traveling around Gilmer County to locate, map, and preserve the histories related to these rural, sometimes forgotten, cemeteries. All three are land surveying technology majors.
"We wanted to apply our surveying skills and utilize them in a way that we could give a product back to our community and this project seemed like a great fit," Henthorn said. "I can remember going out with my dad when I was four or five and visiting old cemeteries near where we lived. These cemeteries are good sources of historic information…they're basically open air museums."
So far the trio have surveyed ten cemeteries in Gilmer County, mostly near Tanner, Glenville, and Sand Fork. They have visited over 30 others and have plans to survey 10-15 more.
The students say they are open to surveying other small family cemeteries in Gilmer County if they can be granted access. "We would love for anyone with knowledge of small, lost and forgotten cemeteries or gravesites to contact us. We are specifically looking for more in the areas in and around Linn, Perkins/Rosedale, and Grass Run, Middle Run, and Lower Run – but even if they are not in these areas, please still reach out," Henthorn said.
In addition to the history found at each site, the group says they have also been surprised at the craftsmanship. "Some of the headstones we have come across date back to the mid-1800s, so they would have been carved by an artisan using a hammer and chisel or a nail, and the detail on some of them is really intricate," Henthorn said. "We also came across a tomb dating to about 1850 that has cut sandstone walls and the headstones sit into slots on the wall – it was pretty interesting," he added.
Once they complete the field work, the information will be compiled into a book which will contain a chapter on each cemetery with a photo, location map of the site made with GIS software, CAD-drawn maps showing the relationship of the headstones, trees, cemetery boundaries, etc., and an index to easily search for interments. 
When the book is finalized, the students plan to give a copy to GSC's Robert F. Kidd Library, the Gilmer County Public Library, the Gilmer County Historical Society, and the West Virginia State Archives. They hope to also make the book available for purchase for a nominal fee that would cover printing costs and benefit the College's Honors Program.
For more information on the project, contact Henthorn via at henthorn.elij@gsc.glenville.edu or by mail at 200 High Street Box 2669, Glenville, WV 26351.