Glenville State College's Kim Stephens is Among the 2021 Generation Next Honorees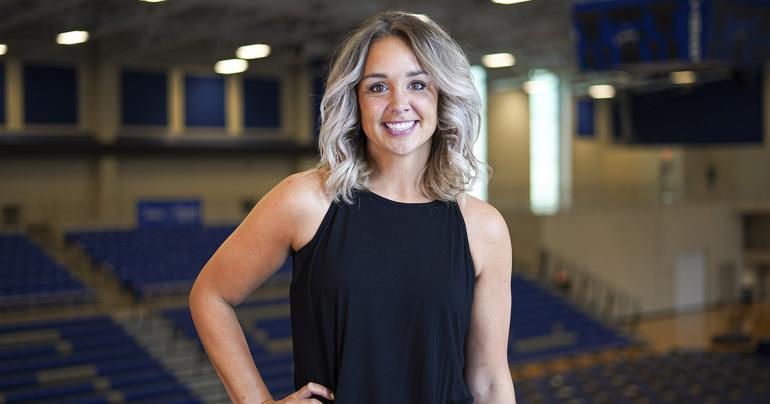 For Immediate Release: June 29, 2021
For More Information:
Glenville State College
Public Relations Department
(304) 462-4115
GLENVILLE, WV - Glenville State College graduate and Head Women's Basketball Coach Kim Stephens has been named to the 2021 class of Generation Next: 40 Under 40 honorees.
Stephens and the other honorees were recognized at a ceremony on June 17.
"Being named to the Generation Next top 40 under 40 is a big honor. There was a point during the ceremony where I looked around the room and wondered if I belonged – there were so many amazing people, doing so much for West Virginia being recognized, and to be in the same class as them was a privilege," Stephens said.
"We are extremely proud of Coach Kim, not only for being named to the Generation Next list, but for all of her accomplishments on and off the court here at Glenville State College. She is an inspiration to her players and truly defines what it means to be a Pioneer," said Glenville State College President, Dr. Mark A. Manchin.
In her interview with the Generation Next publication, Stephens talked about giving back.
"So many people have helped me and our program along the way. It is so important to give it back. To take the time to talk to elementary school students, to go visit them and invite them to games. It's important to have camps and clinics and have your players be positive examples for young people," she said.
Stephens says she also counts influential people, such as her father Scott, among her own role models.
"My dad, he was my inspiration to coach and to be a leader of young people. He did a great job by just setting an example of hard work and how to treat other people. He would always take time to talk to everyone in the gym, even opponents," she explained. 
"We are very proud of Coach Stephens and the amazing career she has produced here," said Glenville State Athletic Director, Jesse Skiles. "Her success goes well beyond basketball; her teams are also strong academically. And that record…123-20, it speaks volumes. It was an honor to see her receive this award alongside so many other talented young people in our state."
"The people in West Virginia and beyond are caring and thoughtful. Not many places in the country have people that say hello to one another when they walk past. The people in Glenville and West Virginia are downright special," Stephens added.
The 40 Under 40 recognition was created 16 years ago to celebrate the state's outstanding professionals who make a difference on the job and in their communities. The recognition is presented by The State Journal.