Glenville State Foundation Announces Riverside High School Scholarship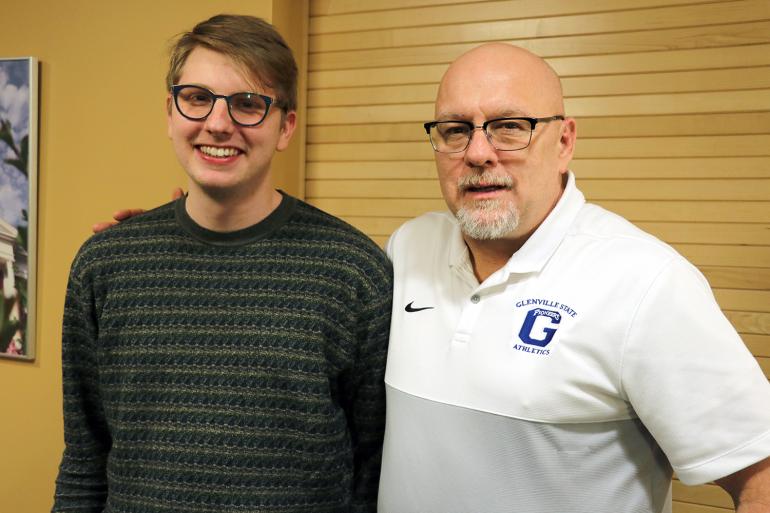 FOR IMMEDIATE RELEASE: February 20, 2020
For More Information:
Glenville State College
Public Relations Department
(304) 462-4115
GLENVILLE, WV - Glenville State College Foundation Executive Director David Hutchison has announced a new scholarship available to a Riverside High School (RHS) graduate. Starting this spring, RHS graduates can apply for the Jesse Skiles Scholarship, a $1,000 award designed to help a young student-athlete from the eastern end of the Kanawha Valley. 
Coach Jesse Skiles, Glenville State College's Director of Athletics, is a native of the area. Growing up in Campbell's Creek, and graduating from DuPont High School in 1982, he remains a supporter of Riverside High School athletics. Skiles and his son, Jesse Skiles Jr. have created the fund. The scholarship is available specifically to a Riverside High School student-athlete continuing their athletic career at Glenville State College. Candidates must have a minimum 3.00 grade point average in high school, must maintain a 2.50 grade point average while at GSC, and must pass a minimum of 12 credit hours per semester.
"Being a kid growing up, up 'The Creek,' I always felt like my family was a part of a very special community," Skiles Sr. said. "This is a way of giving back to the folks back home."
The Skiles family plans to award the first scholarship this April if there is an interested candidate. Skiles' sister Cindy Clark still lives in the area and resides on the family property where they grew up. Coach Skiles' nephew, Jacob Clark, won the 2018 Danny Williams Scholarship and is on the all-time Riverside lists in two areas, basketball points and football receptions. Skiles' nephew, Tanner Clark, was the starting center on the Warrior football team this fall and is a member of the baseball team. Skiles was a 1987 graduate of Glenville State College, while Cindy was a 1994 graduate of GSC.
Skiles is quick to point out the tremendous ties to Glenville in the eastern end of the Valley. There are five members of the GSC Curtis Elam Athletic Hall of Fame with ties to the Riverside area. Tom Gunnoe, a 1960 East Bank graduate, starred at Glenville State in football before going on to an NFL career with the Cleveland Browns. Larry "Doc" Stanley, a 1955 graduate at DuPont where he starred in football, track, and basketball, attended Glenville where he was the star running back on the 1958 championship football team. Stanley was the fastest athlete in the KVC of the mid-50s. Keith Pritt, a 1954 graduate at DuPont, was a star lineman for the Pioneers and was teammates with Stanley. He would later be a legendary track coach at Charleston High. Bubby Dent was a 1985 graduate at DuPont where he starred in football and track. He would become a two-time track All-American at Glenville State where he ran for Skiles. Dent's state record in the Class AAA 800 would stand for almost 30 years, and he would star as a distance runner throughout his adult life. Bob "Hooks" Hardman was not a native of the area, but the star of the 1950 WVIAC basketball tournament title team at Glenville State and was a coach at DuPont in the mid-50s. Pritt credits Hardman with being the original recruiter who started the pipeline from that end of the Valley to GSC.
For Skiles, it is about following the lead of others who have helped out.
"There are some great people in the area that have given back in some amazing ways. The Thad Snodgrass Scholarship has been great for the area, as has the Danny Williams Scholarship, and also the 'Mator's Kids' Foundation. My family and I just want to add to that legacy and help the community in this way," Skiles Sr. said. "I am intensely proud to be from the eastern end of the Kanawha Valley," he added.
"Hopefully, we can help someone go on and a get a degree that may have had a tough time doing so otherwise," Skiles Jr. said. "My dad has been able to do many things because of the help of the people in the DuPont community, so I feel very blessed to be helping with this effort."
For more information, contact the Glenville State College Foundation Office at (304) 462-6380 or the Riverside High School Counseling Office at (304) 348-1996.