Glenville State Student Receives Award from BSA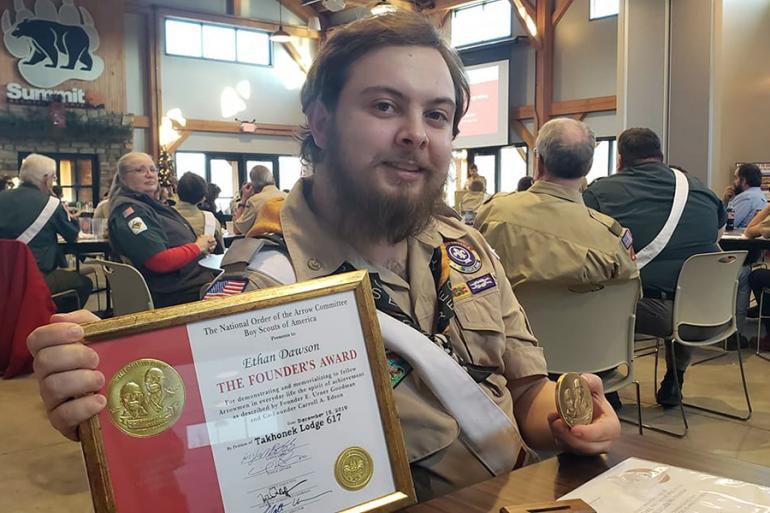 FOR IMMEDIATE RELEASE: December 17, 2019
For More Information:
Glenville State College
Public Relations Department
(304) 462-4115
GLENVILLE, WV - Glenville State College student Ethan Dawson recently received the Founders Award from the Boy Scouts of America (BSA) Order of the Arrow. He received the award at the Takhonek Lodge Winter Banquet that was held at Pigott Dining Hall at the Summit Bechtel Scout Reserve on Sunday, December 15.
The Order of the Arrow is the BSA's national association of honor campers and, through the program, members live up to the ideals of brotherhood, cheerfulness, and service set forth by founders E. Urner Goodman and Carroll A. Edson. The award is reserved for those who personify the spirit of selfless service, as advocated by Goodman and Edson.
Dawson, a Scout since second grade, also spent time this summer at the Summit Bechtel Reserve giving guided canopy tours and helping with ropes courses and ziplining. That included work at the ten-day Summer World Scout Jamboree that saw over 40,000 scouts and staff descend on the Fayette County camp.
He was recommended for the job through his connection with the Order of the Arrow and a fellow camping trip organizer.
"I'm really honored to receive the award. Growing up in Scouts and now being a Scout Leader, I'm happy to help new guys out who are looking to us as friends and father-figures," Dawson said.
The Dunbar, West Virginia native is a natural resource management major with a concentration in forestry at GSC. After graduation he hopes to put his degree and skills to use in a field related to parks and recreation.
Individual lodges may petition the national Order of the Arrow committee to present between two and four awards annually, depending on the number of members in the lodge.