Glenville State Students Named to Academic Honor Rolls for Spring 2020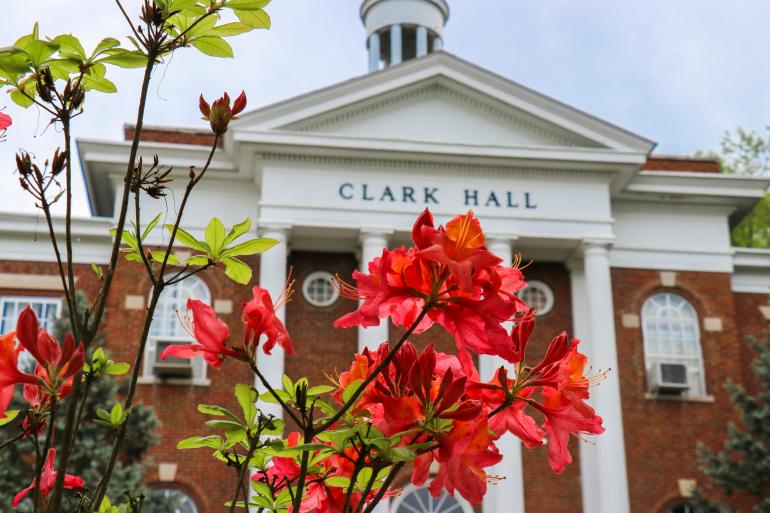 FOR IMMEDIATE RELEASE: June 11, 2020
For More Information:
Glenville State College
Public Relations Department
(304) 462-4115
GLENVILLE, WV – The names of students who attained the Glenville State College President's and Provost's Honor Lists for the Spring 2020 semester have been announced.
President's Honor List
To be named to the President's Honor List, a student must have a 4.0 grade point average on a minimum of 12 semester hours.
The students making the President's Honor List are listed as follows according to their county of residence:
Barbour County: Shania D. Pennington
Berkeley County: Morgan E. Golden
Braxton County: Leslee R. Coffman, Raven M. Friend, Daniel R. Hoard, Allison B. James, Katerina G. Pawlowski, Lexi N. Pletcher, Jessica A. Smarr, Camron M. Wayne
Calhoun County: Cassidy E. Conley, Kaylin E. Parsons, Jacob A. Petry, MacKenzie L. Petry, Karlie N. Whited
Clay County: Kaitlyn O. Coleman, Lori K. Ray
Gilmer County: Preston M. Allison, Emily R. Barger, Tiffany A. Cole, Chandler B. Ferguson, Faith E. Hardman, Cheyenna D. Henderson, Janeeva J. Jenkins, Brian T. Moore, Cheyenne B. Moore, Sierra F. Richards, Halee N. Wildman
Greenbrier County: Asa M. Dick, Emily A. Kemper, Adam L. Osborne
Hardy County: Shannon R. Hahn
Jackson County: Larissa L. Hayman, Courtney N. Lanham
Jefferson County: Mary Louise M. Pratt, Karra A. Smith, Jasmine N. Tarman
Kanawha County: George S. Lilly, Steven M. Pritt, Derek M. Waugh
Lewis County: Taylor R. McClain
Mason County: Camryn E. Tyree
Mercer County: Anna M. Lusk, Katelyn N. Richardson
Nicholas County: Sydney Cowell, Trinity S. Amick, Jacob D. Amick, Danielle L. Bartlett, Marlyn S. Donelson, Brenna H. Elkins, Raeana A. Green, Abigail L. Hamon, Mallory J. Harrouff, Sydney A. King, Katharine D. Landreth, Faith A. Lipscomb, Dalton J. McGeeney, MiKhaela G. McKinney, John N. Nutter, Megan E. Pritt, Caylie S. Snyder, Caroline M. Tinnel, William Cote Womack
Pocahontas County: Cora G. Hedrick
Putnam County: Tobi S. Short
Raleigh County: Ciera N. Heine
Randolph County: Megan O. Crumm
Ritchie County: Cali B. Hayes, Valerie E. Ogle
Roane County: Haley K. Cottrill, Emily A. Salisbury, Olivia B. Unger
Tucker County: Christopher M. Chambers
Webster County: Bryce M. McCourt
Wirt County: Jennie M. Burroughs
Wood County: Tabitha N. Hewitt
Out of State: Victoria H. Lewis (AL), Ryan Rodriguez (FL), Joseph H. Rubalcaba (MD), Jessica D. DiGennaro (NY), Brian N. Chaney (OH), Marcus C. Kelley (OH), Timothy E. Neff (OH), Catherine L. Pelfrey (OH), Spencer B. Blackburn (PA), Joshua D. Probst (PA), Nadira N. Muhammad (SC), Anthony W. Carson (TN), Chere Y. Davis (VA), Nicole T. Hansen (WA)
Foreign Countries: Shayne Miller, Samuel D. McNeill, Oluwatobi J. Oladapo, Paula Urquidi
Provost's Honor List
To be named to the GSC Provost's Honor List, a student must have a minimum 3.5 grade point average on a minimum of 12 semester hours.
The students making the Provost's Honor List are listed as follows according to their county of residence:
Barbour County: Jyra A. Clark-Casto, Paula L. Snyder
Boone County: Christopher H. White
Braxton County: Seth I. Arnold, Lindsay N. Chapman, Dylan J. Crosby, Cassie N. Hyre, Jacob A. Stout, Forrest A. Taylor, Katlin M. Williams
Calhoun County: Jenna L. Milliron, Ryan K. Milliron, Anne E. Pingley, Brogan S. Richards, Zane R. Vineyard, Carissa L. Yoak
Clay County: Anna F. Childers, Sadie B. Murphy, Katie D. Nutter, Katthlene M. Rose, Heather B. Sears, Seth M. Stover
Fayette County: Tristan P. Coots, Ashley M. Fridley, Shauna R. Harless, Faith N. Norris, Abigail D. Taylor
Gilmer County: Taylor A. Adkison, Jacob A. Arden, Christopher A. Evans, Dalton A. Law, Heather L. Moore, Maria I. Morris, Isaac F. Putnam, Haylie M. Reynolds, Timothy D. Roy, Kayla I. Seawell, Mary K. Skidmore, Curtis N. Sleeth, Hayley M. Summers, Kerri C. Swiger, Emily D. Turner, Garrett E. Watts
Grant County: Colton E. Allanson, Colton B. Watts
Greenbrier County: Tiffany J. Fitzwater, Carley P. Midkiff
Hampshire County: Della G. Moreland
Harrison County: Jordan E. Cole, Dakota R. Dotson, Jordan L. Gump, Elizabeth R. Little
Jackson County: Hannah G. Gandee, Bryce K. Jarrell, Blake A. Jarrell, Evan D. Merical, Katlyne B. Rollyson
Kanawha County: Kayla B. Letart, Zachary P. Lively, Jacob T. Lutsy, Joseph T. Lutsy, Victoria J. Porterfield, Justin S. Tucker
Lewis County: Kaitlin L. Corbitt, Herbert N. Curtis, Tiffany J. Curtis, Adam M. Cutlip, Jonathan R. Dodson, Johnathan G. Menendez, Teresa F. Messenger, Brooklyn A. Queen, Jenna M. Sprouse, Seanna B. Stump, Melea P. Stutler
Logan County: Deanna P. Fields, Jacob S. Watkins
Marion County: Emily P. Landis, Abigail K. Stoller
Marshall County: Lydia P. Boyd
Mercer County: Jared C. Bishop
Mingo County: Zoe A. Yates
Monongalia County: Raeann A. Sickles
Monroe County: Kiera D. Conner, Sierra R. Ferguson, Karlei M. Shaver, Marcus E. Spinks
Nicholas County: Ceirra D. Blankenship, Tabitha L. Cochrum, Emily P. Dillard, Kristen G. Gadd, Payton J. Hanshaw, Makayla J. Hanshaw, Maegan E. Nuckols, Montique L. Roberts, Zackery A. Toler, Rachel N. Westfall, Alyssa M. Woods
Pendleton County: Chase M. Simmons
Pleasants County: Eli A. White
Putnam County: Abigail G. Dye, Ariel A. Gwynn
Raleigh County: Ellis D. Lilly, Madison E. Shepherd
Randolph County: Abigail K. Johnson, Haley J. Smith
Tucker County: Brody R. Strawderman
Tyler County: Eli J. Henthorn, Allyson M. Yoho
Upshur County: Nicklaus R. Calef-Boring, Hannah R. Guthrie, Olivia M. Hinkle, Kaitlyn M. Luterek, Emily P. Moore
Webster County: Jared A. Romano
Wetzel County: Samuel B. King, Colton L. Ring 
Wirt County: Megan A. Harding, Kristina L. Lowe, Kia N. Sleesman
Wood County: Claire L. Amos, Hannah M. Dennis, Seth M. Fallon, Kenzie M. Johnson, Cameron F. Knopp, Nicholas D. McVaney
Wyoming County: Mitchell D. Blackburn
Out of State: Mackenzie C. Martinelli (CA), Tyrone A. Russ (DC), Stormie L. Alverson (KY), Ethan C. Carr (KY), Zephaniah K. Gray (KY), Ashya O. Hill (MD), Taychaun M. Hubbard (MD), Dane J. Lynch (MD), Hegel M. Augustin (NY), Noah K. Harris (OH), Michael J. McGarry (OH), Sophie N. Shifferly (OH), Johnny J. Arroyo (PA), Alexa C. Smith (PA), Christian J. Davila (PR), Kendall J. Wall (TX), Kyra A. Bauer (UT), Jaylyn C. Lomax (VA)
Foreign Countries: Qianjiao Chen, Maria A. Perez