Glenville State University Class of 2023 Takes Part in Commencement Ceremony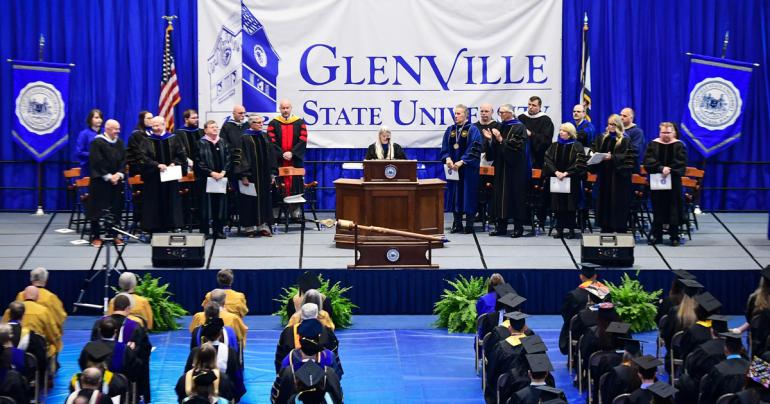 FOR IMMEDIATE RELEASE: May 8, 2023
For More Information:
Glenville State University
Public Relations & Marketing
(304) 462-4115
GLENVILLE, WV – Glenville State University's 149th Commencement Ceremony took place on Saturday, May 6.
The Glenville State University Class of 2023 includes graduates who completed requirements for an Associate or Bachelor's Degree in a variety of academic areas including business, criminal justice, teacher education, and natural resource management, among others. The Class of 2023 is made up of students from throughout West Virginia and Florida, Georgia, Kentucky, Nevada, North Carolina, Ohio, Pennsylvania, and Virginia – and Puerto Rico, France, Canada, Bhutan, Rwanda, and England.
Sixteen members of the Glenville State Class of 1973 returned to campus and were honored as fifty-year graduates. The returning alumni had an opportunity to reconnect with former classmates, enjoy a dinner, and tour campus on Friday before being officially recognized during the ceremony on Saturday. Recognizing alumni celebrating their fiftieth reunion has become a tradition during the spring Commencement Ceremony at Glenville State.
Additionally, graduating students Jared Bishop and Christian Davila were recognized as Student Pioneers of the Year and Dr. Kevin Evans was honored with the Outstanding Faculty Award.
Michael Rust, Glenville State University's current Board of Governors chairman and a member of the 1973 fifty-year reunion class, provided the keynote address. 
Fall classes at Glenville State begin on Monday, August 14, 2023. For information on enrolling and beginning your journey as a Pioneer, visit www.glenville.edu/apply or contact the Office of Admissions at (304) 462-4128.