Glenville State University Computer Science Student Completing Summer Internship with Agile5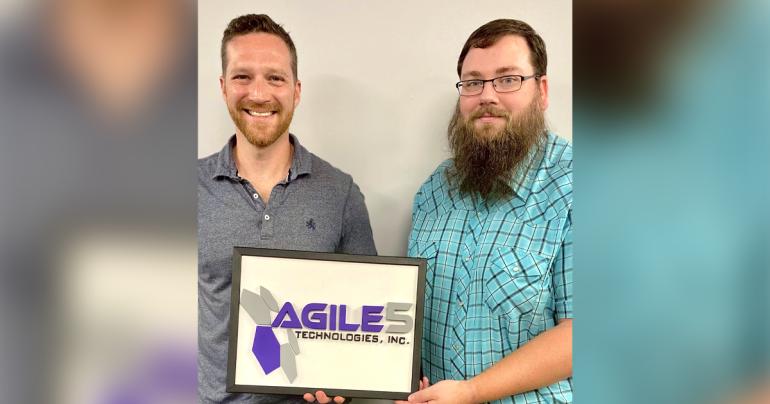 FOR IMMEDIATE RELEASE: July 20, 2022
For More Information:
Glenville State University
Public Relations & Marketing
(304) 462-4115
GLENVILLE, WV - Glenville State University Computer and Information Systems student James Amos is completing an internship with Agile5 Technologies, Inc. this summer. Located in Fairmont, West Virginia, Agile5 specializes in IT services and software supporting enterprise systems for government agencies and commercial businesses.
As a result of a $1.4 million grant from the Appalachian Regional Commission (ARC), (80%, $1,12,995 of which came from ARC, 20%. $281,413, from the Claude Worthington Benedum Foundation and Glenville State University), the Glenville State University Cyber Security and Workforce Development Initiative was born. A partnership with Agile5 was soon established and the creation of an internship partnership was soon developed for GSU students.
Amos first connected with Agile5 when representatives from the company came to Glenville State to speak to one of his classes. Agile5 now plans to bring more Glenville State University students on board as interns in the future.
"Cyber security is as effective as locking your door. With enough time and determination, someone will eventually cut through the wall and get into your system. It is essential to not only slow others down as much as possible but also for companies to make it so complicated that it is blatantly obvious when someone tries to break in," Amos said. "At Agile5 Technologies, I have loved learning how to implement security tools in ways that help secure the product and help the developers and other team members develop the best software possible. This learning experience has helped me develop skills that can only be taught by experiencing them, and I genuinely appreciate the opportunity that Agile5 and Glenville State University have given me."
"Agile5 is excited to be working with Glenville State University and its students. James Amos, our first Glenville cybersecurity intern, already has his 'fingers on the keyboard' and is gaining real-world experience building cyber security solutions for enterprise systems. James is learning under the supervision of Jacob Brozenick, the Agile5 Chief Security Officer and working directly with developers and system administrators to identify and mitigate security findings. We look forward to expanding this program in the years to come," said Justin Steele, the Project Manager for Agile5 Technologies, Inc.
"The Glenville State University and Agile5 partnership brings with it new and ever-developing opportunities for both partners. With the development of the internship program and the development of collaborative state-of-the-art cybersecurity labs, Agile5 and Glenville State are teaming up to give students and organizations alike the next generation of highly trained Cybersecurity and IT professionals. Glenville State University is thankful to Agile5 for this partnership opportunity and looks forward to a highly successful partnership for years to come," said, Tim Henline, Project Manager for the ARC/GSU Cybersecurity and Workforce Development Initiative.
For more information about the Computer Science and Information Systems program within the Glenville State University Department of Business, contact (304) 462-4123.