Glenville State University Homecoming Events Planned for October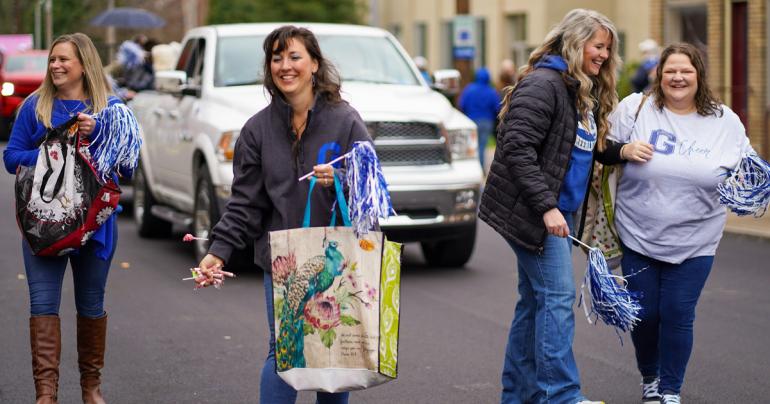 FOR IMMEDIATE RELEASE: August 30, 2022
For More Information:
Glenville State University
Public Relations & Marketing
(304) 462-4115
GLENVILLE, WV – Glenville State University will celebrate its annual Homecoming during the week of October 10, culminating on Saturday, October 15. A number of events are planned throughout the week for students, faculty, staff, alumni, and friends. Everyone is encouraged to make plans to come back to Glenville.
The special Homecoming honoree group will include former Percussion Ensemble members and the Homecoming Parade Marshal is Professor Emeritus John McKinney. McKinney, who led the Percussion Ensemble at Glenville State for nearly 40 years, retired last year. 
Returning alumni and friends are invited to visit an exhibit highlighting the 150-year history of Glenville State. The exhibit – entitled "150 Years of a Changing Landscape: Glenville Normal School to Glenville State University" – includes photographs and historic artifacts. A reception for the exhibit is planned for the evening of Friday, October 14 from 3:00-5:00 p.m. in the Fine Arts Center gallery. The event is free to attend; light refreshments will be served.
On Saturday, October 15 the Homecoming Parade will take place in downtown Glenville starting at 10:00 a.m. All Pioneer alumni and friends are then invited to enjoy tailgating in the Morris Stadium parking area beginning at 11:00 a.m.
Former members of the Pioneer Marching Band are again invited to participate in this year's Alumni Band. Returning members can register at the Fine Arts Center at 8:00 a.m. on Saturday morning, will march through the parade playing the GSU fight song, will be special guests at the alumni tailgate at Morris Stadium, and will be recognized and play the fight song during the homecoming pregame show. To sign up, contact Jason.Barr@glenville.edu or Lloyd.Bone@glenville.edu.
Alumni members of returning Greek organizations Lambda Chi Alpha, Theta Xi, Tau Kappa Epsilon, Sigma Sigma Sigma, and Delta Zeta will be holding tailgate reunions before the game. The groups will have special sections under the tailgate tent in close proximity to the larger alumni tent in which to visit and reminisce on Saturday.
Kickoff between the Glenville State Pioneers and the Alderson Broaddus University Battlers happens at 1:30 p.m. 
Other events, specifically for current students, will also take place throughout the week.
For additional information about Homecoming, contact Conner.Ferguson@glenville.edu.