Glenville State University Officially Inducts 2021 Athletic Hall of Fame Members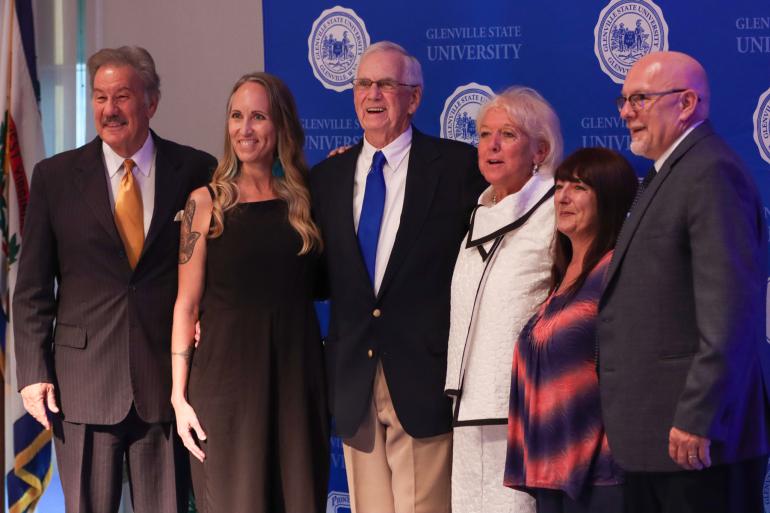 FOR IMMEDIATE RELEASE: August 3, 2022
For More Information:
Glenville State University
Public Relations Department
(304) 462-4115
GLENVILLE, WV – Four individuals were inducted into the Glenville State University Curtis Elam Athletic Hall of Fame during the annual Hall of Fame banquet and induction ceremony on Friday, July 29. The banquet celebrated the 2021 class of inductees; the formal induction ceremony had been delayed due to COVID-19.
Janet (James) Bailey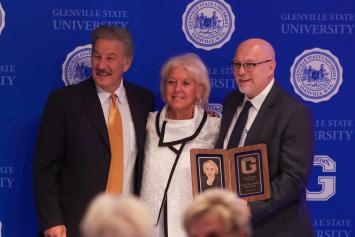 As a student-athlete in the late-1970s, Bailey was a member of the basketball and cheer squads for the Pioneers. She was on the first Lady Pioneer basketball team (within the Association for Intercollegiate Athletics for Women at the time), and provided the school with the first great moment in the program history. She was the key player in the first comeback for the Lady Pioneers, helping bring the team to a 43-41 victory against West Virginia State. Bailey graduated from Glenville State in 1979 with a Bachelor of Arts degree in library science (K-12) and health, physical education, and safety (K-Adult). She also earned a Master's Degree from West Virginia University.
 
Bailey served as a teacher, librarian, and coach at Gilmer County High School for nine years. In 1983, she led the Lady Titan girls track program to the Class AA State Championship.
She eventually returned to Glenville State where she would spend 27 years. During those years, she served in multiple capacities from coach and athletic trainer to professor and athletic director. In these positions, she cherished working with her students and student athletes. In addition to her classroom obligations, she served as the advisor for the Fellowship of Christian Athletes, was a Faculty Marshal, and a member of Faculty Senate.
"I urge the educators to continue to bridge the gap between athletics and academics. Coaches and teachers really do need each other," Bailey said.
After volunteering at the 1996 Atlanta Summer Games and at the Olympic Training Center in Colorado Springs as an Athletic Trainer, she began drug testing with the U.S. Olympic Committee Doping Control. She's been working with the U.S. Anti-doping Agency since 2000, which has allowed her to travel nationally and internationally to conduct testing at various games and events such as Olympic Games, Paralympic Games, Boston Marathon, and more. She also worked for the U.S. Olympic Committee from 1996-1999.
Bailey has received many accolades throughout her career, including receiving the Pathfinder Award through the American Alliance for Health, Physical Education, Recreation and Dance (now the Society of Health and Physical Educators, known as SHAPE America), the Glenville State Faculty Award of Excellence, and a Legacy of Women Award in Sports through the West Virginia Women's Commission. She is also a Glenville State faculty emeritus.
"And remember, somewhere there is a young girl playing – someone will give her a doll and someone will give her a ball and someone will give her a chance. Thank you to Glenville State University for giving me a chance and for sharing a journey that will only continue," she added.
Originally of Normantown, West Virginia, she and her husband Tom now reside in Charleston, West Virginia. She is currently serving as an Administrative Assistant in the West Virginia State Senate. She is an avid volunteer in the community, working with the Women's Club of Charleston, the Annual Style Show benefiting YWCA Charleston Sojourner's Shelter for Homeless Women and Families, and the Greenbrier Dream Tree for Piedmont Elementary.
James "Jim" Hamrick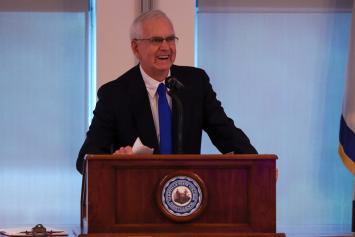 Hamrick has worked in education throughout West Virginia for 60 years and still serves as a member of the Board of Review for the West Virginia Secondary Schools Activities Commission (WVSSAC).
"I was from the Meadow Bridge, and I didn't even know where Glenville was. But I found out quickly. I played on a summertime independent basketball team and Glenville had a team too. Two Glenville players – Bob "Hooks" Hardman and Tex Gainer – found me and knew I was going to leave WVU and they wanted to show me Glenville State. We went to the Lilly Gym and setting on the steps was Coach Carlos Ratliff. After Coach Ratliff and I talked, I knew I was going to come to Glenville," Hamrick said.
While a student at Glenville State, he was a member of Phi Delta Kappa, Kappa Sigma Kappa, G Club, Varsity Club, was Treasurer of the Student Council, Junior Class Vice President, and the campus newspaper staff. He was a member of the Pioneer football, basketball, and baseball teams. In 1957, he graduated from Glenville State with a Bachelor of Arts degree in mathematics, physical education, health, and driver's education. After graduating from Glenville State, he earned his Masters of Arts degree from West Virginia University in 1966.
Hamrick served as a math teacher and coach at four West Virginia high schools (Meadow Bridge, Rainelle, Clendenin, and Herbert Hoover) for 16 years, was principal at Clendenin Junior High School for 18 years, served at the Executive Secretary of the WVSSAC for four years, and has been a substitute teacher for 22 years.
Throughout his career, Hamrick has been heavily involved in sports championships, education, and service to his alma mater. He served as the Lead Teacher for Marshall University's Student Teachers, served as Chairman of the Glenville State College Board of Advisors and received a Presidential Citation for his leadership in 2000 from former President Thomas Powell, served on the National Federation of State High School Association Track Committee for two terms (he is the only West Virginian to have served on this committee), served as the National Association of Intercollegiate Athletics National Track Meet Director for three years, has served as the West Virginia Intercollegiate Athletic Conference Track Meet Director for six years, served the WVSSAC as both the State Track Meet Director and State Boys Basketball Tournament Director, and served as WVSSAC official for football, basketball, baseball, and track and field.
"I would still recommend that any parent send their kids to Glenville State. There's a lot of problems out in the world, and a lot of them are not in Glenville. It's a pretty good place to send your kids or grandkids," Hamrick added.
Outside of his life as an educator, Hamrick has continued to be a competitive runner and golfer throughout his years. The 88-year-old has competed in over 20 marathons, and still holds the record for runners over 60 with a time of 1:54 in the 15-mile Charleston Distance Run.
Originally of Spring Dale, West Virginia and a graduate of Meadow Bridge High School, he currently resides on his family's farm in Glenville, West Virginia.
William "Willie" Marshall
Marshall, who was inducted posthumously, was a native of Oak Hill, West Virginia. He attended Collins High School through his junior year, and then was awarded a scholarship to Greenbrier Military School for his senior year before coming to Glenville State.
While a student at Glenville State, he was a member of the Pioneer Football Team. In 1973, he was named first-team all WVIAC for defensive ends, a member of the 1973 National Runner-Up Team, and a three-year starter during Pioneer Football's "Golden Age." In 1977, he graduated with his Bachelor of Arts degree in social studies education.
After his graduation from Glenville State, he served as a teacher at Fayetteville High School from 1978-2012 until his retirement. During his time, he served as an assistant coach for football, basketball, and track and field.
Marshall was a member of Calvary Baptist Church where he was involved in jail ministries, filled in for his pastor, was head of the Awana program, traveled to nursing homes, and delivered meals on holidays. He was very strong in his faith and believed that he needed to help anyone he could.
He and his wife Karen have one daughter, Jennifer Harper, and two grandchildren, Mark and Stephanie. In addition to his family, several of Marshall's church friends were on hand at induction ceremony as well.
"I would like to thank everyone who had a part in selecting my father for the Hall of Fame," Harper said accepting the induction on her father's behalf. "In my eyes, he was a great man. I know he's looking down on us and that he is honored that his actions are remembered and that he would graciously accept this honor."
Cheryl (Stout) McHugh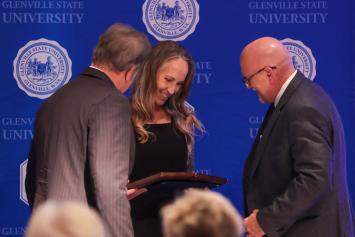 McHugh is a Wood County native, and enjoyed a stellar career as a two-sport star at Parkersburg Catholic High School. She was recruited to Glenville by former Glenville State head volleyball coach Kenny Osborne, and was the star player during Glenville State's most successful run in the sport of volleyball. She also played one year of basketball for the Lady Pioneers. 
During her time with the volleyball program, McHugh was named First-Team All-Conference in 1996 and 1998, and Second Team in 1997. She was a star on the 1998 team that won a school-record 23 matches – the first team in program history to eclipse the 20-win plateau. That season, she finished sixth in the nation with 706 kills (4.87 kpg), and was 25th in kill percentage (.354). She closed her career as the school's all-time leader in several categories; 2,337 kills, 573 blocks, and 278 service aces. McHugh remains one of only two Glenville volleyball players to twice be named First-Team All-Conference. She earned a Bachelor of Science degree in sport management from Glenville State in 1999.
After her graduation from Glenville, she earned a personal training certification and attended massage therapy school. She has spent her career in fitness, personal health, and yoga. For the last eight years, she has dedicated her time to growing her small business, Full Circle Yoga – which is located in Vienna, West Virginia. There she has developed a Yoga Teacher Training program. Additionally, she operates a non-profit, Project Yoga MOV, which brings the benefits of yoga to the underserved. Through the non-profit, she has taught yoga in rehab facilities, at correctional centers, and to veterans programs.
She and her husband Patrick currently reside in her hometown of Parkersburg, West Virginia and have two daughters. McHugh gives back to her community by providing a free outdoor yoga class at Point Park each week during the summer months. She also serves as an Assistant Volleyball Coach at Parkersburg South High School.
"I feel very honored and special to be inducted. I just enjoyed the game and it was a big bond between me and my dad – he loved watching me play. He did end up passing last month, so it's an honor to be inducted but it's also bittersweet," McHugh said.
McHugh's father, Roger Stout, was one of her biggest supporters and was the main factor in her deciding to attend Glenville State and play volleyball. A Glenville alumnus himself, he retired early so that he could travel to watch her play. He passed away on June 28, 2022.
The Curtis Elam Athletic Hall of Fame was established in 2001 through the generosity of the late Curtis Elam, a 1949 Glenville State graduate. Hall of Fame member plaques are displayed in the Waco Center.