Glenville State University Student Receives EnerGIS Scholarship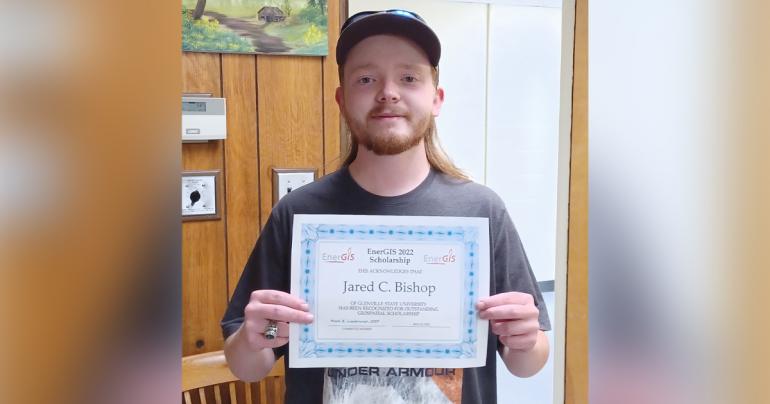 FOR IMMEDIATE RELEASE: June 20, 2022
For More Information:
Glenville State University
Public Relations & Marketing
(304) 462-4115
GLENVILLE, WV – Jared Bishop, a Glenville State University Department of Land Resources student, recently received the EnerGIS scholarship. The scholarship is available to students in the Appalachian Region who are enrolled in a Geographic Information Systems (GIS) program and are actively working on research projects that utilize GIS software.
Because he is enrolled in Glenville State University's GIS certificate program and is conducting research through the GSU Honors Program, Bishop decided to apply.
"I have utilized GIS software extensively for the research project I am conducting through the University's Honors Program. Using existing data from state government organizations such as the West Virginia Department of Environmental Protection and the West Virginia Division of Natural Resources, I have generated maps that display the topography, hydrology, and historical land use of my four-county study area," he said. "I have also used this software to show water sample locations and my initial findings within the three watersheds the project focuses on."
As a requirement of the scholarship, Bishop will give a brief presentation at the EnerGIS Conference in late September. The conference is scheduled to take place in Canonsburg, Pennsylvania. He hopes to have the mapping portion of the project done by the end of August. Outside of his research through the University, Bishop has utilized GIS software for personal projects like mapping his family's farm as well as wild and native trout streams throughout West Virginia.
"The Glenville State University GIS certificate program can provide graduates with a useful skillset, give them an advantage in competitive job markets, and create opportunities unique to those with GIS training," Bishop said. "I would urge students in the Natural Resource Management program to consider the GIS certification in addition to their existing coursework."
For students already in the Natural Resource Management program, only three additional credit hours are needed to earn a GIS certification.
EnerGIS is a nonprofit organization that describes itself as a production of events featuring geospatial educational content within the energy industry and a meeting place for GIS and geospatial professionals to gather with colleagues to discuss topics of current interest and new challenges within the industry.
For more information about the programs within the Department of Land Resources at Glenville State University, contact the Department of Land Resources at LandResources@glenville.edu or (304) 462-6370.