Glenville State University Team Attends Higher Learning Commission Annual Conference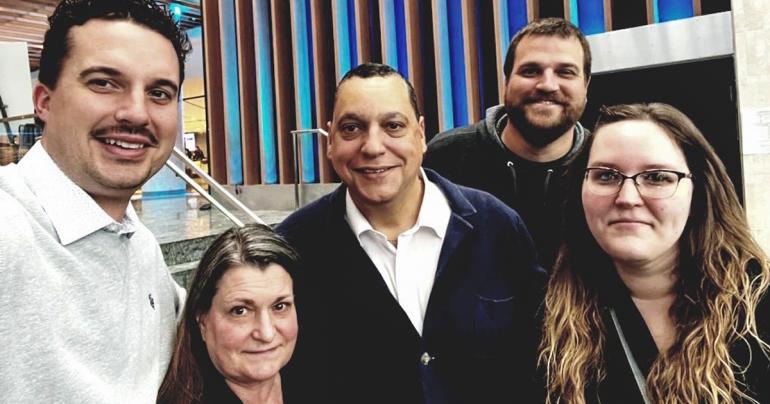 FOR IMMEDIATE RELEASE: August 19, 2022
For More Information:
Glenville State University
Public Relations & Marketing
(304) 462-4115
GLENVILLE, WV – Several Glenville State University representatives attended the Higher Learning Commission (HLC) Annual Conference last spring. The conference was held in Chicago and serves as an opportunity to hear updates in higher education trends, changes in accreditation practices, and allows attendees to network with peers from other institutions. The Higher Learning Commission is the regional accrediting body responsible for accreditation of nearly 1,000 institutions of higher education in the north central United States, including West Virginia.
Glenville State's team of attendees included Provost and Vice President for Academic Affairs Dr. Gary Morris, Associate Professor of Land Resources and accreditation assurance team member Adam Black, Executive Secretary to the Provost Ashley Nicholas, Associate Professor of English and Director of Institutional Assessment Dr. Melody Wise, and Dean of Student Success and Retention Trae Sprague. Combined, the team attended 31 meetings over the day and a half they attended the conference.
Morris says he believes that attending the annual conference is valuable and illustrates the seriousness placed on maintaining accreditation.
"Our team enjoyed the visit and learned a great deal. We returned with a better understanding of what Glenville State University needs to do to prepare for future visits and heard many ideas that could be implemented on our campus. Some of these included leadership training workshops for employees, working with the campus librarian to better catalog evidence for assurance reports, and initiatives that can help increase the success of first year students. Overall the team agreed that Glenville State has been doing a good job preparing for our upcoming HLC reaffirmation visit September 19 and 20," said Morris.
In addition to meetings, attendees also had the opportunity to listen to a number of keynote speakers.
One of the speakers, Arthur Levine, discussed the coming transformation of higher education in America. He believes, historically, that higher education goes through a cycle, one of experimentation followed by one of normalization. Accrediting bodies such as HLC are required to bring about normalization because the accreditation process normalizes the higher education landscape across America. The COVID-19 pandemic, which forced institutions to go virtual, prompted the beginning of a cycle of experimentation on how course content and degrees are delivered and awarded. Levine discussed how this cycle, along with new options for the delivery of virtual education, alternative program and curriculum development, and influence from the private sector, will change the perceived or actual value of a traditional education and its cost.
Glenville State plans to continue sending faculty and staff to future annual meetings. The 2022 conference marked the first time in two years that the conference was held in person due to COVID-19 precautions. Around 5,000 individuals were registered to attend the meeting.