GSC and BCHS Sign Landmark Agreement to Speed Time to College Degree Completion for High School Students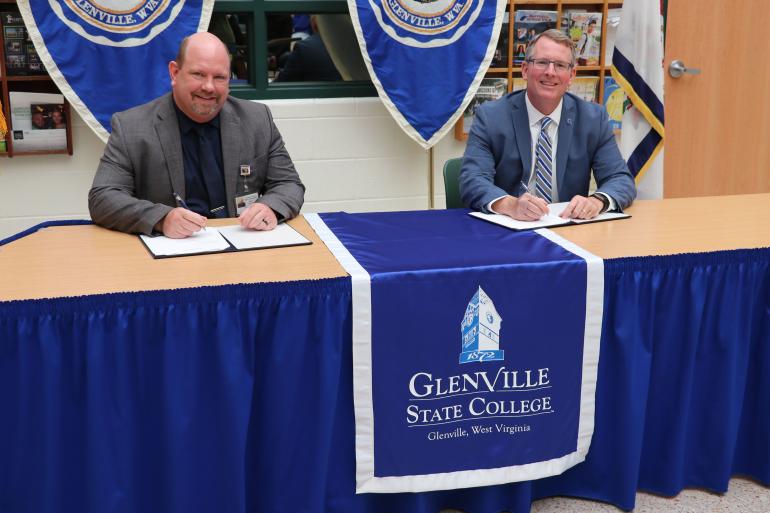 FOR IMMEDIATE RELEASE: May 21, 2018
For More Information:
Glenville State College
Public Relations Department
(304) 462-4115
GLENVILLE, WV - Glenville State College has offered dual credit courses at schools throughout West Virginia for years, but seniors have never been able to graduate from high school and college simultaneously until now.
At a signing ceremony held Monday, May 21, Glenville State representatives joined Braxton County High School administrators and Board of Education members to formally acknowledge a new agreement.
The initiative provides a framework for high school students enrolled at Braxton County High School to potentially graduate concurrently with their high school diploma and an Associate of Arts degree in General Studies from Glenville State.
"This agreement allows us to join forces with our partners at BCHS to help propel high school students into college graduates without them ever needing to set foot on a college campus. This presents a tremendous opportunity for students who can now maximize their time to yield two credentials, a high school diploma and a two-year degree, all while still in high school," said GSC President Dr. Tracy Pellett.
The courses are available to BCHS students at a reduced, dual credit rate. Additionally, GSC is the only higher education institution in the Mountain State authorized to make Pell Grant funds available to dual enrollment students, which could allow eligible students to realize significant reductions in their out-of-pocket costs for the courses and degree attainment.
"Students who opt to take these courses while they are still in high school are positioning themselves to save time and money, which is a smart move and allows them to begin a college career, if they so choose, with a leg up on other students," said Braxton County Schools Superintendent David Dilly.
The program is scheduled to begin in the fall.
For more information contact GSC's office of Off-Campus Programs at (304) 462-6270.