GSC Dual Enrollment Program Allows High School Students to Earn College Credits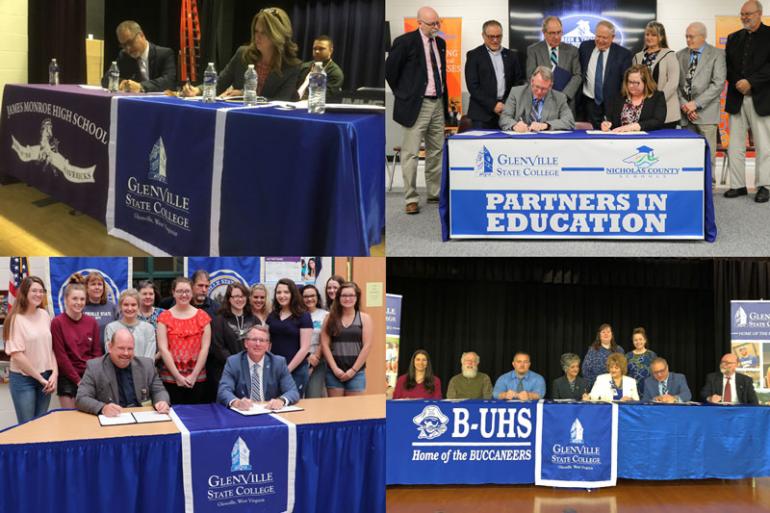 FOR IMMEDIATE RELEASE: September 26, 2019
For More Information: 
Glenville State College 
Public Relations Department 
(304) 462-4115
GLENVILLE, WV – High school students are eligible to enroll in college-level courses at Glenville State College through the Dual Enrollment Program. This early-entrance option allows students to earn both high school and college credits at the same time, giving them a jump start on their college careers while also saving money.
Glenville State College is the only institution in West Virginia that allows students to begin accessing their Pell Grant while still enrolled in high school, potentially reducing the tuition cost to zero dollars out-of-pocket for those who have completed their FAFSA and qualify for the Pell Grant. Those who do not qualify for the Pell Grant are charged a nominal rate per credit hour attempted. 
With the addition of three counties and four schools, the Glenville State College Dual Enrollment Program currently partners with a total of fourteen high schools across twelve counties in West Virginia, with over 400 dual enrollment high school students throughout the service area for the Fall 2019 term. The participating schools include: Braxton County High School, Buckhannon-Upshur High School, Calhoun County High School, Clay County High School, Gilmer County High School, Independence High School, James Monroe High School, Lewis County High School, Nicholas County High School, Point Pleasant High School, Richwood High School, South Harrison High School, Webster County High School, and Woodrow Wilson High School.  
To participate in the Dual Enrollment Program, students must have a minimum GPA of 3.0 or higher, be approved by a high school counselor or principal, meet the prerequisites for the course they would like to complete, and provide ACT/SAT/College Summative Scores if enrolling in select English, science, and mathematics courses. Once enrolled in courses, students will receive a GSC ID card, which provides them free access to events on campus, a GSC email account, and access to their educational records through EdNet.
All courses offered through the Dual Enrollment Program will be credit-bearing toward degree completion. A majority of the courses offered fill general education requirements in all degree programs at Glenville State College. Additionally, all students enrolled in the program will receive academic advising by a Dual Enrollment Counselor each semester.
For more information, contact the Office of Workforce and Community Development at (304) 462-6127.