GSC Honors Seven at Annual Alumni Banquet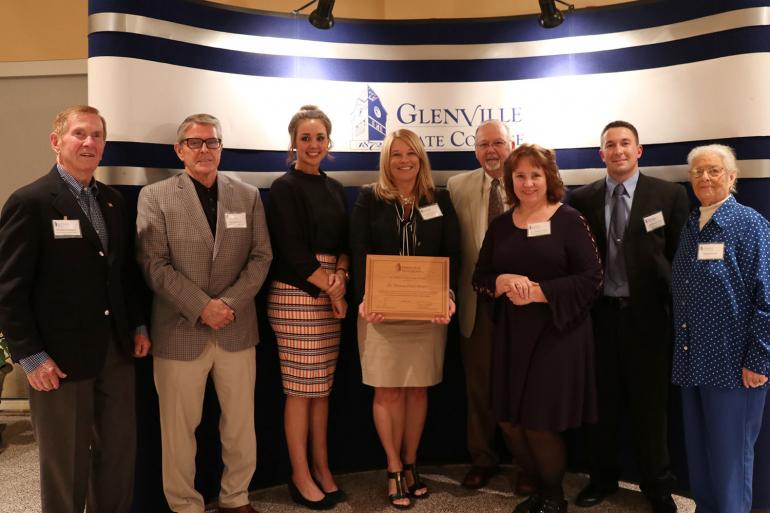 FOR IMMEDIATE RELEASE: May 16, 2018
For More Information:
Glenville State College
Public Relations Department
(304) 462-4115
GLENVILLE, WV - Glenville State College alumni and friends gathered on campus for the 2018 Alumni Banquet on Saturday, April 28 in the Mollohan Campus Community Center Ballroom. Those in attendance enjoyed a dinner buffet and the presentation of the 2018 GSC Alumni Association Awards.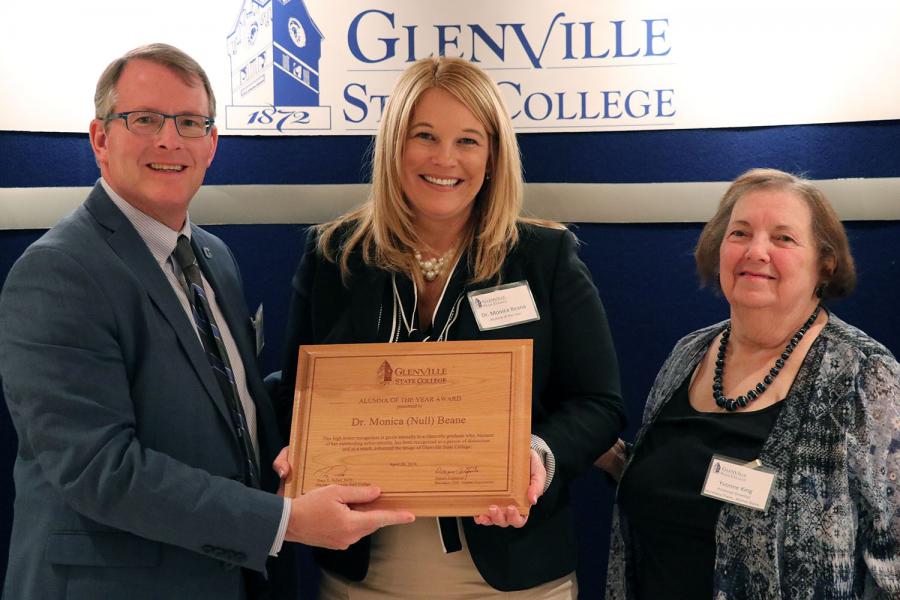 The evening's prestigious Alumna of the Year Award was presented to Dr. Monica (Null) Beane '96, a native of Wirt County, West Virginia. The award is given to a graduate of Glenville State College for outstanding contributions in their chosen field or for outstanding personal accomplishments. Beane joined Educational Testing Service (ETS) as a Client Relations Director in 2017. In this role, she serves as the first line of contact for their clients in Alaska, California, Hawaii, Idaho, Montana, Nevada, Utah, and Washington. Beane has over 20 years of educational experience, including posts as the Executive Director of the Office of Educator Effectiveness and Licensure at the West Virginia Department of Education, an elementary school principal, and multiple teaching positions. In her most recent position as Executive Director of the Oregon Teacher Standards and Practices Commission, she was charged with continuing the Commission's commitment to equality, implementing the legislatively approved licensure redesign, updating professional practice standards, and overseeing the movement to national accreditation for all Oregon educator preparation programs.
"My advice for the group would be to follow your heart - it's easy to stay where things are comfortable, but taking a risk and following your heart is worth it in the end. I have always loved the classroom and education and when I traveled around West Virginia in my previous job visiting schools, I could walk into a room and tell who was a Glenville graduate. They were always the most passionate and inspirational teachers in the school. This award isn't about me, it's for all of us teachers," said Beane.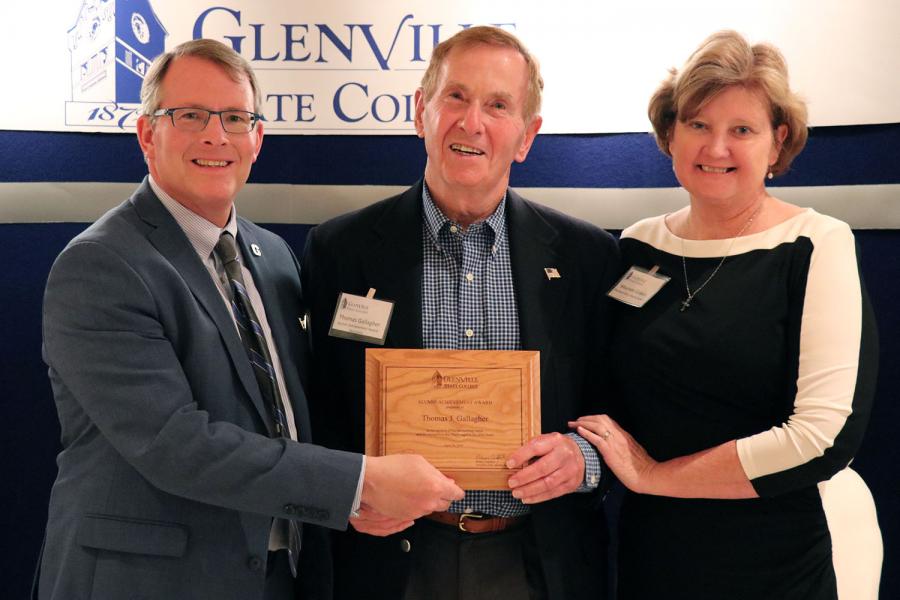 The Alumni Achievement Award was presented to Thomas Gallagher '63. This award is given to a graduate who has distinguished themselves in their chosen field. Shortly after graduating from Parkersburg High School, Gallagher enlisted in the United States Air Force. After four years of service and being honorably discharged, Gallagher enrolled at Glenville State College where he was a member of the 1959 championship football team and received a secondary teaching degree in biology and physical education. After graduation from GSC, Gallagher served 21 years as a commissioned officer in the Air Force. Upon retiring from the Air Force in 1985, he received the Air Force's Legion of Merit award, established the first 9-1-1 center in York County, Virginia for the local fire and sheriff departments, held a superintendent positon in the Department of Environmental Services, and received five National Association of Counties awards.
"Anywhere I go, I'm always proud to say that I am a Glenville State College graduate. Dr. [Harry] Heflin and the talented faculty and staff helped shape me into the person and leader that I am today. My work over the years has never been about me, it's been about my team and completing our mission," said Gallagher.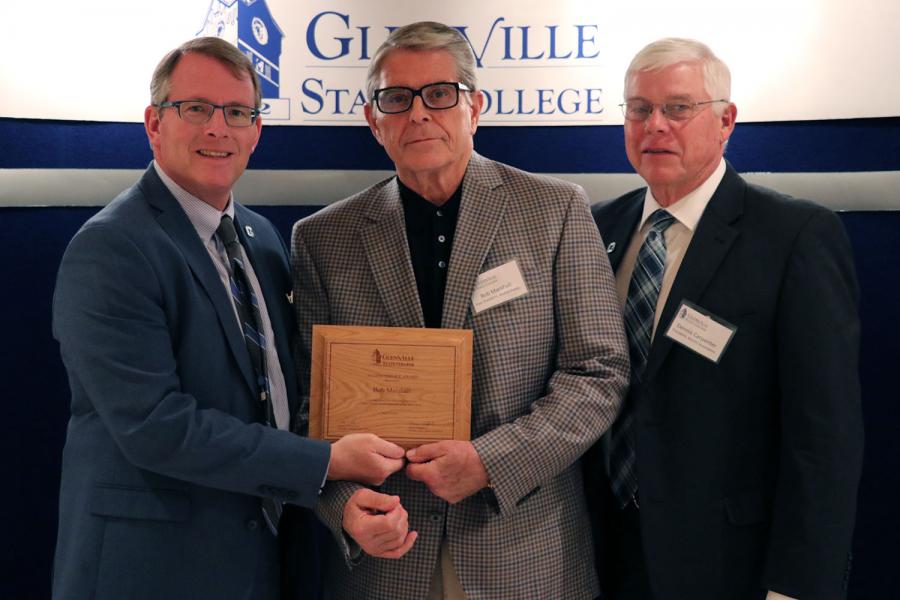 Bob Marshall '66 was recognized with the Alumni Service Award at the banquet. This award is reserved for those who continue to give their all to the College. Marshall is the immediate past president of the Alumni Association (2015-2017) and serves as a GSC Foundation Board member. He received a Business Administration degree with minors in History and English from Glenville State College and has been a successful State Farm Insurance Agent for the past 47 years in Vienna, West Virginia. Along with his insurance career, he has served as a member of the Vienna Planning Commission and as a Vienna City Councilman.
"Anytime we achieve success it's because somebody has been willing to help us, and it's everyone pulling together that makes true success. Being one of Glenville's alumni makes it easy to succeed because you become part of a support system like no other institution has," said Marshall.
The Outstanding Teacher Award was presented to Dr. Tonya (Gray) Propst '91, a native of Kanawha County, West Virginia. This award is given to someone who has distinguished themselves during their teaching career. Propst is an Associate Professor of Music Education and Horn at Coastal Carolina University in Conway, South Carolina. Prior to joining the faculty at Coastal she led successful middle and high school band programs in West Virginia and South Carolina. She has been a guest conductor for several honor bands in North and South Carolina as well as an adjudicator and clinician. Propst has extensive horn performance experience throughout West Virginia, Ohio, Indiana, and the coastal North and South Carolina region and currently is a member of the Long Bay Symphony Orchestra in Myrtle Beach. Propst also serves as the South Carolina horn representative for the International Horn Society.
"'Teaching magic' was a term that Mr. [Harry] Rich coined. You can teach content and curriculum but you can't teach 'teaching magic.' It just hit me over the past few years that 'teaching magic' is a fundamental truth, it's a truth that every outstanding educator has compassion and kindness to connect with a student on their level. I continue to pay it forward to my own students and am thankful for my professors in the GSC music department who continue to see the potential and opportunity in each of their students," said Propst.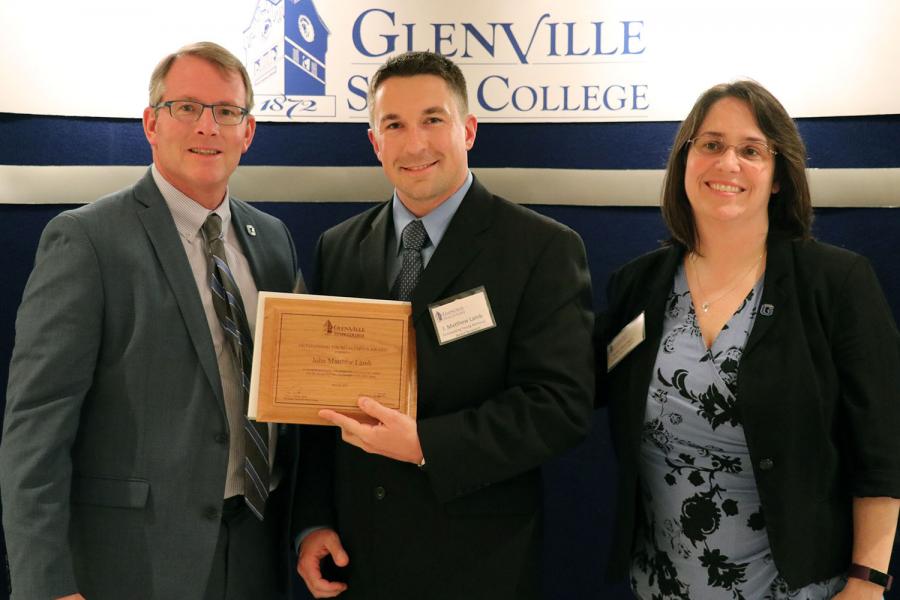 The Outstanding Young Alumnus Award was presented to John Matthew Lamb '05. This award is presented to a male graduate who has achieved early and remarkable success in his career. Lamb, a native of Lewis County, received his Bachelor of Science degree in Natural Resource Management with a concentration in Environmental Technology in 2005. Lamb joined Dominion Energy in 2006 as a field worker in Leesburg, Virginia and continued his education by completing a Master of Science degree from the University of Maryland University College. Upon graduating with honors in 2015, Lamb continued to grow his career in Pennsylvania pipeline operations with Dominion Energy, holding several management roles. Lamb continues his career with Dominion Energy Transmission and currently is the Director of Eastern Operations where he oversees the operations and maintenance of Dominion's pipeline assets from central Pennsylvania to North Carolina.
"I have nothing but great memories from my time at GSC and being back on campus has given me time to reflect on some of those memories. The High Adventure program along with the whole Department of Land Resources helped shape me into the person I am today and instilled the values in me that led me to be successful. Glenville offered me an excellent education without the burden of being in a large amount of debt," said Lamb.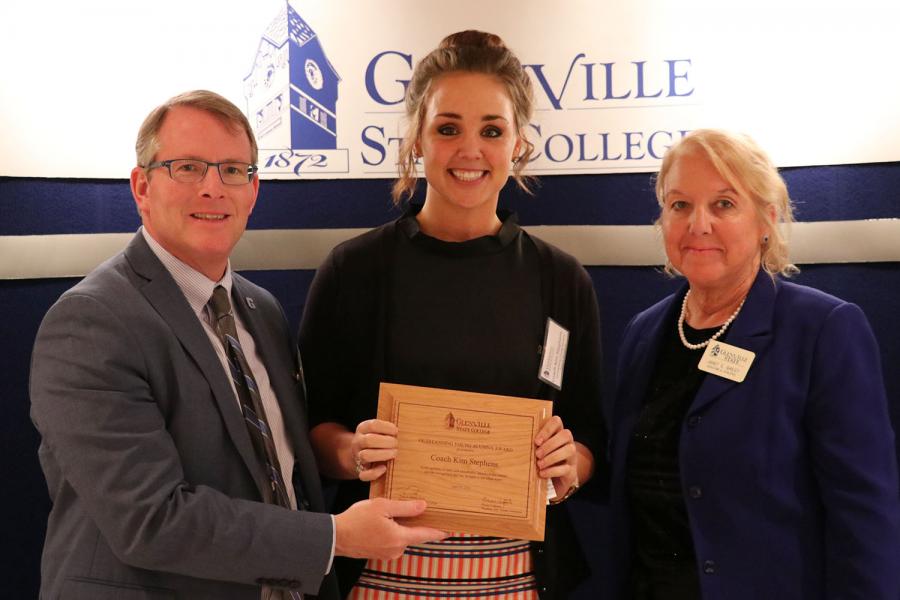 The Outstanding Young Alumna Award was presented to Kim Stephens '11 a Wood County, West Virginia native. This award is presented to a female graduate who has achieved early and remarkable success in her career. Initially joining the Lady Pioneer coaching staff as an assistant coach in 2012, Stephens helped lead GSC's 2012-13 team to a regular season WVIAC Conference Championship and saw the team advance to the second round of the NCAA Tournament. In 2013, she became the head assistant coach at Sacramento State University where, during her three seasons with the Lady Hornets, the team had two 18 win seasons and made it to the Sweet Sixteen of the WNIT in 2015. Stephens returned to her alma mater as head coach of the women's basketball program in 2016. Since that time, she has been named the MEC Coach of the Year and her team has won two MEC regular season championships, a tournament championship, made NCAA tournament appearances, and led the nation in several statistics. Her current record as the Lady Pioneer Head Coach is 55-8, including a 26 game home win streak.
"At Sacramento State things were good and I wasn't sure if I wanted to come back, but then I remembered how much you are loved by the community. My coaching years have been just as great as my playing years. GSC and the Glenville community mean so much to me - they've not only helped shape my career, but also my life," said Stephens.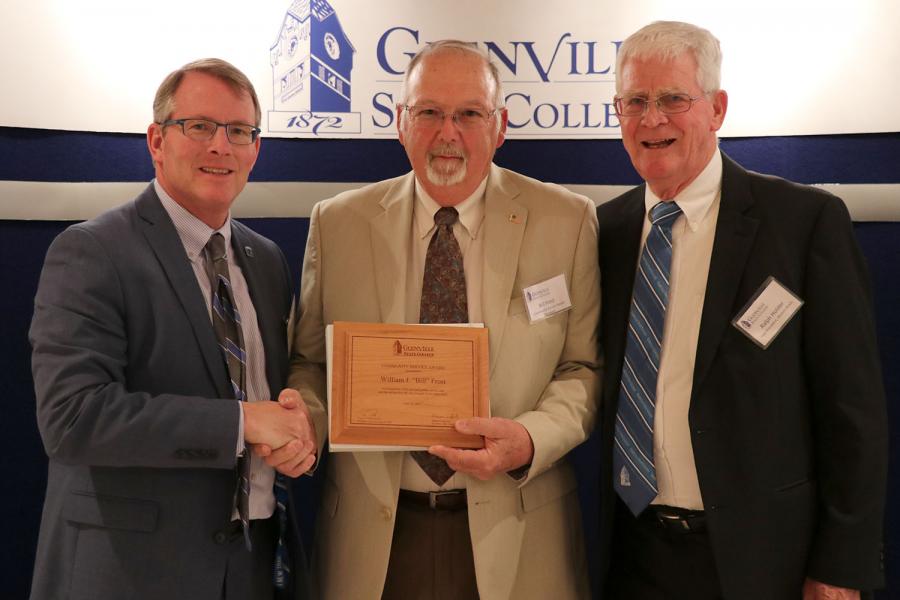 The Community Service Award was presented to William "Bill" Frost '69, a native of Belpre, Ohio. This award is given to a graduate who has distinguished himself in community service. Frost is a United States Air Force Veteran of the Vietnam War Era and a retired educator from the Logan Elm School District in Pickaway County, Ohio. Frost is a certified hunter safety instructor and has been conducting private and public courses since 1980. He is a member of the Pickaway County Chapter of the National Council on Youth Leadership and, in 2010, launched the first disabled veteran's hunt in that county. Since its beginning, the number of participants has tripled. Frost says he is dedicated to providing veterans with relaxation, means to forget about their disabilities, and inspiration to participate in the activities they enjoy. For his efforts, he was awarded the 2011 Volunteer of the Year by the Ohio Chapter of the National Wild Turkey Federation, the State's Outstanding "Wheelin' Sportsmen" event award in 2015, and was a 2016 inductee into the Ohio Veterans Hall of Fame.
"I like to think of my community service efforts with disabled veterans as a 'labor of love' rather than work. What started out as a small group has grown to an event that has more than 100 volunteers and I couldn't be happier. I have coached football for years and loved it but I think I love this more because there are no defeats - it's all wins," said Frost.
As part of the evening's program Dr. Bill Deel '58, past Alumni Association President, GSC Board of Governors member, and GSC Foundation Board Vice Chair, paid tribute to three graduates of the College who had passed away in the last year and were dedicated members of the Alumni Association. Being recognized in memoriam were: The Honorable Billy B. Burke '77, Professor Emeritus George D. Harper '70, and Lisa Michelle "Shelly" (Hardman) Kraus '92. Family representatives of these three alumni were in attendance at the banquet.
For more information about Alumni Affairs at Glenville State College or to nominate one of our graduates for one of the Alumni Association's awards, contact Alumni Director Debra Nagy via e-mail at Debra.Nagy@glenville.edu, by phone locally at (304) 462-4122, or toll-free at (866) 239-0285.