GSC Honors Several Individuals at Annual Alumni Banquet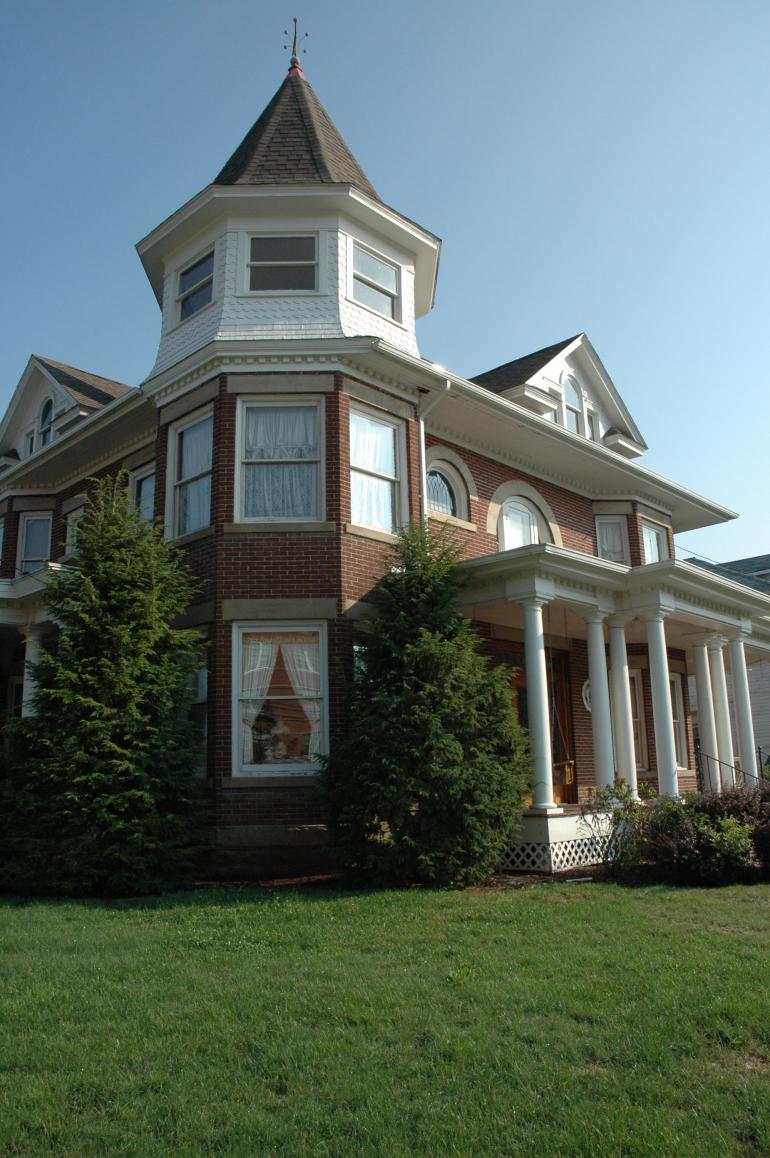 FOR IMMEDIATE RELEASE: April 30, 2019
For More Information:
Glenville State College
Public Relations Department
(304) 462-4115
GLENVILLE, WV - Glenville State College alumni and friends gathered on campus for the 2019 Alumni Banquet on Saturday, April 27 in the Mollohan Campus Community Center Ballroom. Those in attendance enjoyed a dinner buffet and the presentation of the 2019 GSC Alumni Association Awards.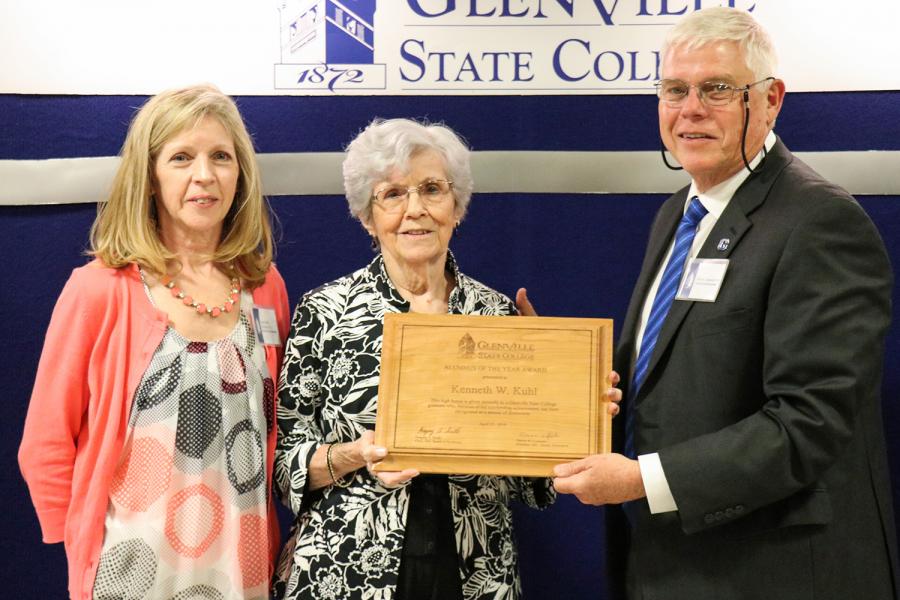 The evenings prestigious Alumnus of the Year Award was presented to Kenneth Kuhl. The award is given to a graduate of Glenville State College for outstanding contributions in their chosen field or for outstanding personal accomplishments. Kuhl is the Senior Vice President of Arena Programming at the American Airlines Center in Dallas, Texas and has been employed there since 2001. Before the opening of the American Airlines Center, he was the Director of Events and Booking for Reunion Arena in Dallas, Texas and spent six years at the Louisiana Superdome in New Orleans as the Senior Event Manager.
Kuhl, originally from Glenville, West Virginia, graduated from Glenville State in 1982 with a degree in physical education and safety. While at GSC, he was a member of the track and field team. He went on to receive his Master of Science degree from West Virginia University in 1983.
Kuhl has been instrumental in the management of many high profile events at the American Airlines Center including three Big 12 Basketball Championships, 2002, 2006, and 2018 NCAA Men's Basketball, 2017 NCAA Women's Final Four, 2007 NHL All-Star Game, 2003 USFSA National Figure Skating Championships, and the 2006 and 2011 NBA Finals, in addition to the 2011 NBA Championship Celebration and Parade. In his 30 plus years in Facility Management, Kuhl has been involved with such other large events such as the 1986 Super Bowl, 1987 Men's Final Four, and the 1988 Republican National Convention. 
In 2007, he developed and managed Big D NYE, a major New Year's Eve celebration for the City of Dallas that drew more than 35,000 attendees and was watched by more than 250,000 households delivering a 9.1 Nielson rating. American Airlines Center was ranked the number four arena in the U.S. for tickets sold to major live entertainment events for 2017. Since the opening of the American Airlines Center in 2001, Ken has coordinated and booked over 3,500 events that have attracted over 25 million people.
Outside of work, he enjoys participating in water sports, being outdoors, volunteering, and serves as a Texas high school basketball official. He was also nominated as 2017 Venue Executive of the Year by Pollstar.
Kuhl was unable to attend the banquet due to work obligations but his mother Wilda Kuhl and sister Faye (Kuhl) Chambers were both on hand to accept on his behalf. He also sent a video that was played for banquet attendees.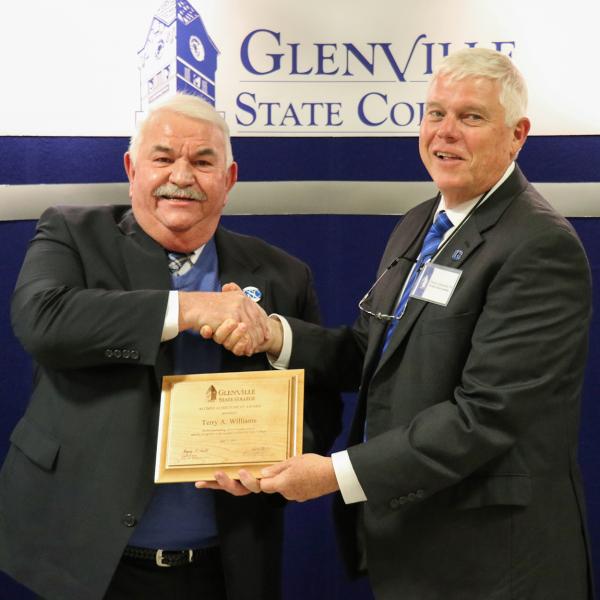 The Alumni Achievement Award was presented to Terry Williams. This award is given to a graduate who has distinguished themselves in their chosen field. Williams has dedicated his life to public service, education, and to helping better his community. He is currently serving as the Mayor of Spencer, West Virginia where he has been working to improve the lives of the citizens of Spencer and Roane County for more than 42 years.
Williams is an educator by trade and served as a teacher in the Roane County School System. After graduating from GSC in 1974 he attended Marshall University and earned a graduate degree in administration. In 1981, Williams took on yet another profession by becoming a certified life, fire, and casualty insurance agent.
Throughout his tenure as mayor and a public servant, Williams has received many awards and accolades including: Citizen of the Year, WV Municipal League's Mayor of the Year and Quiet Strength Award, 5-time President of the Black Walnut Festival, Woodsmen of the Worlds Outstanding Citizen Award, Patriotic Citizen and Outstanding Community Service Awards from the Veterans of Foreign Wars, and received Honorary Life Membership from the American Legion Post 21 for outstanding loyalty to veterans (even though he isn't a veteran). He has also served as the President of the WV Municipal League, representing all West Virginia towns and cities, three different times over the last three decades. He has also written and received more than 20 million dollars in grants throughout his career. 
Terry and his wife Carol have two daughters, Amy and Kate, who both reside in Roane County. Kate recently took over as the GSC Roane County Alumni Chapter Leader, a position that her father held for many years.
"I appreciate getting this award. Going to college was a first for someone in my family and it wasn't easy for a rural kid. GSC helped me become a person to deal with the public and different situations that arise. And now, after more than 42 years as the Mayor of Spencer, I still owe much of my success to this place," Williams said.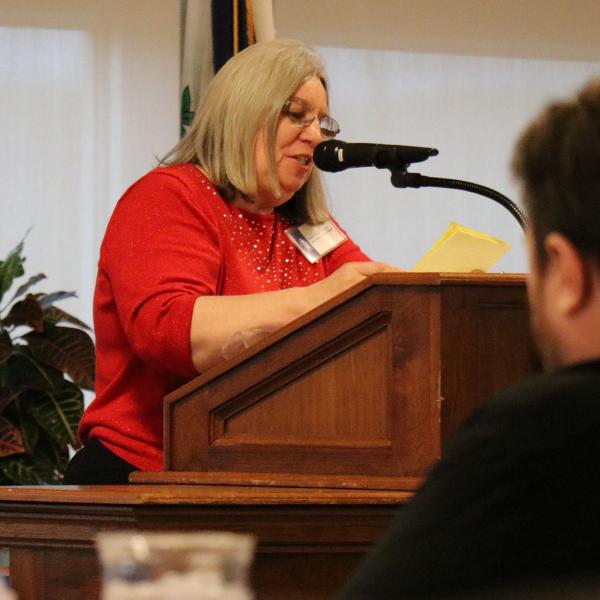 Debra "Debbie" (Reed) Nagy was recognized with the Alumni Service Award. This award is reserved for those who continue to give their all to the College. Nagy came to Glenville State College in 1973, first serving as secretary and bookkeeper for the campus Bookstore. She was promoted to store manager in 1975 following the retirement of one of her mentors, Nellie Engelke. Nagy's efforts in the store over the years saw revenue increase to $1 million. She also ran Central Supply, located just off the Bookstore, from 1987 until 2000.
After the College opted to outsource Bookstore operations in 2000, Nagy served as Special Assistant to the President and Coordinator of Alumni Affairs for a year before being tapped to serve as Business Manager of GSC's Community and Technical College which was headquartered, at the time, in Summersville. When the state legislature mandated that community and technical components be severed from GSC's main operations by 2003, Nagy worked with the College's Business Manager and with the CTC Provost in what would become a two-year process to close out operations and divide enrollment between Glenville State and the newly formed New River Community and Technical College.
In 2006 she was named Director of Alumni Affairs and Special Assistant to the President. She also oversaw facilities scheduling and rental duties.
With the exception of the time that she was heavily involved with GSC's Community & Technical College component, Nagy coordinated special college events including Homecoming, the Curtis Elam Athletic Hall of Fame Induction Banquet, Commencement Exercises, and other major events since 2000. Many also considered her to be GSC's unofficial historian because of her wealth of institutional memory and her passion for the institution, her motto being that, "You can't get to where you're going if you don't know where you've been."
She retired from Glenville State in June 2018 after over 45 years of service to the institution.
Nagy completed her College Business Management Institute Certification from the University of Kentucky in 1978 after having attended these classes in the summers of 1976, 1977, and 1978. She also received her College Business Management Institute Refresher Certification in the summer of 1988.
Debbie is a lifelong resident of Gilmer County and was married to her husband Paul for 35 years until his passing in May 2017. They have a son, Paul III, who resides in Charleston, West Virginia.
"It has truly been an honor to serve Glenville State College through the years. Yes, I was busy, but I liked it that way. I've always worn lots of different hats; that's just how small colleges like ours worked," Nagy said.
Outstanding Teacher Awards were presented to Amy (Riddle) Chapman and Timothy James. These awards are given to someone who has distinguished themselves during their teaching career.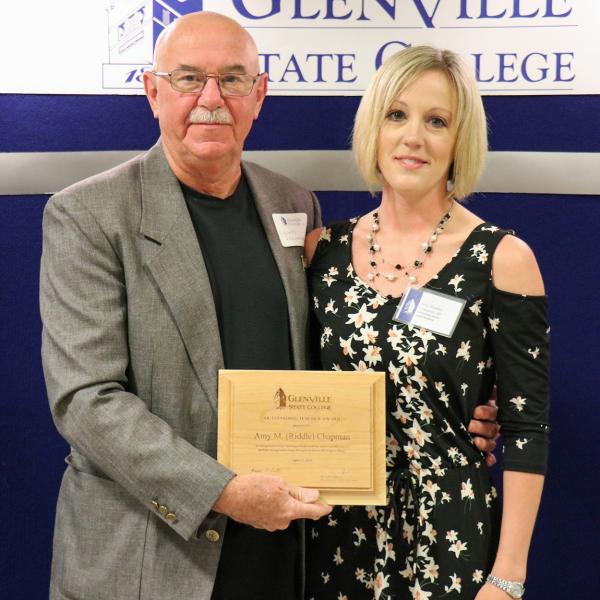 Amy (Riddle) Chapman is currently finishing her ninth year as the health and physical education teacher at Gilmer County High School in Glenville, West Virginia. She also serves as the varsity girls basketball coach at GCHS.
While a student at GSC, Chapman was a member of the Lady Pioneer Basketball Team. During this time, the Lady Pioneers were breaking school records, consistently making appearances in the NCAA Tournament, had the longest home winning streak in Division II, and had completed their fifth undefeated home season. She graduated from GSC in 2008.
Chapman's most defining moment as a teacher and a coach came in 2016 when she led the GCHS Lady Titans to their first ever Class A State Basketball Championship. This past season, her impressive coaching led her young team to claiming the IOGA Classic Class A Championship and competing in the Little Kanawha Conference (LKC) Championship Game.
She is a two-time recipient of the LKC Coach of the Year Award, the NFHS Coaches Association State Coach of the Year recipient, and was the LKC All Sports Coach of the Year in 2016.
Outside of teaching and coaching, Chapman is a member of Chestnut Grove Baptist Church and enjoys staying active outdoors while working on the Chapman Farm. Exercise and fitness remain part of her daily routine along with spending time with her family.
"I thank GSC for this amazing honor and I accept this award for my students. For me it always has been and will be about the kids," she said.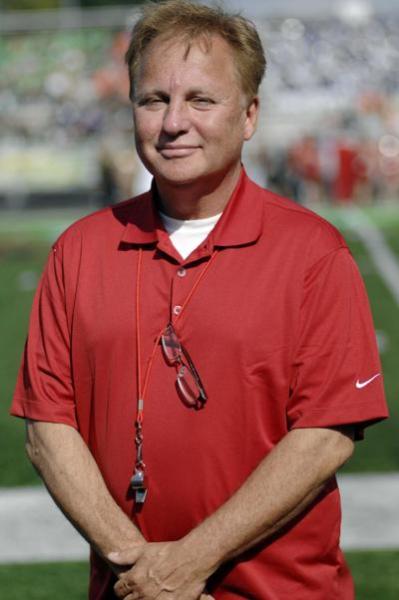 Timothy James has been directing bands for nearly 40 years. He says it is something he's known he wanted to do since he was in sixth grade. 
After graduating from Glenville State in 1979, he earned a Master's Degree from Marshall University in 1983. He also studied dance, voice, and musical theater at Point Park College in Pittsburgh, Pennsylvania, in 1984. More recently, he completed another Master's Degree in Educational Leadership/Administration from Liberty University. 
 
During his time at GSC he was President of Student Congress, an officer in Lambda Chi Alpha, and was a member of the Ohnimgohow Players, choir, and band.
James has been the band director at Cabell Midland High School in Ona, West Virginia for nearly 10 years. Before Midland, he served as band director for the old Huntington High School Pony Express, at James Monroe High School, Enslow Middle School, and at his own alma mater, Guyan Valley High School.
In 2015 he was inducted into the West Virginia Marching Band Directors Hall of Fame. In 2016 he received the Governor's Arts Award for Arts Education. That same year he was also presented with the Distinguished West Virginian award. That highly-prestigious award is reserved for native West Virginians and honors a citizen's service to West Virginia. It is the highest award that can be presented to a citizen by the Governor.
The CMHS band is often recognized for their top-notch performances. In 2018 Cabell Midland High School won the Overall "Honor Band" Award and Old Gold Division Grand Champion at the seventh annual West Virginia State Marching Band Invitational Championship.
He is a member of the West Virginia Secondary Schools Athletics Conference Band Committee.
"I'm thrilled to receive this award. My years at GSC were the best of my life as were the friends I made there," said James.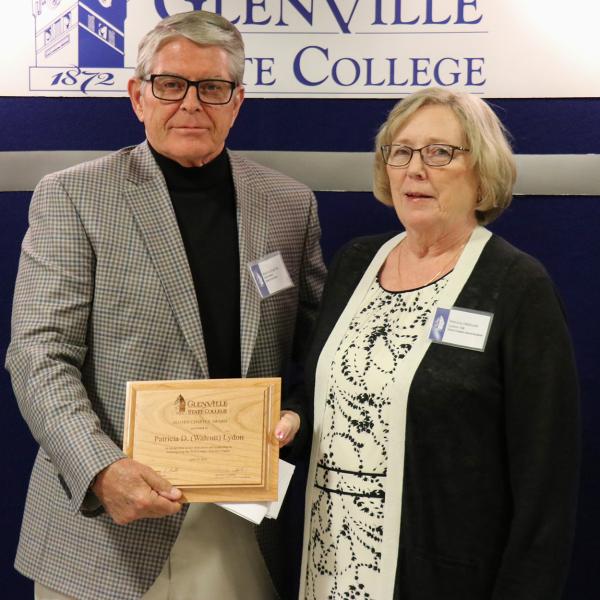 The Alumni Chapter Award was presented to Patricia "Pat" (Walcutt) Lydon, GSC Class of 1968. Lydon began her teaching career at John Marshall High School in Marshall County, West Virginia before taking a job at Wirt County High School where she taught until she retired in 2009 after more than 30 years of service.
Throughout her career, she received many awards including the Ashland Golden Apple Award for outstanding teaching practices, Who's Who in Education, and Who's Who in Professional Women.  
While at Glenville State, Lydon majored in education and was a member of the Alpha Sigma Alpha sorority. After her graduation from GSC, she went on to earn a Master's Degree from West Virginia University.
She currently resides in Wirt County, West Virginia with her husband Jim. In her free time, she enjoys traveling the world, spending time with her family, reading, and crafting.
Lydon spends much of her time volunteering. She currently serves as the GSC Wirt County Alumni Chapter Leader, a member of the local Women's Club, St. Francis Xavier Church, the Parkersburg Area Community Foundation, and works with several Catholic Charities.
"If Wirt County can make a Glenville State alumni chapter, so can your community. I ask everyone to pause and think about where they might be without GSC, for many it was a springboard into our professional lives," Lydon said.
Outstanding Young Alumni Awards were presented to Jacob Lilly and Tiffani Huffman. These awards are presented to graduates who have achieved early and remarkable success in their careers.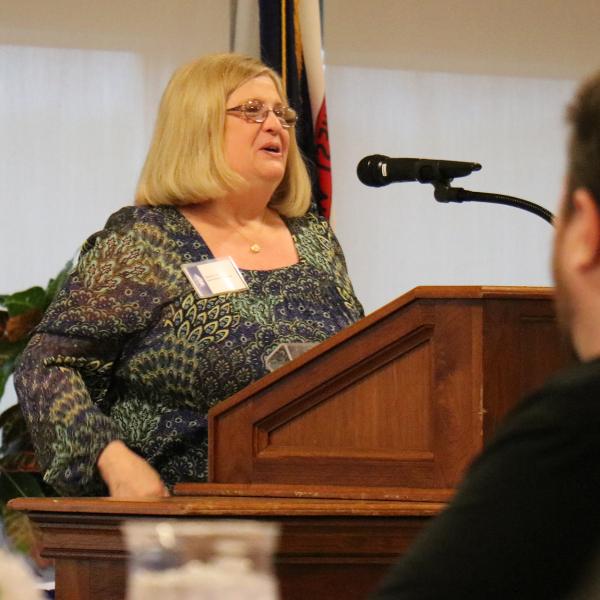 Jacob Lilly is currently completing his sixth year as a Pharmacist at AccessHealth Pharmacy. Before joining AccessHealth, he worked as a pharmacist at Charleston Area Medical Center (CAMC) Women and Children's Hospital in Charleston, West Virginia.
Lilly completed his degree in chemistry and biology from GSC in 2008 and then attended the West Virginia University School of Pharmacy where he graduated from in 2012.
While at GSC, he was a member of the Pioneer Football team and was inducted into the science and math honor society Chi Beta Phi. He also received the prestigious Montrose Award. 
He and his wife Bailey reside in Daniels, West Virginia with their four daughters. He regularly participates in a community trash clean up each Earth Day, coaches little league, and enjoys hunting and golfing.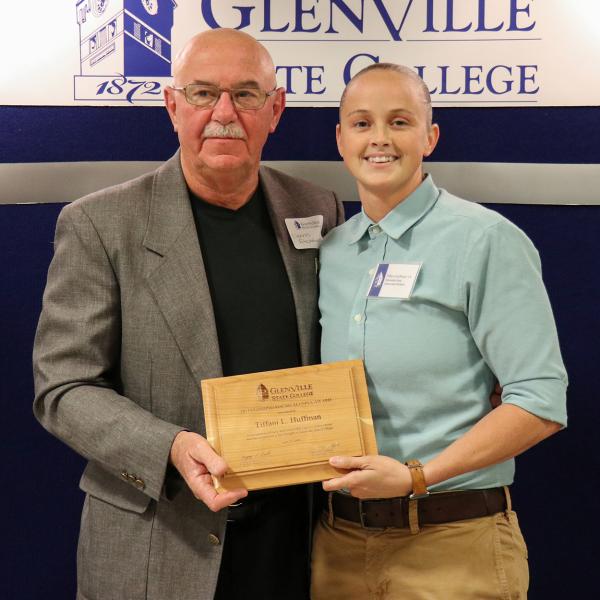 Tiffani Huffman is currently serving as a West Virginia State Trooper. She graduated from Glenville State with a Bachelor of Science degree in Sport Management in 2014 and went on to graduate from the 65th Cadet Class at the West Virginia State Police Academy in 2015. 
During her time at GSC, she was a member of the Lady Pioneer Basketball team. During her tenure with the team the Lady Pioneers had a record of 120-35. The team clinched two West Virginia Intercollegiate Athletic Conference Tournament Championships and the first Mountain East Conference Tournament Championship while Huffman was a member. With multiple conference tournament wins, the team would go on to participate in several NCAA Tournaments.
As an avid lover of sports and fitness, she spends most of her downtime on the golf course, watching sporting events, or in the weight room. She currently lives in Cross Lanes, West Virginia and notes that one of the best parts of her career in law enforcement is that she gets to serve and be involved with her community.
"GSC has done a lot for me and has brought a lot of important people into my life. I saw a tradition here, and after visiting other schools during my senior year of high school, I realized just how much it was special. As part of the Lady Pioneer basketball team, we got to be a part of something bigger than ourselves. We didn't play for banners or championships, we played for the name across our chests and what it meant to us. We played for the community and to give back for all they had given us. My time at GSC was a big part of why I chose to become a State Police Officer; it's an organization with a similar emphasis on community. I'm honored to be an alumni of such a great college," Huffman said.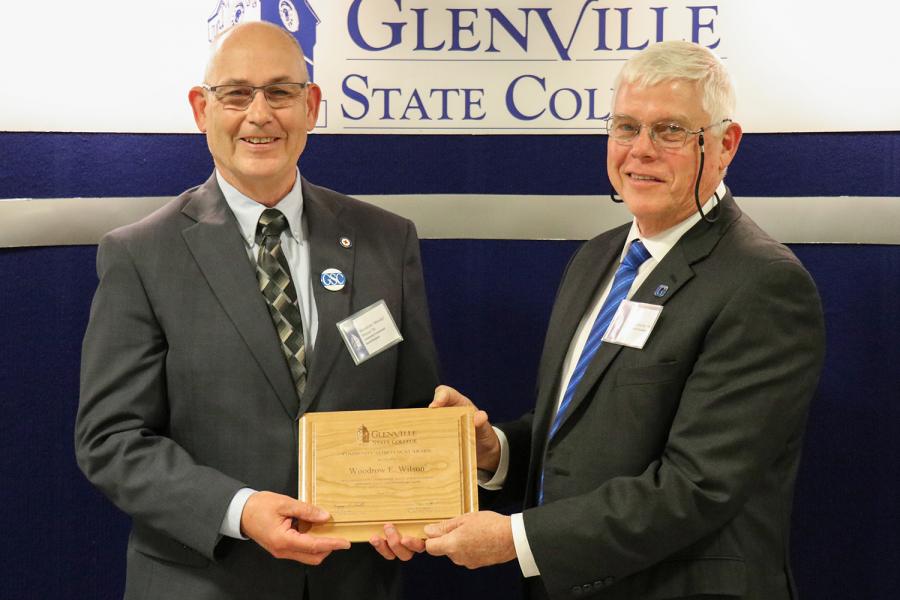 The Community Achievement Award was presented to Woodrow "Woody" Wilson, GSC Class of 1976. This award is given to a graduate who has distinguished himself in community service. Wilson retired from Roane County Schools after more than 34 years of service. During this time he served as a special education teacher, pre-vocational coordinator, elementary and middle school principal, and the director of transportation.
An avid volunteer, Wilson is involved with many community service initiatives. A large portion of his time is spent working with the American Red Cross. He is currently a Community Partnerships Regional Program Lead, Disaster Relief Responder, Disaster Preparedness Instructor, Emergency Response Vehicle Driver and Instructor, Disaster Assessment Volunteer, and more. 
Outside of the Red Cross, he is a member of the Helping Hand Food Pantry Board of Directors, Local Emergency Planning Committee, Roane Long Term Flood Relief Recovery, American Baptist Men Disaster and Mission Team, along with other organizations. 
For his efforts, he received the 2009 West Virginia Transportation Director of the Year award and received the American Red Cross Service Achievement Award. 
Wilson graduated from Glenville State with a degree in elementary and special education. While at GSC, he was a member of the Lambda Chi Alpha fraternity and a member of the marching band. He went on to earn a Master's of Arts degree in educational administration from the West Virginia College of Graduate Studies.
He and his wife Mary Ann currently reside in Spencer, West Virginia. When he is not volunteering, he enjoys woodworking, fishing, and camping.
"The connection we had with our instructors was something I recall fondly of my time at GSC. I had endless questions and was hungry to learn, and they would always entertain me both in class and afterward. During my time at GSC as a member of Lambda Chi, we did several service projects. Those projects started me on a path to service. It's been gratifying to meet the hearts that are touched during our outings with the Red Cross, including mine. You don't do what I do for the recognition, so when you get it, it really sets you back," says Wilson.
In addition to the awards, the following recently departed alumni were recognized in memoriam: Janet (Hall) Gainer '62, Oliver Hunt '55, Paul McKown '59, Stanley N. Pickens '60, Cathy (White) Snuffer '86, and Virginia (Hart) Yeager '75.
For more information about the Alumni Banquet, contact (304) 462-6116.