GSC Marching Band to Perform at Band Bash on August 17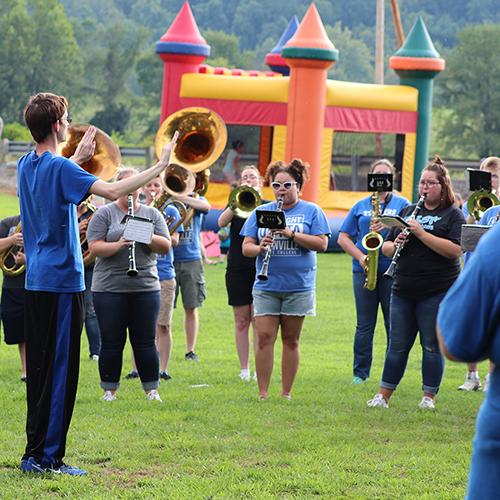 FOR IMMEDIATE RELEASE: August 6, 2018
For More Information:
Glenville State College
Public Relations Department
(304) 462-4115
UPDATE (8/17/18): This event is now being held at the GSC Fine Arts Center; times and activities will remain the same.
GLENVILLE, WV - The Glenville State College 'Wall of Sound' Marching Band will have a feature performance at the Glenville Presbyterian Church "Band Bash" on Friday, August 17. The event will take place from 5:00-7:00 p.m. with the band performance beginning at 6:30 p.m.
In addition to the band performance there will be a picnic and games, all for free and open to the public.
The band began using the field adjacent to the Presbyterian Church for their pre-season camp several years ago which has led to a successful partnership. "We could not have held these camps without the Glenville Presbyterian Church, Pastor Kinney, and their many hard working members. They've been incredible providing us with both a location and meals. They are truly a blessing and are hugely appreciated," said Dr. Lloyd Bone. Bone is the marching band director and also serves as the college's Department of Fine Arts Chair.
The Glenville Presbyterian Church is located at 1172 WV Highway 5, about one mile from the stoplight toward Grantsville just past the Gilmer County Fire Department. Event organizers encourage attendees to bring a lawn chair to better enjoy the outdoor festivities.
During football season the Marching Band performs a halftime show at Morris Stadium during every home football game.
For more information about the 'Band Bash' event, contact Pastor Karen Kinney at (304) 462-7239.
For more information about the Marching Band or other Department of Fine Arts programs and events, call (304) 462-6340.