GSC partners with James Monroe High School to Speed Time to College Degree Completion for High School Students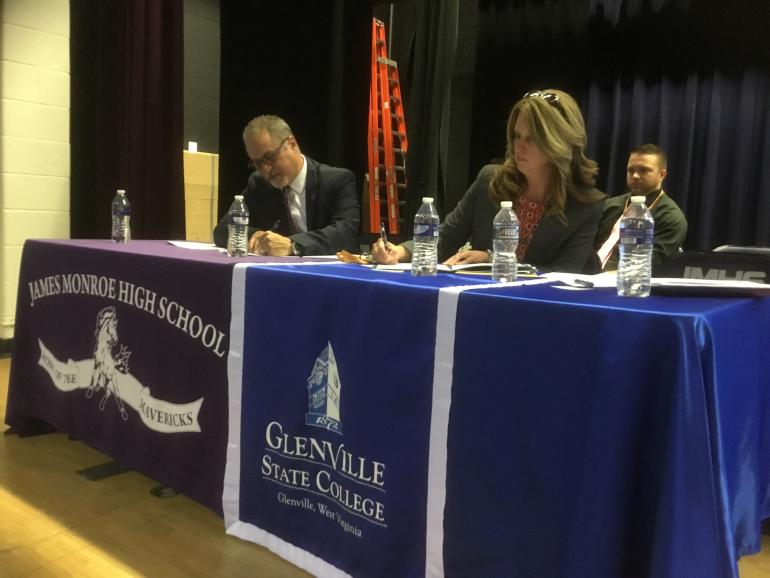 FOR IMMEDIATE RELEASE: January 24, 2019
For More Information:
Glenville State College
Public Relations Department
(304) 462-4115
GLENVILLE, WV - Glenville State College has recently partnered with James Monroe High School to provide a pathway for students to complete their two-year Associate of Arts degree at the same time they are completing their high school graduation requirements. This agreement takes advantage of the partnerships already in place with WV EDGE and other higher education institutions at James Monroe High as well. A special signing ceremony with GSC Vice President for Academic Affairs Dr. Victor Vega and Monroe County Superintendent Joetta Basile took place on November 29.
Additionally, the Monroe County Board of Education has implemented a funding policy to ensure free tuition for those James Monroe students who want to pursue their degree with GSC.
"This agreement allows us to join forces with our partners at JMHS to help propel high school students into college graduates without them ever needing to set foot on a college campus. This presents a tremendous opportunity for students who can now maximize their time to yield two credentials, a high school diploma and a two-year degree, all while still in high school," said GSC President Dr. Tracy Pellett.
"As a result of this agreement, James Monroe students and parents will see more than $18,000 in cost savings when calculating tuition for the two-year Associate of Arts degree program at the current tuition rate," said Coordinator of Off-Campus Programs Rachel Adams. "I also can't thank the JMHS counselors - Tracy Dansfield and Meagan Jones – enough. They were both very instrumental in making this whole thing work!"
For more information, contact GSC's Office of Off Campus Programs at (304) 462-6127.