GSC Students Travel to Berlin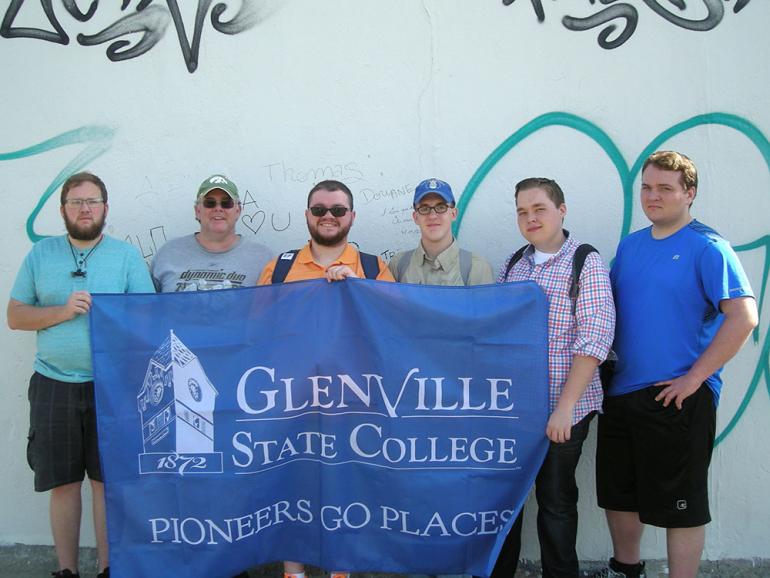 FOR IMMEDIATE RELEASE: August 27, 2018
For More Information:
Glenville State College
Public Relations Department
(304) 462-4115
GLENVILLE, WV – Glenville State College Professor of History Dr. Ed Wood led a group of five GSC students to Germany in May 2018. The students included Donnie Lambert, Cody Moore, Robert Kniceley, Jacob Coots, and Bradley Jenkins. The trip marked the College's fourth faculty-led short term trip and the first to Germany.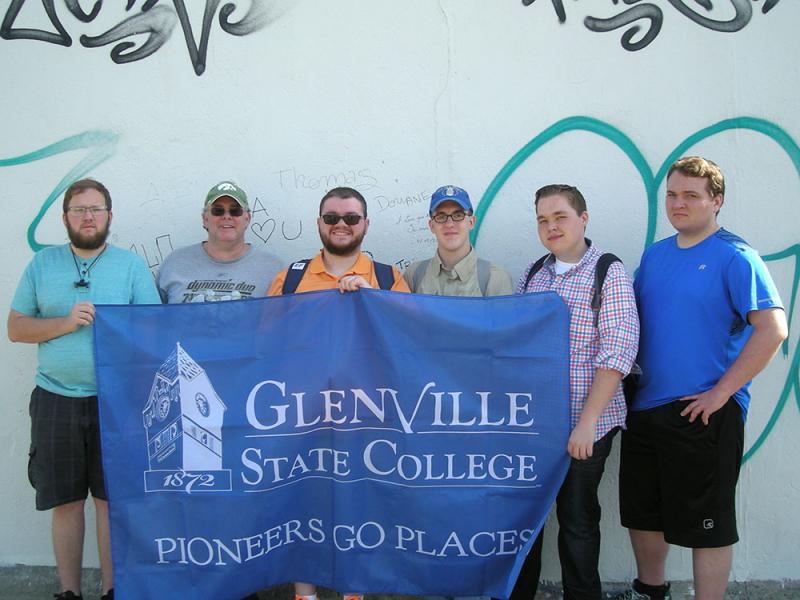 The trip allowed the group to visit museums and landmarks, tour historical facilities, and experience the local culture. Some of the places they visited included the Brandenburg Gate, the German Memorial to the Holocaust, Alexanderplatz, Checkpoint Charlie, Sachsenhausen Concentration Camp, and the Espionage Museum. The students were able to sample a different cuisine, learned how use the transportation system, and visited places that they had read about in their classes.
"I enjoy traveling, especially to Europe, so when the opportunity came available to travel with some of my students to Germany I was quick to say yes. Just like the students, I was also learning on our trip. We were able to see things that we had studied in my classes and I learned several things that I can now include in my world geography classes back on campus this fall," said Wood.
"The trip to Berlin was a fantastic experience. For me, the most interesting part was seeing the military cemetery for the German World War I soldiers who has passed away in Berlin from their wounds on the Eastern and Western fronts and how differently they are treated," said Lambert, a recent GSC graduate.
"At Glenville State we are not only preparing our students to be successful in their areas of study, but by providing them with curricular and co-curricular programs and services, we're preparing them for a diverse, technological, and global workplace and society. This trip allowed Dr. Wood and his students to expand on their classroom lectures and brought learning to life. I encourage all GSC students to look into study abroad trips in the future," said GSC Provost and Vice President for Academic Affairs Dr. Victor Vega.
"I think it is important for students and faculty to expand their minds and put themselves in places and situations that would be different than anything they might experience in the United States. I am confident that our group did that during this trip," Wood added.
For more information about the trip, contact GSC Director of International Programs Dr. Megan Gibbons at Megan.Gibbons@glenville.edu or call (304) 462-6321.