GSC's Pioneer Stage in Downtown Glenville to hold Grand Opening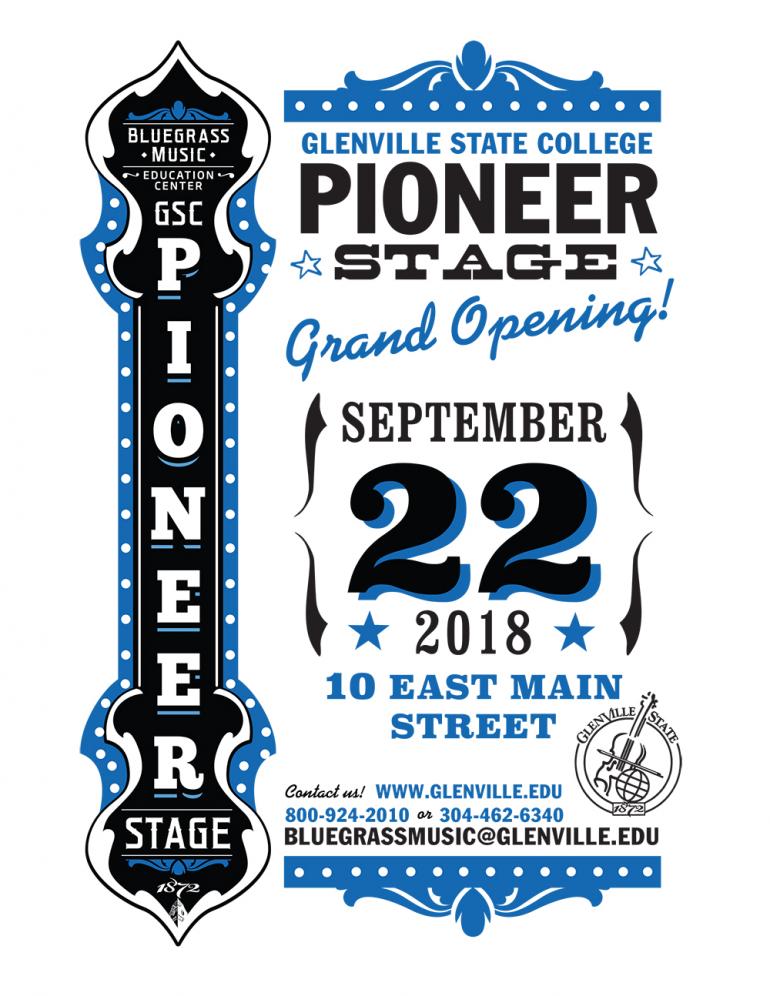 FOR IMMEDIATE RELEASE: August 17, 2018
For More Information:
Glenville State College
Public Relations Department
(304) 462-4115
GLENVILLE, WV - The Glenville State College Bluegrass Program has recently relocated to The Pioneer Stage at 10 East Main Street in downtown Glenville. The Pioneer Stage will serve as the Bluegrass Music Education Center for GSC and will be open to the public after the grand opening. Student hours are Monday through Friday 8:00 a.m. to 12:00 p.m. by appointment. Public hours will be Monday through Friday 12:00 to 6:00 p.m.
A grand opening celebration for The Pioneer Stage will take place throughout the day on Saturday, September 22. The GSC Bluegrass Band will host a showcase of bluegrass music starting at 10:00 a.m. followed by a lecture on bluegrass history from Buddy Griffin and Dr. Megan Darby. From 12:00 p.m. to 12:30 p.m. there will be a workshop on the early influences of women in Appalachian music followed by a flatfoot dancing workshop starting at 1:00 p.m. GSC bluegrass alumni will be on hand hosting another bluegrass music showcase starting at 2:00 p.m.
GSC student Jacob Stover will hold his Senior Recital at 3:00 p.m. as part of the requirements for his four year degree emphasizing bluegrass music. That will be followed by dinner on your own. Following the supper break, the GSC Bluegrass Band will hold a community bluegrass jam. Visitors are also encouraged to bring their instruments to play along with the band and a folding chair to relax between jams. At 8:00 p.m. a square dance will take place on Main Street. Jesse Milnes and Friends will provide the music and the legendary Mack Samples will serve as caller. The square dance is sponsored by Bryan Groves and Central WV Real Estate.
A Cruise-In sponsored by the Appalachian Cruisers will take place from 10:00 a.m. to 2:00 p.m. in front of the Pioneer Stage. Prizes will be given away every half hour by announcement from the Pioneer Stage during the Cruise-In. For more information about entering any vehicle in the Cruise-In, call (304) 462-8898.
"I would like to thank Dr. Tracy Pellett, and our administration for supporting this opportunity for the program and bluegrass music as a whole. Also a big thank you to the GSC family including employees, students, Mayor Fitzpatrick, and the community for donating their time, talents, and artifacts to help us make this new space feel like home. The Glenville community is always so supportive of us and we hope to make this new space an attraction. Everyone's contributions have helped us transform this space into a place where students can learn, showcase their skills, and be involved with the community; I also encourage everyone to make plans to attend our grand opening," said GSC Director of Bluegrass Music Dr. Megan Darby.
Visit www.glenville.edu to view upcoming events that are being planned for the Pioneer Stage.
For more information about The Pioneer Stage grand opening, contact BluegrassMusic@glenville.edu or call Darby at (304) 462-6355.