Lisa Elmaleh to Bring Tintype Lecture, Exhibit to Glenville State University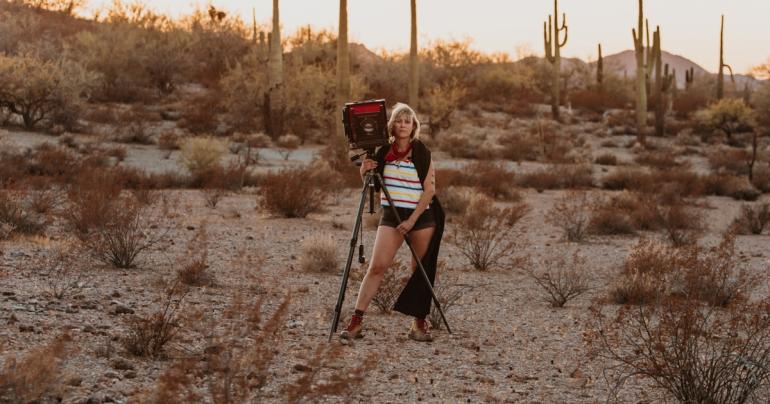 For Immediate Release: April 11, 2022
For More Information:
Glenville State University
Public Relations & Marketing
(304) 462-4115
GLENVILLE, WV - Visual artist, educator, and documentarian Lisa Elmaleh will be presenting at Glenville State University on the topic of "Documenting West Virginia Traditional Music Through Tintype Photography." The lecture will take place on Friday, April 22 at 1:00 p.m. in the Fine Arts Center Recital Hall. Her lecture is free to attend and open to the public. As part of her visit to Glenville State, she will also exhibit several of her pieces in the Fine Arts Center Gallery.
Based in Hampshire County, West Virginia, Elmaleh specializes in large-format work in tintype, glass negative, and celluloid film. Since 2007, she has been traveling across the United States documenting American landscapes, life, and culture.
Born in Miami, Florida, Elmaleh completed a Bachelor of Fine Arts degree at the School of Visual Arts in New York in 2007, during which time she was awarded the Silas Rhodes Scholarship. Upon graduating, she received the prestigious Tierney Fellowship to work on a project that evolved into an in-depth visual documentation of the impact of climate change on the Everglades. The culmination of this project resulted in a book titled Everglades published in 2016 by Zatara Press. 
Elmaleh's work has been exhibited nationwide and recognized by the Aaron Siskind Foundation, Puffin Foundation, The Tierney Foundation, amongst others. Her work has been published by Harper's Magazine, Smithsonian Magazine, CNN, The New York Times, National Geographic, Oxford American, Garden & Gun, NPR, and more.
In 2010, Elmaleh began to work on a long-term ongoing project documenting traditional Appalachian musicians through tintype portraiture as a historic documentation of American culture. In 2012, while still living in New York, she worked on a one-year visual autobiography, where she made daily self-portraits with her 8x10 camera to give a raw inside look at her life as a female visual artist. 
"My portraits are about telling stories of real people. I chose to photograph these musicians because the traditional music they play comes from the place where they are rooted. It's not about performing or making a living, but about a culture and a way of life," Elmaleh said.
Since 2014, she has lived in Paw Paw, West Virginia. Throughout the years, she has been documenting the landscape, culture, and community around her. Elmaleh travels in a truck containing her bed, and a portable wet plate darkroom. She has a traditional black and white darkroom where she prints in West Virginia.
For information about Elmaleh, visit her website at www.lisaelmaleh.com.