Mack Samples to Headline Little Kanawha Reading Series Event at Glenville State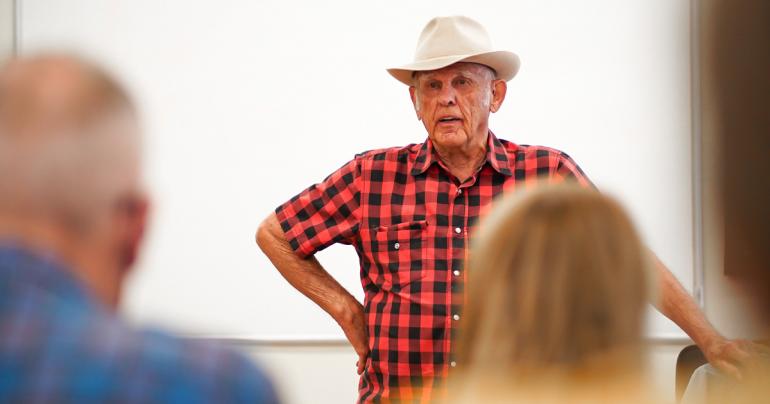 FOR IMMEDIATE RELEASE: October 8, 2021
For more information:
Glenville State College 
Public Relations Department
(304) 462-4115
GLENVILLE, WV – Mack Samples will perform at Glenville State College's Robert F. Kidd Library on Thursday, October 14 at 6:00 p.m. as part of the ongoing Little Kanawha Reading Series.
The event is free and open to the public. Masks are required and seating will be limited due to social distancing guidelines. The event may also be viewed via live stream on GSC's YouTube channel on October 14.
Samples is a Navy veteran and a graduate of Glenville State College. He taught at the Lancaster Regional Campus of the University of South Carolina, served 21 years as Registrar and Director of Admissions at GSC, and worked as the WVU Extension Agent in Clay County. He is probably best known as a musician, and has been a member of the five-piece Samples Brothers Band since 1976 and continues to perform, but he is also the author of eleven well-received books, including his latest, The Tribulations of Sarah Ann Legg, a novel based on the sensational murder trial in Clay County in 1905 from Quarrier Press (2020).
The Little Kanawha Reading Series is a collaboration between the GSC department of Language and Literature, the Robert F. Kidd Library, and the Gilmer County Public Library. Its purpose is to provide a showcase for a diversity of literary forms and voices in order to acknowledge and enrich the cultural heritage of Appalachia and the communities around the Little Kanawha River.
For more information, please contact Jonathan Minton at Jonathan.Minton@glenville.edu or (304) 462-6322.