McVaney Holds Senior Recital at Glenville State University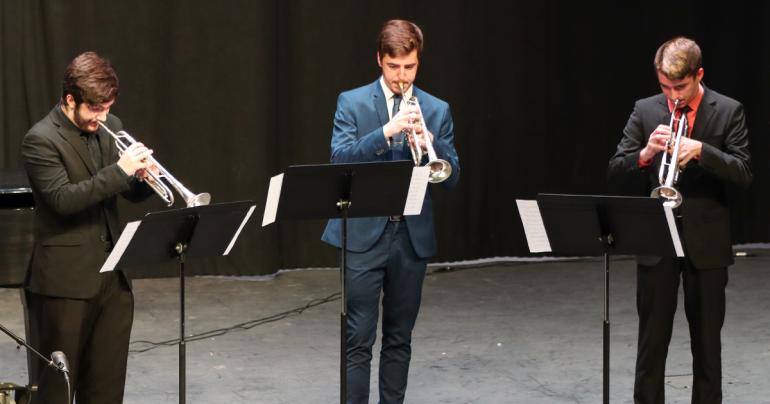 FOR IMMEDIATE RELEASE: March 19, 2022
For More Information:
Glenville State University
Public Relations & Marketing
(304) 462-4115
GLENVILLE, WV - Glenville State University senior music education student Nic McVaney held his senior recital on the evening of Thursday, March 17 in the campus Fine Arts Center Auditorium.
McVaney says he worked to create a varied repertoire for his recital. "The recital had a few standard trumpet pieces and then some newer pieces. It also had a piece that was written for the modern trumpet when it was first created, and some modern jazz combo stuff," he said.
He was accompanied by Joshua Stubbs (piano), Stephen Smith (trumpet), Cody Dye (trumpet and trombone), Mitchell Blackburn (drum set), Brady King (bass), Colton Watts (guitar), and Chris Chambers (piano).
The Parkersburg, West Virginia native whose primary instrument is trumpet, also plays piano, ukulele, and several others. The son of Chad and Michelle McVaney, he graduated from Parkersburg High School in 2018, but his interest in music started before that.
"I think my interest in music really started with my grandpa Ed Hildebrand. My grandpa plays in a bluegrass band and would always invite a bunch of musicians over for New Years and I loved watching them all play. It also stemmed from going to Friday night football games and parades and watching the Parkersburg High School Big Red Band…as soon as I saw the Big Red Band, I knew I wanted to be a part of it," he said.
"I'd like to thank my band director at Hamilton Middle, Mrs. Courtney Davis, my band director at Parkersburg High School, Mr. Dan White, my two professors of trumpet I've had at GSU, Mr. Harry Rich and Mr. David Porter, and all the other professors I've had here at GSU who helped me get here," McVaney said.
While a student at Glenville State, he has been a member of The National Association for Music Education and Kappa Delta Pi. He has performed in the Marching Band, Pep Band, Concert Band, Brass Ensemble, Trumpet Ensemble, Jazz Big Band, Jazz Combo, and Concert Choir. McVaney also recently served as the field commander of the Marching Band and is the current Student Government Association President.
"It's honestly amazing how much the Glenville State University community supports the arts. At a time when many other universities and colleges are cutting the arts, the administration here at GSU is helping us grow the arts and make our already amazing program even better," McVaney said.