Murder Mystery Dinner Coming to Glenville State University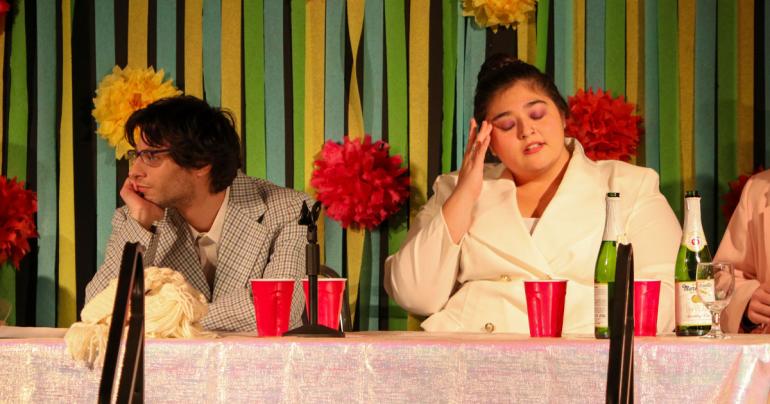 FOR IMMEDIATE RELEASE: April 6, 2022
For More Information:
Glenville State University
Public Relations & Marketing
(304) 462-4115
GLENVILLE, WV - Nobody expects a 23rd high school reunion, but that's exactly what the Filmore County Class of 1999 is having – and you're invited!
Members of The Pioneer Players, Glenville State University's Campus Community Theater Group, will host "Murder Like It's 1999" on Saturday, April 16 beginning at 7:00 p.m. in the Mollohan Campus Community Center Ballroom. The murder mystery dinner will include grilled lemon rosemary chicken served with baby spinach salad, rolls, fresh herbed vegetables, roasted new potatoes, and blondies. There will also be a cash bar with two complimentary drinks included.
As the Filmore County classmates get reacquainted, old scores are brought up, old love triangles become quadrangles, and in the midst of it all – murder! Can Detective Shirley Homes and Officer Watson Bell, himself a member of the class, solve the dastardly crime?
Tickets are $30 each or $150 for a reserved table of six. You may purchase tickets here or by calling (304) 462-6103.
"Murder Like It's 1999" was written by Marjorie Stewart, directed by Will Vann, and produced by Gary Morris and Brittany Benson.
A special version of the performance specifically for GSU students will take place on Thursday, April 14 beginning at 7:30 p.m. That event will be free for GSU students.