Nationally Renowned Storyteller Coming to Glenville State College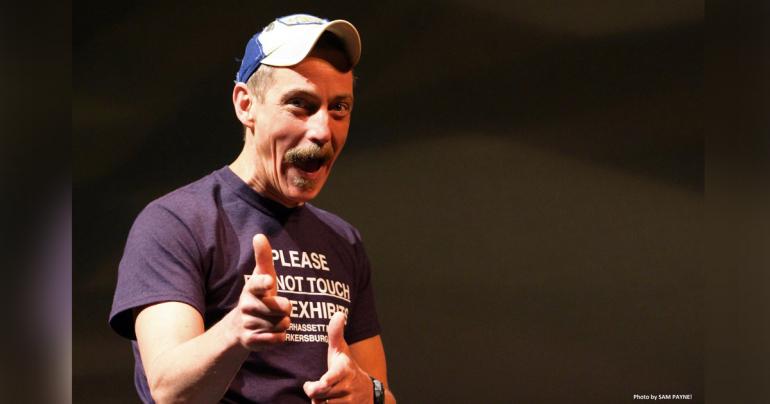 FOR IMMEDIATE RELEASE: March 1, 2021
For More Information:
Glenville State College
Public Relations Department
(304) 462-4115
GLENVILLE, WV – As part of the ongoing Little Kanawha Reading Series, Glenville State College (GSC) will host renowned storyteller Bil Lepp at the Pioneer Stage in Downtown Glenville on Thursday, March 18 at 6:00 p.m. The Pioneer Stage is located at 10 East Main Street in Downtown Glenville.
Lepp is a five-time winner of the West Virginia State Liars' Contest. He performs at storytelling festivals and literary events around the nation, including the Smithsonian Folklife Festival, Comedy Central's Stage on Hudson in Los Angeles, California, and regular performances at the National Storytelling Festival in Jonesborough, Tennessee. He is the author of six books and sixteen audio collections. He has received numerous awards, including recognition from the Parents' Choice Foundation and the Public Library Association. He has been awarded the National Storytelling Networks' Circle of Excellence Award. He lives in Charleston, West Virginia, with his wife, two children, and his dog, Apollo.
He was previously scheduled to perform at Glenville State in September 2020, but the appearance was postponed due to COVID-19.
The event is free and open to the public but strict social-distancing guidelines will be followed, so seating will be very limited inside the Pioneer Stage. Viewers can visit GSC's YouTube channel on March 18 to see a live broadcast of the event.
The Little Kanawha Reading Series is a campus-community cooperative providing a showcase for a diversity of literary forms and voices in order to acknowledge and enrich the cultural heritage of Appalachia and the communities around the Little Kanawha River.
For more information, contact GSC Professor of English Dr. Jonathan Minton at Jonathan.Minton@glenville.edu or (304) 462-6322.