New GSC President Completes First Month
FOR IMMEDIATE RELEASE: 7/26/06
FOR MORE INFORMATION:  Annette Barnette
Public Relations & Marketing Director
Glenville State College
(304) 462-4115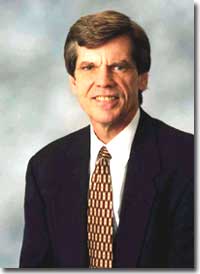 NEW GSC PRESIDENT COMPLETING FIRST MONTH IN OFFICE
Glenville, WV—The newest leader of Glenville State College is completing his first official month in office. Dr. Peter Barr officially began serving as President of the Gilmer County school on July 1, 2006, but he arrived on campus June 15th to get a jump start on the transition into his new job.
He says strengthening Glenville State College and encouraging students to give back to their communities are two of his many goals. "We must train students for jobs, but, at the same time, educate them to make the world a better place to live."
Barr comes to Glenville State from Coastal Carolina University in Conway, South Carolina where he was the Provost and Senior Vice President serving as the school's Chief Academic Officer. Barr not only contributed greatly to CCU but also to the entire Grand Strand area. He was recognized as the 2005 Myrtle Beach Volunteer of the Year.
Barr is a native of Huntington, West Virginia and a Marshall University graduate. He holds a Master's Degree in Business Administration from Marshall and a Doctor of Business Administration from Louisiana Tech University. Barr and his wife, Betsy, have three adult children.
Barr was among more than 70 candidates for the position. He replaces former Glenville State College President, Robert Freeman, who retired the end of June.