New Members added to Glenville State College Board of Governors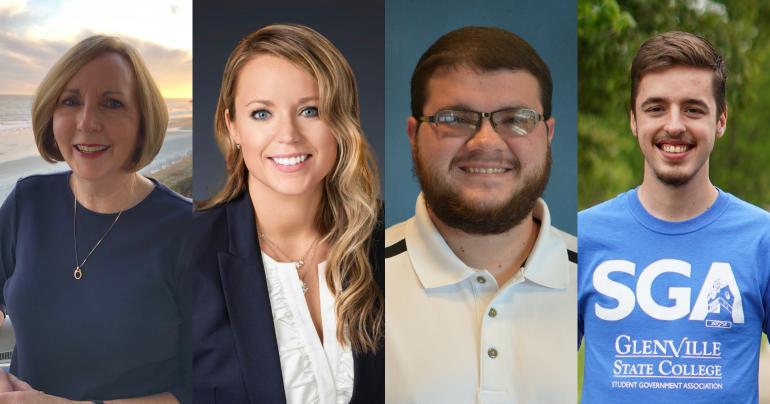 FOR IMMEDIATE RELEASE: August 24, 2021
For More Information:
Glenville State College
Public Relations & Marketing
(304) 462-4115
GLENVILLE, WV - Four new Board of Governors members were sworn in on Wednesday, August 18 during a regular meeting of the Glenville State College board.
Appointed by West Virginia Governor Jim Justice, Dr. Mary Katherine "Kathy" Butler and Alexandria Lay, J.D. have been named as new members. Student Representative Nic McVaney and Staff Representative Cody Moore were also sworn in as new institutional members of the board.
Glenville State College Board of Governors Chair Michael T. Rust administered the oath to the four new members.
Butler has had a long career in education in multiple roles, from kindergarten teacher to professor and from Provost and Senior Vice President for Academic Affairs at Glenville State to Vice Chancellor for Academic Affairs at the West Virginia Higher Education Policy Commission. She also briefly served as the Interim President of New River Community and Technical College. Butler holds a bachelor's degree from Glenville State in addition to a master's degree in Early Childhood Education and a doctorate in Curriculum and Assessment and Early Childhood Education, both from West Virginia University. Butler succeeded former board member Greg Smith, filling an expired term. That term ends June 30, 2022, after which she may be appointed for two more full four-year terms.
Lay is a member in the Charleston office of Steptoe & Johnson PLLC and practices in the area of energy transactions. She represents coal and oil and gas companies in various energy matters, including negotiating asset acquisitions and dispositions, conducting and managing wide-scale due diligence projects, and advising on various other operational and property matters. In 2019, she was named among the Forty Under 40 in the Oil and Gas Industry by Hart Energy. Lay received her juris doctor from Washington & Lee and her undergraduate degree from Glenville State College. She is licensed to practice law in the state of West Virginia. Her first term ends June 30, 2025.
McVaney is a senior music education major at Glenville State College. As Student Government Association president, he also serves on the Board of Governors as the Student Representative. McVaney is a member of the Pioneer Marching Band, serving as Field Commander for the 2021 season. He is also a member of the education honor society Kappa Delta Pi and the National Association for Music Education. McVaney's term ends June 30, 2022.
Moore is an Information Technology Specialist within the Office of Technology at Glenville State College. He graduated from Glenville State in 2018. Moore's term ends June 30, 2023.
Rust and Skip Hackworth were sworn in as re-appointed members by Vice Chair Steve Gandee.
The current Glenville State College Board of Governors includes, Chair Michael T. Rust, Vice Chair Steve Gandee, Dr. Kathy Butler, Ann Starcher Green, Skip Hackworth, Alexandria Lay, Robert Marshall, Douglas Morris, Joe Parsons, Faculty Representative Dr. Kevin Evans, Staff Representative Cody Moore, and Student Representative Nic McVaney.