Oktoberfest Premium Night Scheduled for October 30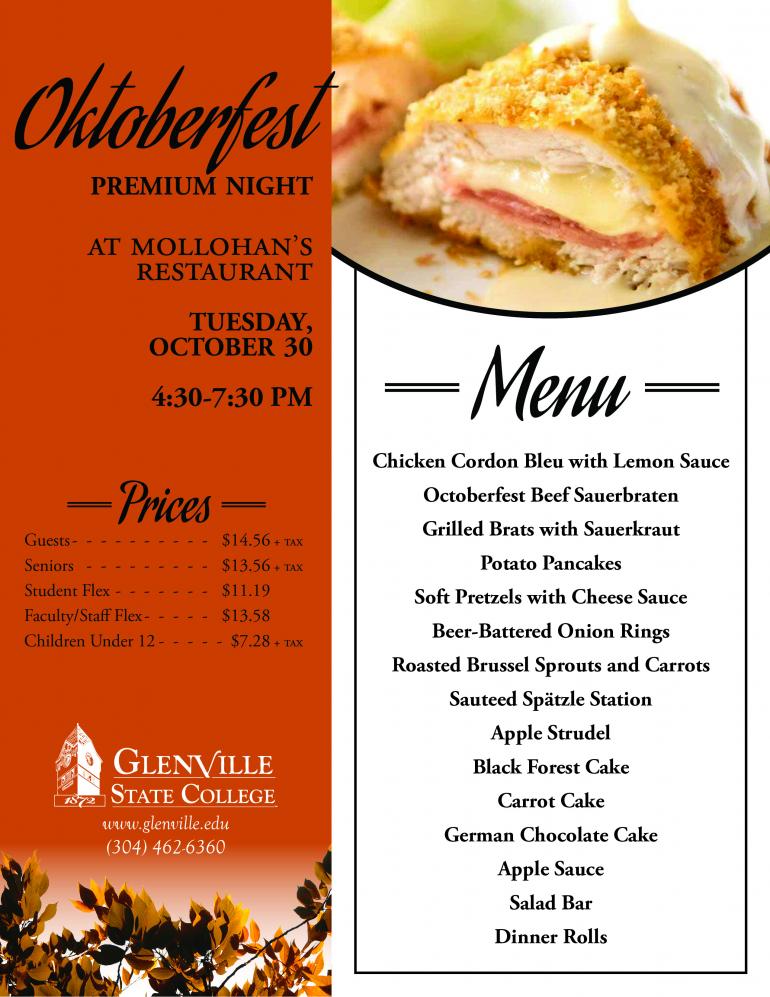 For Immediate Release: October 22, 2018
For More Information:
Glenville State College
Public Relations Department
(304) 462-4115
Glenville, WV – The public is invited to Mollohan's Restaurant at Glenville State College on Tuesday, October 30 from 4:30 p.m. until 7:30 p.m. for GSC's Oktoberfest Premium Night.
The menu for the dinner includes: chicken cordon bleu with lemon sauce, beef sauerbraten, grilled brats with sauerkraut, soft pretzels with cheese sauce, potato pancakes, spätzle station, beer-battered onion rings, roasted brussel sprouts and carrots, full salad bar, dinner rolls, and applesauce. Desserts for the special dinner will include: German chocolate cake, apple strudel, carrot cake, and black forest cake.
Costs for the Oktoberfest Premium Night are $ 14.56 for guests, $ 13.56 for seniors, $13.58 for GSC faculty and staff using Flex Dollars, $11.19 for GSC students using Flex Dollars, and $7.28 for children under 12.
Reservations are welcome and can be made by contacting the GSC Dining Services Office at (304) 462-6360. Reservations may be left on the voice mail.