Olivia Dillon to Hold Senior Recital at Glenville State University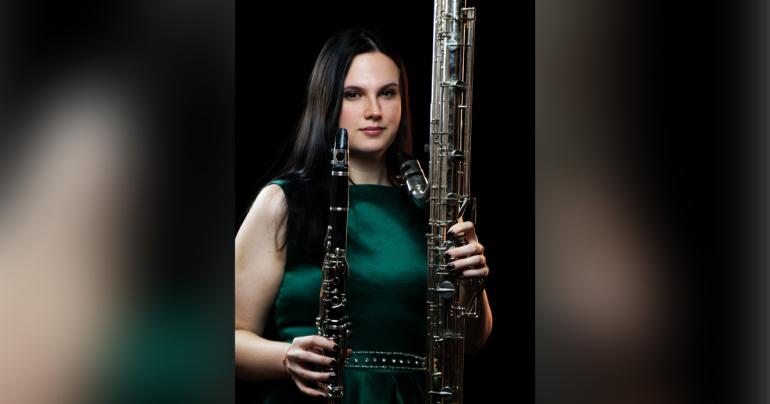 FOR IMMEDIATE RELEASE: April 19, 2022
For More Information:
Glenville State University
Public Relations & Marketing
(304) 462-4115
GLENVILLE, WV - Glenville State University student Olivia Dillon will hold her senior recital on Sunday, April 24 at 3:00 p.m. in the Fine Arts Center Auditorium. 
The recital will include classical pieces, selections from movies, and one that has been arranged by Dillon herself. She will be accompanied by Joshua Stubbs on piano, Alyssa Brookman, Breanna Murphy, Chris Goff, and Kaitlynn Frazier on soprano clarinet, and Cameron Knopp on bass clarinet.
Dillon says she first developed her interest in music from middle school band. "When my middle school allowed us to start joining band, I fell in love with trying to play all the different instruments that they had. That interest turned into passion and that really came from my band directors I've had over the years. They always gave me the confidence I needed to continue my life in music and ever since then, I knew that I wanted to give that same feeling to others," she said.
She is currently pursuing a Bachelor of Arts in Education degree in Music Education (PreK-Adult). After graduating, Dillon plans to return to Glenville State to pursue a master's degree in education.
"All the music professors in the Department of Fine Arts have been a huge support to me over these last four years and have always given me the best advice when I needed it. I have to give a shout-out to the art professors who helped me with pictures and the design of my posters for my recital. And also, to Sarah Thompson, who's been the best mentor and teacher I could've ever had," Dillon said.
During her time at Glenville State, Dillon has been involved in the Marching Band, Concert Band, Jazz Band, and the Clarinet Ensemble. She plays clarinet, bass clarinet, contrabass clarinet, and tenor saxophone.
"I believe that everyone, the campus and community, heavily support the fine arts in Glenville. There is always a great crowd who show their support during our concerts and recitals. They were definitely a huge support with our Pep Band this semester too," she added.
The daughter of Michael and Chasity Dillon of Union, West Virginia, she graduated from James Monroe High School in 2018.