Pioneer Campus Store Opens at Glenville State College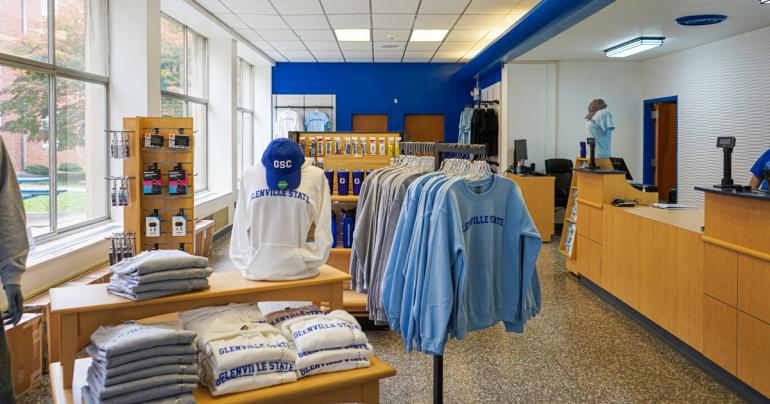 For Immediate Release: August 18, 2021
For More Information:
Glenville State College
Public Relations & Marketing
(304) 462-4115
GLENVILLE, WV – On Monday, August 16, Glenville State College officially opened its new Pioneer Campus Store. The store is being operated in partnership with Barnes & Noble College.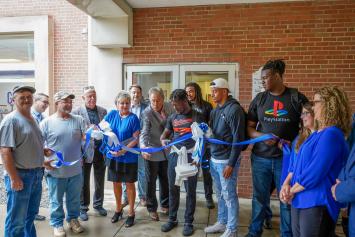 Several members of the Glenville State College administration, students, representatives from Barnes & Noble College, and local leaders were on hand for the ribbon cutting. Joining Glenville State President Dr. Mark A. Manchin and Vice President for Administration and General Counsel Rita Hedrick-Helmick to mark the occasion were Delegate Brent Boggs (D - Braxton, 34), Glenville Mayor Dennis Fitzpatrick, store manager Missy Kellar, assistant manager Daisy Dean, Barnes & Noble College Regional Manager John Chaump, several GSC students, and members of the campus Physical Plant who worked over the summer to build out the space where the store is located.
"This is a great addition to our campus," said Manchin. "I am appreciative to everyone who worked so hard to make this Pioneer Campus Store a reality. I love that our students now have quick access to their course materials right here on campus and that anyone can stop by and purchase a Glenville State College t-shirt or hat to show their Pioneer pride. And I am equally excited about the future plans we have for the space just outside the store – a Starbucks. Work for that has already begun and we can't wait to see that as well."
Glenville State is also the first higher education institution in West Virginia to offer Barnes & Noble's First Day Complete program. The program provides students with all their required textbooks, ready for pick up, on the first day of class.
"We've found that if a student doesn't have their materials on the first day of class, if they're not prepared, they can easily fall behind," said Chaump. "So really, one of the keys to academic success is having all of your materials on the first day of class so you can be prepared and successful, and that's what this program really assures happens."
In addition to providing students with course materials, the Pioneer Campus Store has Glenville State College branded merchandise, general school supplies, and more available to the campus community and local residents. The store is located on the first floor of Louis Bennett Hall and is open Monday through Friday from 9:00 a.m. to 4:00 p.m.