Premium Night Scheduled for September 17 at GSC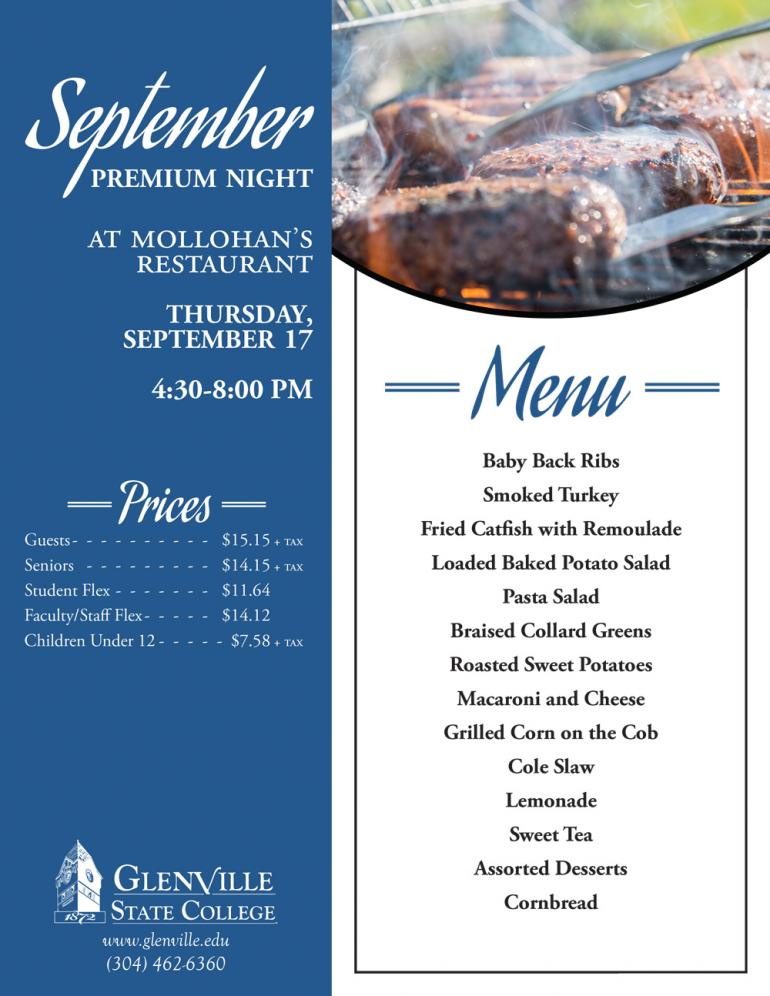 FOR IMMEDIATE RELEASE: September 15, 2020
For More Information:
Glenville State College
Public Relations Department
(304) 462-4115
Glenville, WV – The public is invited to Mollohan's Restaurant at Glenville State College on Thursday, September 17 from 4:30 p.m. until 8:00 p.m. for September's Premium Night.
The dinner menu includes baby back ribs, smoked turkey, fried catfish with remoulade, loaded baked potato salad, pasta salad, braised collard greens, roasted sweet potatoes, macaroni and cheese, grilled corn on the cob, cole slaw, cornbread, lemonade, and sweet tea. There will also be assorted deserts.
Costs for the September Premium Night are $15.15 for guests, $14.15 for seniors, $14.12 for faculty and staff using Flex Dollars, $11.64 for students using Flex Dollars, and $7.58 for children under 12.
GSC Dining Services has implemented several precautions designed to limit spread of COVID-19. Dine-in eating is still available, but seating capacity has been reduced. Pick-up/to-go meals are also available. For more information, contact the GSC Dining Services Office at (304) 462-6360.