Retrospective Art Exhibit at Glenville State College Honoring Late Professor Emeritus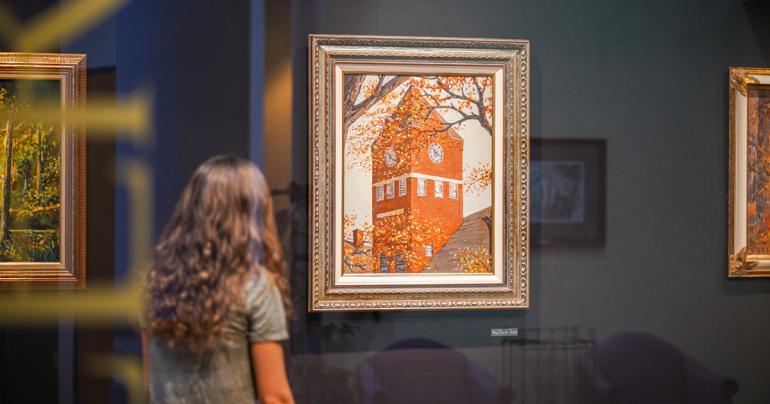 FOR IMMEDIATE RELEASE: October 11, 2021
For More Information:
Glenville State College
Public Relations & Marketing
(304) 462-4115
GLENVILLE, WV – Glenville State College (GSC) Professor Emeritus James W. "Jim" Rogers is being remembered with a retrospective art exhibit on display now. A reception for the show is scheduled for Friday, October 22 from 4:00-6:00 p.m. in the College's Fine Arts Center.
Rogers passed away in November 2020 at age 78.
Over 70 pieces of Rogers' original art are included in the exhibit, showcasing a diverse selection of work from throughout his career. Other special items that Rogers contributed to Glenville State, including sketches of the GSC Pioneer Mascot, Faculty Wives/Friendship Quilt, and other items, are also included as part of the show.
"We're honored to be hosting this exhibit," said Duane Chapman, GSC Associate Professor of Art. "We hope this retrospective is a fitting tribute to Professor Rogers and I invite all Glenville State alumni who knew him to take time to visit campus and view the exhibit. I was a student in his classroom, so this means a great deal to me as well."
Former students and members of the public are invited to view the exhibit. Due to the large number of items in the show, pieces are on display in the Fine Arts Center and the first floor of the Robert F. Kidd Library. The Fine Arts Center Spears Gallery is open Monday through Friday from 10:00 a.m. until 2:00 p.m. and one hour before all musical performances.
Rogers held degrees from Glenville State College, West Virginia University, and Wichita State University. He taught at Parkersburg High School from 1964-1966 and then at Glenville State College from 1966-1970 before a stint at Alderson-Broaddus College from 1972-1976. He returned to Glenville State in 1976 and remained until his retirement in 1999. He and his wife Marilyn "Susie" Strickling Rogers were married for 52 years; they have three children.
The exhibit will also be at the Brown Oaks Main House in Summersville, West Virginia from Wednesday, November 3 until Wednesday, November 10 (including weekends) from 10:00 a.m. until 4:00 p.m. Brown Oaks is located at One Old Wilderness Road Summersville, West Virginia  26651. 
For more information about the exhibit, contact Chapman at (304) 462-6353.