Sarver Selected for Barr Professional Development Award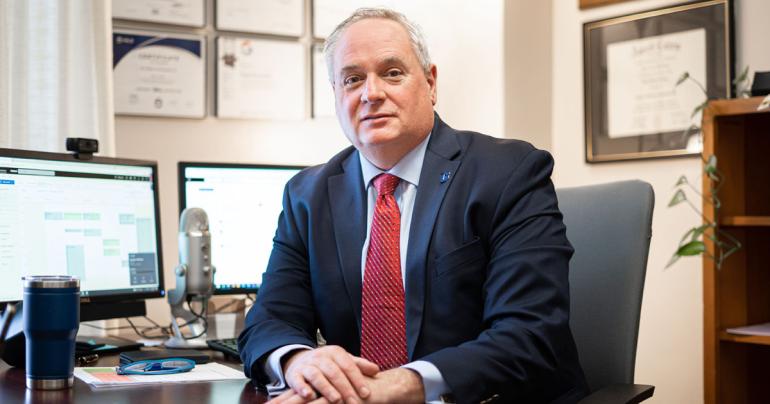 FOR IMMEDIATE RELEASE: January 27, 2023
For More Information: 
Glenville State University
Public Relations & Marketing
(304) 462-4115
GLENVILLE, WV – Glenville State University Associate Professor of Business Dr. Mark Sarver has been selected to receive the 2022 Pete and Betsy Barr Professional Development Award. The award, which was first established in 2010 by former GSU President and First Lady Drs. Peter and Betsy Barr, is rotated annually between Glenville State faculty and staff and must be used within eighteen months of being awarded. The award is designed primarily for the recipient to further their professional growth; however, the awardee can use the money to further their particular area of interest in lieu of traditional professional development activities.
Sarver plans to use funds from the Barr Award to travel to several Appalachian counties that have emerged from the "distressed" ranking according to listings from the Appalachian Regional Commission (ARC). He hopes to visit with community leaders in the counties and help identify strategies they used to move out of the distressed category.
The ARC ranks 423 counties across 13 states according to their level of economic distress utilizing an index-based system. Using the economic data from the last 15 years, 13 counties that were initially ranked as distressed have improved their economic profile and have not returned to distressed.
Once the research is complete, Sarver plans to work with counties in the West Virginia Pioneer Community Network to help direct conversations for funding and to assist those counties in moving out of the distressed category as well.
"I am humbled and excited to receive this award to further my research focusing on rural economic development. Economic development in rural Appalachia is unique and multifaceted," Sarver said.
Previous recipients of the Barr Award have included: Dr. Sara Sawyer (2010), Amanda Frymier (2011), Cheryl Fleming McKinney, CPA (2012), Denise Ellyson (2013), Dr. Megan Gibbons (2014), Sports Medicine Staff (2015), Dennis Wemm (2016), Dustin Crutchfield (2017), Dr. Jeff Bryson (2020), and Kristen Cosner (2021).
The next Barr Award will be presented in 2023 to a selected staff applicant. A committee reviews all applications and selects the awardee.
For more information about the Pete and Betsy Barr Professional Development Award, contact Vice President for Advancement and Executive Director of GSU Foundation David Hutchinson at David.Hutchinson@glenville.edu or (304) 462-6381.