Smith and Mullins Honored as Halftime Heroes at GSC Football Game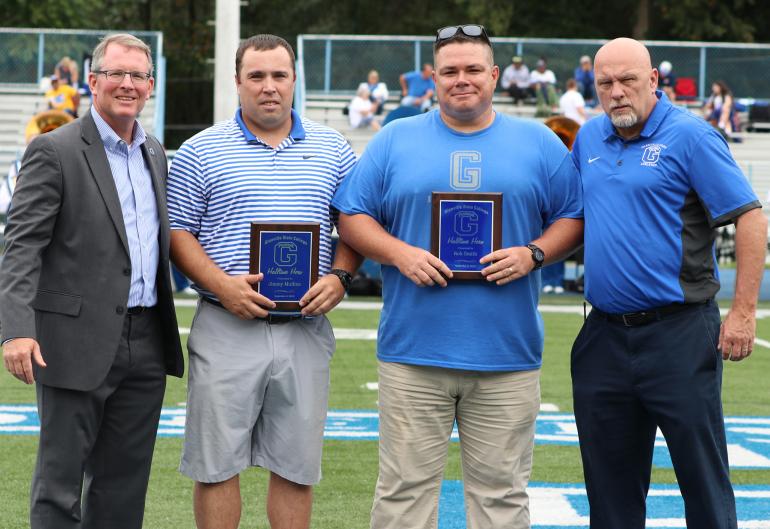 FOR IMMEDIATE RELEASE: September 10, 2017
For More Information:
Glenville State College
Public Relations Department
(304) 462-4115
GLENVILLE, WV – Glenville State College President Dr. Tracy Pellett and Director of Athletics Jesse Skiles honored two individuals through GSC's 'Halftime Heroes' initiative during the Pioneer Football game on Saturday, September 8. Rob Smith and Jimmy Mullins were recognized and thanked for their efforts on campus, in the community, and in GSC's service area. Halftime Heroes are individuals who bring recognition to GSC and the Glenville community through their dedication and civic duties, which enhances the overall image of Glenville State College.
"I am proud to recognize these Pioneers as a small token of our appreciation for all of their hard work. One of the best parts of being President at Glenville State College is having the opportunity to work with such great faculty, staff, community leaders, alumni, and donors. The individuals we'll be honoring as Half time Heroes work tirelessly to make this campus and our community better places," said Glenville State College President Dr. Tracy Pellett.
Smith is a resident of Glenville, West Virginia and is a local State Trooper and has served in the United States Army National Guard for the last 21 years. Outside of work, Smith is President of the Little Pioneers, Vice President of the LKC Youth Sports Program, and Vice President of the North Central Youth Softball League. This past spring his team, the Gilmer County Lady Hurricanes, won the North Central West Virginia Championship.
Mullins is s resident of Glenville, West Virginia and is the Head GSC Baseball Coach. He not only coaches his team, but has also coordinated an extensive amount of community service projects. Mullins and his team have organized athletic field days, volunteered to umpire youth games, visited classrooms to speak about the importance of reading, offered afterschool tutoring, built new playground equipment, helped with the Awana youth bible study program, and more. Coach Mullins also recently completed his master's degree in management and leadership from Western Governors University.
"Alumni, faculty, staff, and community members are vital to the success of Glenville State. We know that this campus has great people and it is my hope that, through initiatives like these, that everyone understands how important they are to us. The recognition of good deeds and outstanding work is something that we should all do more frequently," Pellett added.