Students Conduct Experiments during Solar Eclipse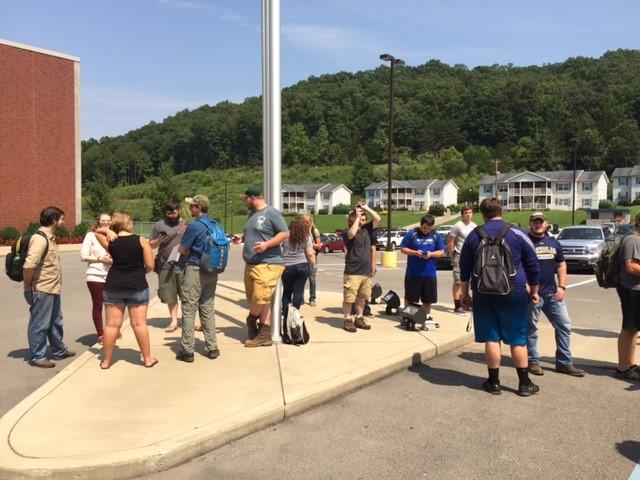 FOR IMMEDIATE RELEASE: September 1, 2017
For More Information:
Glenville State College
Public Relations Department
(304) 462-4115
GLENVILLE, WV- During the solar eclipse on August 21 students in Glenville State College's Forest Ecology course took the opportunity to incorporate their studies into the exciting and historic event. These students gathered in the Waco Center parking lot to measure light intensity throughout the duration of the eclipse over Glenville, West Virginia.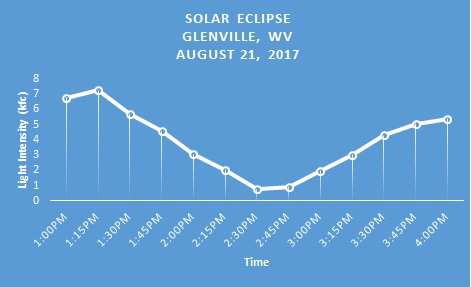 The GSC students began collecting light intensity data beginning at 1:00 p.m. and, based on the data that was collected, found that light intensity was the lowest at 2:30 p.m. (see a chart of the data here). The students also reviewed data that was collected through a NASA research weather station that is maintained by the GSC Land Resources Department (see charts of that data here).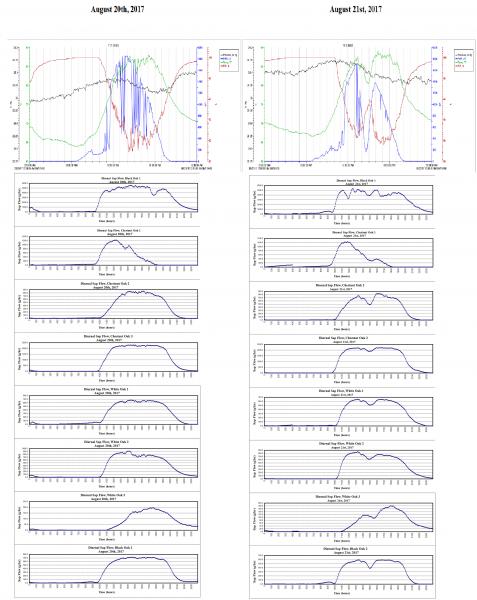 After collecting light intensity and weather data, students compared their results to an independent weather station and tree water use experiment, and were able to confirm that their data and research matched the independent stations. Their data also showed that during the peak of the eclipse, the air temperature was reduced by eight degrees Fahrenheit and trees reduced transpiration (water loss from the leaf) in response to the reduction in light and temperature.
"I am glad that the eclipse coincided with my Forest Ecology class which allowed my students to collect light intensity data during this rare phenomenon. Measurement of solar radiation is one of our laboratory exercises in Forest Ecology and this initial measurement will allow me to relate these results to the importance of light in forest structure and functions. I would like to acknowledge the help of my research students, Lyndsee Gay and Michael Pracht, both seniors majoring in natural resource management, in collecting the weather and sap flow data," said GSC Professor of Forestry Dr. Rico Gazal.
For more information about the solar eclipse experiment and research, contact Gazal at Rico.Gazal@glenville.edu or (304) 462-6372.