Youth Bluegrass Camps Sponsored by GSC Bluegrass Program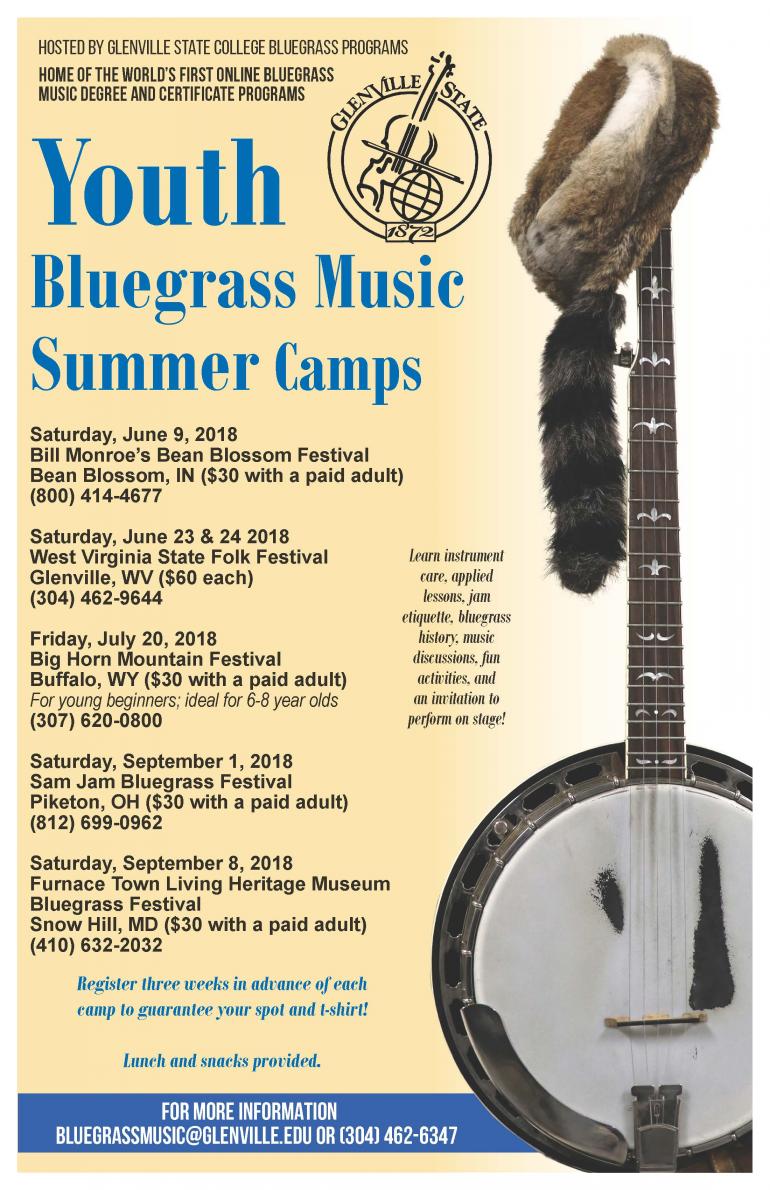 FOR IMMEDIATE RELEASE: May 18, 2018
For More Information:
Glenville State College
Public Relations Department
(304) 462-4115
GLENVILLE, WV - This summer, the Glenville State College Bluegrass Program will be sponsoring several Youth Bluegrass Camps throughout the United States. The Bluegrass Day Camps are open to all skill levels (beginner, intermediate, and advanced) and are intended to enrich the lives of children who have a passion for traditional bluegrass music. Those with a strong desire to learn not only how to play the music, but also the history of the music, vocals and harmonies, instrument care, stage presence, jamming etiquette, and more are encouraged to attend. The camps are designed for students 6-18 years old who are interested in learning the great American tradition of bluegrass music.
This year the camps will be held in five locations across the country: Saturday, June 9 at Bill Monroe's Bean Blossom Festival in Bean Blossom, Indiana; Saturday, June 24-Sunday, June 24 at the West Virginia State Folk Festival in Glenville, West Virginia; Friday, July 20 at the Big Horn Music Festival in Buffalo, Wyoming; Saturday, September 1 at the Sam Jam Bluegrass Festival in Piketon, Ohio; and Saturday, September 8 at the Furnace Town Living Heritage Museum Bluegrass Festival in Snow Hill, Maryland.
The camp instructors are highly skilled and will be made up mostly of Glenville State bluegrass students and will feature GSC Assistant Professor of Music and Director of Bluegrass Music Dr. Megan Darby and members of her family, founder of GSC's Bluegrass Program Buddy Griffin, and select GSC bluegrass alumni.
"As a parent of two toddlers, I know that young children love sound. Music activities and experiences help children practice important skills including: thinking, motor coordination, and understanding emotions. Our bluegrass program and the West Virginia community recognizes that it is our duty to encourage children to be proud of their heritage, culture, and music - it's more than mastering an instrument," said Darby.
Admission to all of the camps other than the WV State Folk Festival is $30.00 per student which includes the admission of one adult. WV State Folk Festival camp admission is $60.00. That camp has a community concert on the second day that campers are invited to participate in. The camp fee includes six to eight hours of instructional time, small and whole group sessions, lunch, snacks, a guided tour of the festival, and a Youth Bluegrass Day Camp t-shirt. For a guaranteed spot in the camps and an event t-shirt students should register one month prior to the event.
Click here to view more information and to download a registration form.
For more information about the Youth Bluegrass Day Camps, contact Darby at Megan.Darby@glenville.edu or (304) 462-6347.