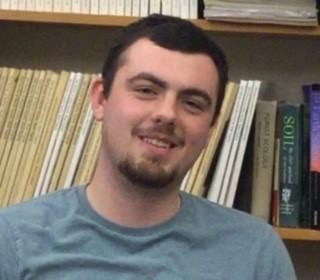 Quincy Band
Class of 2019
Natural Resource Management
Forest Technology
Quincy Band is a 2019 Glenville State College graduate from Elkins, West Virginia who is currently residing in Escanaba, Michigan.  Quincy obtained a Natural Resource Management degree with a concentration in Forest Technology while in attendance at GSC. He also participated in the Science Fiction and Fantasy Guild during his time as a student. 
Quincy has been working for the US Forest Service as a Supervisory Forester on the Region 9 Timber Strike Team since 2019. The Strike Team is a traveling timber crew that helps local units meet their yearly timber production targets by doing timber presale work. With the Strike Team, Quincy has had the chance to work on a project that aims to allow Lidar data to be used to accurately determine the Basal area of a stand and other vital pre-cruise data. This will allow inventories of a stand of timber to be done with less fieldwork and be far more time effective and efficient.
When talking about GSC, Quincy says "GSC to me, was a great place to gain the degree and knowledge I needed to do the work I love. It was a place where I was able to learn from great teachers and mentors in a personal and caring environment that is lacking in some of the bigger schools." 
We are pleased to feature Quincy in the Department of Land Resources Alumni Spotlight and are proud to call him an alumnus of Glenville State College.